3 March 2005 Edition
Whoever killed McCartney should come forward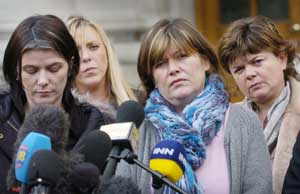 Speaking on Wednesday, Sinn Féin President Gerry Adams restated "with absolute clarity" that "whoever killed Robert McCartney should come forward and take responsibility. That is what I meant when I said that if I was involved I would make myself accountable to the courts.
"Some days ago I reiterated my support for the McCartney family and I called on anyone and everyone with information that might help the family in their quest for truth and justice to come forward," he said.
"My clear intention in doing so was to encourage those who have information to make that information available so that whoever is responsible for the killing of Robert McCartney is brought to justice.
"I note that this has not happened. And although many people have come forward — others have not, particularly some who may have been directly involved in Robert's murder. In my view, these people must give a full account, through whatever conduit they choose.
"So far Robert McCartney's killer has not had the courage to do this. Self-preservation and selfishness will not prevail in this case.
"I am not letting this issue go until those who have sullied the republican cause are made to account for their action."
Adams made his comments as PSNI chief constable Hugh Orde said that he had no problem with people providing evidence about the murder of Belfast man Robert McCartney to third parties.
The previous evening, the McCartney family had told reporters that insisting people come forward with evidence only to the PSNI was "not fair and could end up helping the murderers". They also asked that his killing not be used as a political football.
The dead man's sister, Paula McCartney, said: "It doesn't matter who they go to as long as they pass on the information," she said. "There are people who have valid reasons for not going to the police and we accept that.
"They could go to the Police Ombudsman or a solicitor or whoever they are comfortable with, so long as they are prepared to stand up and give the information in court."
On Wednesday, the Police Ombudsman's office indicated that witnesses could use it as a conduit to come forward. Sinn Féin policing spokesperson Gerry Kelly, who has been in regular contact with the McCartney family, said that the party's position all along has been that people unwilling to come forward to the PSNI should use figures of authority within the community, the McCartney family, a solicitor or any other reputable body. "The most important thing is to bring the killers to justice," he said. "Anyone should feel able to come forward."
Last Friday night, the IRA revealed that it had carried out an investigation into the killing, leading to the dismissal of three of its Volunteers.
In Dublin earlier that day, Sinn Féin President Gerry Adams said that he had met with the dead man's partner and sisters on Thursday. He expressed the party's full support for the McCartney family's search for justice. And speaking at a republican commemoration in South Armagh, on Sunday, the Sinn Féin President again indicated that he remained in contact with the family.
Emphasising the shock felt by republicans at the events surrounding the McCartney killing, Adams told republicans that "Robert McCartney's murder has shocked hundreds of thousands of republicans throughout Ireland and we are united in our call for anyone with information about the killing to come forward".
Speaking in London last week, South Belfast MLA Alex Maskey said the killing was "a disgraceful event.
"It has now been politicised, not by the family, but by others," he said. "I can understand and accept anything the family says, because they have lost their brother, partner and the two children have lost their father."
He said that Sinn Féin had been unequivocal on how people should respond. "If anyone has any information or evidence, they should make that available, either to the family, a solicitor and if people want to go to the police, that is entirely a matter for themselves. Nobody should be impeded or made to feel they are wrong in doing that.
"We want what the family wants; we want the same outcome that they want - truth and justice. If that means that people end up being convicted, then so be it. Sinn Féin calls on people to follow their conscience, do the right thing, and give the McCartney family their complete support."
In the Dáil on Tuesday, Sinn Féin TD Caoimhghin Ó Caoláin expressed his disappointment that the Fine Gael leader, Enda Kenny, would not accept an amendment from Sinn Féin to his Private Members Motion on the murder.
Ó Caoláin explained that Sinn Féin supported the thrust of the Fine Gael motion but "the final paragraph restricts the means by which information may be brought forward to help bring the killers to justice". Sinn Féin had sought to amend the motion to allow people who do not trust the PSNI other avenues to come forward with vital evidence.
"The reality is that there are many within the nationalist community who for good reason do not trust the PSNI and simply will not bring forward information to them," he said. "This reality cannot be ignored if we are serious about delivering justice for the McCartney family.
"Indeed, the PSNI themselves have recognised this reality when they began the re-investigation into the loyalist killing of Sean Brown in Bellaghy, County Derry. The PSNI issued an appeal that encouraged people to use a named firm of solicitors or the Pat Finucane Centre to bring forward information as an alternative to dealing directly with the PSNI. This is the sort of pragmatic and realistic approach that is necessary to deliver justice in this case also.
"The motion as it stands is excluding from the search for truth and justice any information which people in this category may have and therefore, if passed, rather than assisting the family, could, in my view, set the search for justice back."
On Tuesday, Sinn Féin abstained on an SDLP motion condemning the murder on Belfast City Council on Tuesday because of the motion's exclusive use of the PSNI as the only avenue for people to come forward. The party's amendment calling for witnesses to be allowed to use "any avenue of their choice" was defeated.