3 March 2005 Edition
They're coming from far and wide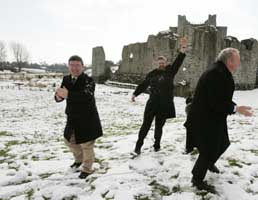 Warned only by a loudspeaker calling on voters to back Councillor Joe Reilly on 11 March, the relative quiet of a Saturday afternoon in February is shattered for a small town in Meath by the arrival of a long convoy of Sinn Féin vehicles.
As the cavalcade pulls up, canvassers from Wexford and Dublin spill out alongside teams from Meath and sprint to the nearest doors.
At an only slightly more sedate pace, Joe Reilly, joined by Dublin MEP Mary Lou McDonald and Councillor John Dwyer from Wexford, drop into pubs and newsagents, shaking hands with people drawn by the music pumped out of the loudspeaker and the cars festooned in tricolours.
Then, as quickly as they arrive, the South Meath Flying Column are back into their vehicles and on to the next destination. Trim, Rathmoylon, Summerhill, Enfield and Ballivor, small towns, big problems, estates left unfinished, inadequate public transport, anti-social behaviour and a lack of rural policing.
A similar scene is taking place in the northwest of the county, as local activists are joined by Sinn Féin TD Caoimhghín Ó Caoláin, leading 20 Monaghan canvassers through Kells, Oldcastle and Athboy.
Earlier in East Meath, Joe brought canvassers and councillors from Newry Town, Armagh and Down, joined by party Chair Mitchel McLaughlin and Louth TD Arthur Morgan, in a sweep through Laytown and Bettystown.
In Ratoath, near the Dublin border, Aengus Ó Snodaigh TD and two dozen Dublin activists swarm through the town, encountering more than a few Dubliners forced out of their home county by rising house prices only to encounter Meath's now notoriously inadequate infrastructure.
In the campaign's nerve centre in Navan, activists struggle to co-ordinate incoming groups of supporters from Cork, Galway, Belfast and Leitrim and take note of the promises to "drop in after the Ard Fheis".
All across Ireland, republicans are getting into cars, onto buses and trains, and hitching lifts to get to Meath. They'll canvass, they'll poster, they'll drop leaflets, they'll stuff envelopes and every one of them is needed. Meath has the biggest population of any constituency in the state and is set to be split into two three-seaters for the next election. A massive number of large and small towns remain to be canvassed.
"Are you trying to tell me it's not coming up at all?" The confusion in the voice of Evening Herald reporter Anne-Marie Walsh is audible even to me, standing next to Joe as he takes an interview on his mobile.
After two months of non-stop assaults on Sinn Féin from Independent Newspapers, Anne-Marie can be forgiven for being a bit disappointed that her employer's campaign of spurious allegations of criminality hasn't been as effective as they'd hoped.
Joe shrugs. "Of course it comes up, but it's not a central issue in the campaign. People are interested in transport problems and our proposal for a Navan to Dublin rail link; they're asking about the lack of education facilities. We have the fastest growing population in Ireland and a complete lack of infrastructure to support this growth."
We're standing in the middle of a February blizzard in Dunshaughlin quietly cursing Enda Kenny for not going for a summer election.
Snow is falling heavily, visibility is limited, we've lost touch with the canvass team, one of six out that night in this one town, and we're stamping our feet to keep warm.
Once the interview is out of the way, we're back to a reception on the doors far warmer than the weather.
A Fianna Fáil voter tells us he'll give us a touch this time to send Michael McDowell a message, a recurring theme among many Fianna Fáil voters, annoyed at seeing their party serving as voting fodder for the Progressive Democrats.
A bemused voter, staring at the curious snow-covered apparition on his doorstep claiming to be the Sinn Féin candidate, promises us a preference, because you're the first here and because anyone out in this weather deserves something".
The allegations around the Northern Bank robbery and accusations of criminality crop up, but you get the impression people are aware they've only been told one side of the story by the media and are willing to hear the other. The engagements are thoughtful and informed. Indeed, Joe's rivals in the constituency were falling over themselves last week on LMFM to make clear that they had nothing but the height of respect for him personally, however much they followed their head office line on Sinn Féin.
As I write this in the Navan office, polling day is just over a week away.
Joe himself is out in East Meath tonight, canvassing a part of Drogheda with Arthur Morgan that, in one of the anomalies of Irish elections, is moved from Louth to Meath for Leinster House elections. Drogheda is now represented by a number of Sinn Féin town councillors and their hard work is paying dividends for Joe.
Canvass returns are positive across the constituency. There is no shortage of election workers. The Fianna Fáil campaign is shoddy, the Fine Gael candidate an embarrassment.
It's a three-horse race and, for republicans, an opportunity to send our political enemies a message:
We're still here, we're growing, and there's nothing you can do to stop us.
An Phoblacht Magazine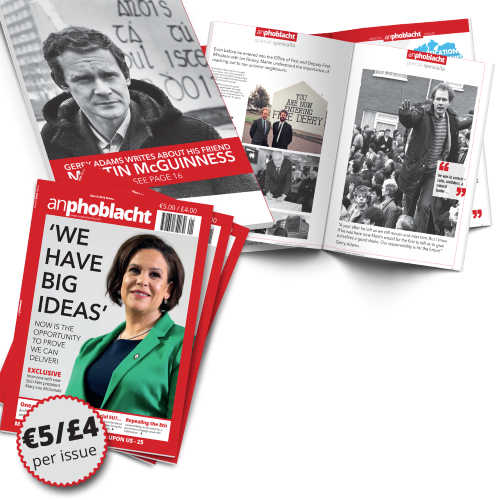 AN PHOBLACHT MAGAZINE:
The first edition of this new magazine will feature a 10 page special on the life and legacy of our leader Martin McGuinness to mark the first anniversary of his untimely passing.
It will include a personal reminiscence by Gerry Adams and contributions from the McGuinness family.
There will also be an exclusive interview with our new Uachtarán Mary Lou McDonald.
test