3 March 2005 Edition
Republican ex-prisoners reject criminalisation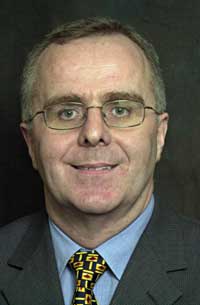 Coiste na n-Iarchimí, the national network for republican ex-prisoners, on Monday spoke out against the current atmosphere of hostility across the island towards republicans.
Raymond McCartney MLA, former Hunger Striker and Chairperson of Coiste, said: "Today is the 29th anniversary of the ending of political status. The first of March 1976 was the day when British policy towards the conflict changed, claiming that IRA Volunteers were no longer recognised as political activists but were now to be deemed criminals.
"To support this new approach, far reaching legal powers were used to process republicans through special detention centres with exceptional interrogation powers (allowing various techniques of torture) to special juryless courts and then into the new jail at Long Kesh and the women's prison in Armagh. This resulted in five years of protest, as republicans fought against this attempt to criminalise them and their struggle.
Caral ní Chuilín, Coiste Treasurer and co-ordinator of Tar Anall in West Belfast, said: "Why people think that, nearly eleven years after the first ceasefire, republicans will now accept that their struggle is a criminal enterprise is, frankly, beyond belief. As part of the consultation process on the future of Long Kesh, we presented cogent arguments about the preservation of some of the prison buildings. Last week, these arguments were accepted as part of the future use of the site. It is hardly likely that we would have won those arguments if the British attempt to criminalise republicans had not been resisted."
Laurence McKeown, former hunger striker and Coiste staff member, said: "We call on all concerned in the politics of a positive future to realise the futility of the current attempts as criminalising the republican project. Rather dialogue and discussion amongst all concerned — recognising their humanity rather than indulging in propaganda onslaughts — will bring about the desired and historic end of conflict in Ireland."