3 March 2005 Edition
Republicans fight back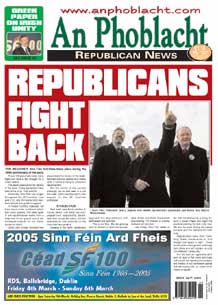 This weekend's Sinn Féin Ard Fheis takes place during the 100th anniversary of the party. Those 100 years have seen many highs and lows in the struggle for a united Ireland. The seven years since the signing of the Good Friday Agreement have been some of our most eventful.
Electorally, Sinn Féin has surged throughout the 32 Counties. Last year's EU and 26-County local elections showed that growth in support.
In recent months, however, we have come under sustained attack from many quarters. This latest spate of anti-republicanism stems from a deep fear of our growth and of the increased support for our vision across the island.
Guilty until proven innocent has always been the mantra of the establishment political parties and media when it comes to trying to undermine republicanism.
But the futility of the current onslaught can be best seen in a poll last week, which saw the party's core support in the 26 Counties unchanged.
By-election
Next week sees the by-election in County Meath. Joe Reilly has campaigned hard, supported by republicans from across the nation, and the response he has received on the doors has been positive.
Likewise in the North, republicans approach the May elections with enthusiasm and optimism.
This is our time. We are growing and no amount of spurious accusations, British and Dublin Government stop-starting, PD rhetoric or unionist tantrums will stop that.
Last Friday, Sinn Féin called on the Irish Government to to bring forward a Green Paper and begin the practical planning for Irish unity now. We are the ones driving the peace process and the demand for Irish unity.
Republicans have that "inner thing" Bobby Sands wrote of, "that thought that says I'm right". Those sound politics have guided us through hard times and will sustain us until Tom Williams' "certain day".
And the truth our opponents don't want to face is that more and more Irish people are rejecting the cronyism and rhetoric of the mainstream parties and are buying into our vision of an Ireland of equals.