3 March 2005 Edition
SDLP should do the decent thing
The announcement slipped out by British Secretary of State with little fanfare last week about the role of MI5 in policing from 2007 is a pre-emptive strike by the British Government designed to prejudice the transfer of policing and justice to a power-sharing Executive.
The very agencies of the British state implicated by Judge Corey in state murder and criminality against Irish citizens, are to have that role perpetuated. The British Government intends to bring all intelligence gathering, including that which would normally be the task of local policing, under the remit of MI5, a clear departure from the GFA and the Patten proposals.
We were promised a new beginning to policing in the Good Friday Agreement through the full implementation of the Patten Report. Part of that new beginning was the abolition of RUC/PSNI Special Branch and its functions absorbed into an accountable and transparent CID. The SDLP claimed that they would achieve this by joining the Policing Board and that this would also result in the removal of the malign influence of MI5 in the intelligence gathering functions of policing.
The announcement by Paul Murphy clearly calls into question the judgement of the SDLP in prematurely joining the Policing Board.
So now, not only have the SDLP ended up having to support the IMC, which is clearly outside the terms of the Agreement, but they are stuck on a Policing Board that does not have the powers and functions that they were promised. A new beginning to policing and justice requires a policing service which is democratically accountable, civic-based, rooted in human rights and politically non-partisan. Transfer of powers on policing and justice is central to accomplishing that new beginning.
It is time that the SDLP accepted that they were hoodwinked by a British Government intent on breaking the nationalist consensus on policing. Given the implications of this decision by a British Secretary of State for the future of policing, they should now do the honourable thing and resign from the Policing Board. They should help reconstruct the nationalist consensus and tell the British Government that no nationalist party will be joining any Police Board until we see the legislation and are able to judge it by what it delivers and not what it promises.
Sinn Féin will continue to demand the implementation of Patten in its entirety.
An Phoblacht Magazine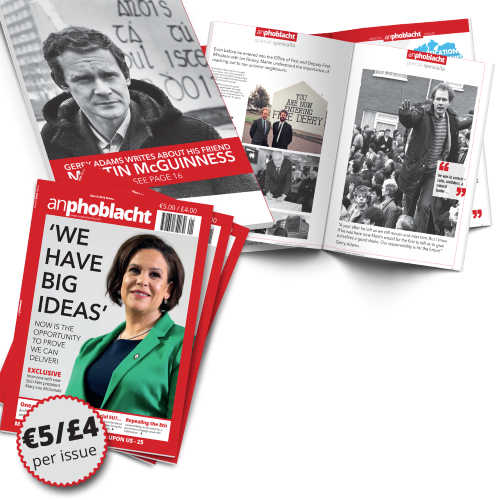 AN PHOBLACHT MAGAZINE:
The first edition of this new magazine will feature a 10 page special on the life and legacy of our leader Martin McGuinness to mark the first anniversary of his untimely passing.
It will include a personal reminiscence by Gerry Adams and contributions from the McGuinness family.
There will also be an exclusive interview with our new Uachtarán Mary Lou McDonald.
test