27 January 2005 Edition
Dungannon barracks to close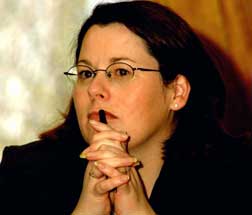 Sinn Féin Fermanagh/South Tyrone MP Michelle Gildernew has said that confirmation that the Killymeale Barracks situated between two schools in Dungannon will close and that the Kings' Own British Army regiment will be removed from the Six Counties, while welcome, is no substitute for a programme of demilitarisation.
"For people throughout Tyrone the closure of the Killymeale Barracks in
Dungannon cannot come soon enough," she said.
"It is vital that this land is put to best use for the people of Dungannon.
"But rationalisation is no substitute for demilitarisation.
"It is not lost on nationalists that 10 years into the Peace Process there are still twice as many British Army troops in this part of Ireland as there are in Iraq.
"Given the terrible record of murder and brutality of the British Army on this island and the emerging evidence of brutality of the British Army in Iraq it is small consolation to the people of Basra that the remaining elements of this regiment will join up with the rest of their regiment in Iraq."