27 January 2005 Edition
One law for us... Wicklow Council threatens to demolish single mother's home
BY ROISIN DE ROSA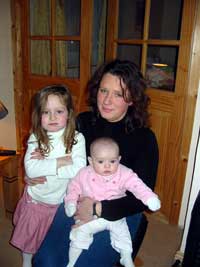 Niamh O'Dwyer, a single mother of two little girls, Claire (five) and Kate (three months), has been given an eviction notice from her small wooden cottage above Lacken in County Wicklow, because it was built, some four years ago, without planning permission.
Council officials called to her door last week to say that she was in contempt of a court order, effective since last summer, that she demolish her home, leaving the site as it was. Officials informed her that Wicklow County Council, unimaginable as it may be, are in the process of going back to court to apply for committal proceedings to have her removed to jail so they can bulldoze her house.
Níamh's cottage is a timber frame two-bedroom house of 900 square feet, hidden well into the hill. She applied twice for retention orders, and made changes necessary to comply with regulations, including diverting a river, installing an expensive new environmentally friendly septic tank, and changing the sight lines to improve road access. Her family is from Wicklow, going back generations.
Níamh explains that, at considerable expense to herself, she had complied with all the requirements of the planners, and varying officials had confirmed this. "I didn't apply again for retention — my local councillor said he'd sorted it all out for me." But he didn't, and now Níamh stands to lose her home. "It doesn't make any sense," she says. "I can't understand our local councillors allowing this to be done in their name."
Gerry O'Neill, a local Sinn Féin member, puts it stronger, lambasting "three useless councillors standing idly by and allowing the imminent jailing of a woman and the needless destruction of her little house".
"I met all of the conditions, yet still the council turned down my applications for retention," Níamh says. Finally, last year the council went to court for an order to demolish the house. The stay of execution on this order ran out last June, and now the council is going back to court to get an order for committal.
Yet there are many examples of retention orders being granted — like an extra storey development right in the centre of Blessington town. The developers had only planning permission for two storeys for retail units and apartments, yet they went ahead and built three, and then got a retention order.
"There is one law for the large development, and another for a family house," says Níamh."The only thing is that it isn't a law, it is left to the discretion of the council who gets to build what and where. Where is the justice?"
"Wicklow council decisions are discriminatory — but it is always against the smaller people — who do not control huge development funds, aren't friends of the developers, and their party political benefactors," comments Gerry O'Neill, who is staunchly determined not to let this house be demolished.
Local people are up in arms about the council threat to Níamh's home. One neighbour said: "We'll support Níamh at all costs. Is this what elected councillors are for — to allow the demolition of someone's home, and to call for the imprisonment of a young mother of two children? We'll just not let them take it down."
Planning and development have always been difficulties for Wicklow County Council. Crazy decisions have been taken in the past — like building whole housing developments on top of waste dumps, as at Woodleigh, or even right beside them, or allowing huge developments in the towns without provision of adequate services, whilst Travellers, with nowhere to park, are driven out.
The latest scam of the council is in Bray, over the development of the Florentine Centre, in the very middle of the town. The council, which owned a third of the site, gave the site to Ballymore Homes, a huge development company, on condition they build a car park.
"Ballymore Homes has changed its plans with regularity, and is now covering the whole site with apartments and retail units, but no car park," Green Party Councillor Deirdre de Burca, reports.
Any breach of contract with the council was supposed to incur a penalty of €1.1 million. Nothing has been paid. No order has been made to demolish. "And yet," as Deirdre says, "we in the council are skint for funds to provide help to those who live in poverty, with repairs, better facilities, or just waivers on waste collection charges. We could put €1.1 million to very beneficial use indeed."
"The council is helping the big developers and attacking the smaller people. There is no affordable housing being built, but there are 150 people on the housing list, who cannot afford to buy housing in the huge housing developments the council has allowed," Gerry explains.
"It's just like the old days", says, Gerry recalling the amazing story of the "Land League cottage" near Ballynockan. It was the cottage that Bridget Mulvey lived in, until a man evicted her and levelled the cottage to the ground. People rebuilt it for her. During Mass the following day, the same man, this time with his sons, came back and levelled it again.
The Land League helped Bridget to win a court case and a decree of eviction against the man. Hundreds of local people then came to rebuild Bridget's cottage, and in the evening, Bridget Mulvey was paraded in style from the Band Hall to her newly rebuilt home, the Ballynockan Band leading the way with the song, Conquering hero.
The local priest said: "The case of Biddy Mulvey is more than sufficient to prove what unity and organisation can do. We are strong, if only we knew it. We are strong with the unconquerable strength against all the forces of tyranny, and if we do not use our unconquerable strength, our united strength, we deserve to be trampled on."
That was in 1888, just down the road from Níamh Dwyer's house today.
The story is recorded in a Pictorial History of Lacken, published by the Lacken Gaelic Football Club, of which Gerry O'Neill is the chairperson.
An Phoblacht Magazine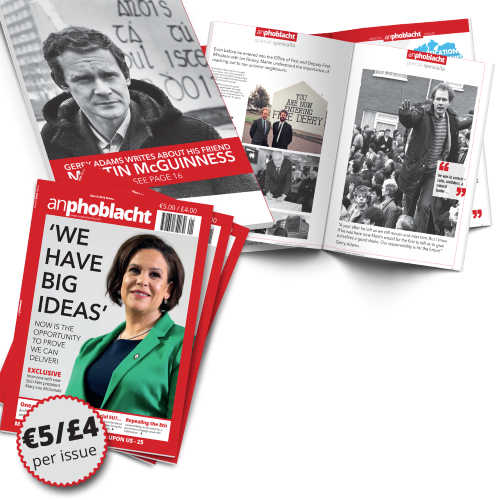 AN PHOBLACHT MAGAZINE:
The first edition of this new magazine will feature a 10 page special on the life and legacy of our leader Martin McGuinness to mark the first anniversary of his untimely passing.
It will include a personal reminiscence by Gerry Adams and contributions from the McGuinness family.
There will also be an exclusive interview with our new Uachtarán Mary Lou McDonald.
test