8 April 2004 Edition
What can politics do for young people anyway? - The Feargal O'Hanlon Memorial Lecture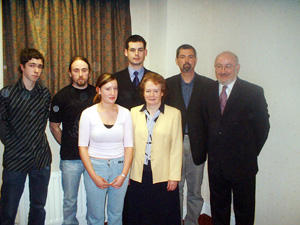 Over 120 people attended the Feargal O'Hanlon Memorial Lecture in the Hillgrove Hotel in Monaghan on Sunday 28 March. The lecture has been held annually since 1982 in commemoration of the young Monaghan townsman who was just approaching his 21st birthday when he was killed in action during a republican attack on Brookeborough RUC Barracks on New Year's Day 1957.
Pearse Doherty, the Sinn Féin candidate in the upcoming EU elections in the Northwest constituency, delivered the 2004 lecture. Doherty's lecture was entitled: Youth, Politics - Our Future.
Members of O'Hanlon's family present included his sister, local Councillor Pádraigín Uí Mhurchadha, who expressed her delight with the large turnout and particularly with the number of young people in attendance.
The following is an edited version of Pearse Doherty's wide ranging address:
"This year's lecture comes at a very interesting time in Irish politics. All eyes are on Sinn Féin — those of our friends, our enemies and our political opponents. Efforts are being made to divert us from our task and efforts are being made to deceive the people about what we really stand for. But we will not be diverted. We will continue with our agenda of implementing the Good Friday Agreement and delivering real change. The Irish people are not fools and they know a political stroke when they see it. So I am not going to waste time today responding to the agenda of Minister McDowell and his imitators in Fianna Fáil both nationally and locally. Sinn Féin is looking forward and that is why the theme of this talk is about young people and the future of Irish politics.
100th anniversary of Sinn Féin
"Sinn Féin is the fastest growing political party in Ireland. One of the main reasons for our development as a party is that young people are coming to Sinn Féin in numbers that no other political party can match. Sinn Féin is the party of youth. Next year Sinn Féin celebrates its 100th anniversary: What an achievement! We are the oldest political party on this island with the youngest membership profile. That is something we can all be very proud of. It also presents great challenges and opportunities for us. It places major responsibilities on our shoulders to properly represent the concerns and interests of young people.
Anti-social behaviour
"There is much attention in the media today, and in political debate, to problems associated with young people. These include under-age drinking, anti-social behaviour, public order offences, drug addiction and early school-leaving. Very often all the blame for these social problems is pinned on young people themselves as a sector in Irish society. The reality, of course, is that these are problems for Irish society as a whole. They are not new and the young people of today are experiencing them because previous generations failed to resolve them.
"Take the problem of under-age drinking. It is hypocritical for older people, many of whose social lives revolve around alcohol, to deplore the behaviour of young people who want to follow the drinking habits of their elders at the earliest age possible. Young people grow up in a culture where drinking alcohol to excess is regarded as normal.
"A great many young people, mostly from working class and low income backgrounds, find themselves locked in an environment with few facilities and few alternatives for a social life outside of pubs and clubs. They are still able to find publicans and off-licence owners who will sell alcohol to them with no thought of the consequences. These same publicans and off-licence owners are just as irresponsible in selling alcohol to adults who cannot handle it and who will cause trouble once they are off the premises.
"Not all alcohol-related trouble is performed publicly. Often the worst kind is acted out behind the closed doors of so-called homes, the living hells for so many silent victims in our society.
"This, of course, is no consolation to those people who suffer harassment from that small minority of young people who indulge in drink-fuelled anti-social behaviour. Nor is it intended to be. But we have to examine the reasons why this is taking place and try to address the causes. The vast majority of young people simply want a place where they can meet people of their own age and in a social setting. They deserve more than a field or a lane to drink their cans in. As a society we have failed to provide these basic and essential facilities.
"Children and young people on average are relatively more affluent than in the past. But we need to look at the new types of pressures they come under.
"The Celtic Tiger economy is built on a mé féin outlook where the mottos are 'look after number one' and 'get as much as you can as quickly as you can'. From the youngest age children are bombarded with advertisements for consumer products. Advertisers deliberately manipulate the 'pester power' of children to increase sales of their products. They deliberately target children and young people because they are perceived to be the most vulnerable to advertising today and they are the big spenders of tomorrow. Big business attempts to make children and young people feel inadequate if they or their parents cannot afford the latest clothes, computer games or foreign holidays.
"The self-image of teenagers is distorted by the fashion industry and the music industry, which promote an unreal world of stars and celebrities as role models for young people. Again there is a concerted effort to make them feel inadequate if their lifestyles and their bodies do not conform to the image handed down via TV and the internet. Young people are often isolated from their peers and the decline of the extended family means they do not have any other social context apart from school and home.
Low incomes
"The damage to self-esteem is, of course, worse for those who live in low-income families. Many of these young people are leaving school early, cannot afford third-level education and are entering low-paid employment. The growth in our economy is partly built on an educated workforce and much has been achieved to increase participation in education and to improve the standard of education. Tribute must be paid to those of the older generation who have invested in their children's education. But far too many children and young people are still excluded.
"In 1997, 18.1% of the population in this State was below the poverty line. By 2000 it had risen to 20.9%. Government policy has increased inequality in Irish society. These numbers are even higher among some of the more vulnerable groups. Poverty among children is at 24.9%, representing an incredible 300,000 children living in poverty. These are the disadvantaged children of today, the disadvantaged young people of tomorrow.
Education
"One of the key indicators of disadvantage is what could be called education poverty. Despite a decade of unprecedented prosperity, the Fianna Fáil/PD Government has failed to effectively address educational inequality. The present Minister for Education, Noel Dempsey, has made vague promises to improve access to third level but the only concrete proposal we have had from him is for the return of third level fees. This will only keep more people out of third level as the increase in registration fees has already done.
"Sinn Féin has published a detailed Education policy document entitled 'Educate that you may be free' in which equality of access is central. We will support and work for an all-Ireland approach to identifying, targeting and redressing disadvantage in education. In particular, Sinn Féin will advocate significantly increased funding for education in areas of greatest disadvantage and focused intervention at the earliest possible stage. Other key points in this policy include:
• Primary schools that are centred in the community, reflective of the community, that share information and expertise with local nursery schools and post-primary schools and aim for a pupil-teacher ratio of 15:1,to facilitate development and learning at this crucial stage
• All-ability 11-18 comprehensive schools with substantially increased support for pupils and teachers in those schools where the measured social and educational need of the school population is relatively high, with adequate resources to encourage team work, the sharing of information and experience and greater collaboration within and between post-primary schools and their feeder primary schools and local third level institutions.
• Education and training to be an entitlement for all, made possible by adequate grant-aid and support mechanisms, and the provision of focussed access programmes for schools that currently have a low take-up of third level places.
• An all-Ireland adult literacy campaign with the clear objective of reducing adult functional illiteracy to under 10% within four years, and the development of a system of adult and community education that reflects and meets the diverse needs and interests of adult learners.
• Promotion of a young person centred approach to education and a youth service that can genuinely engage all young people through innovative and diverse programmes of informal learning.
• Appropriate provision of supports within mainstream classrooms for children with Learning Disability, together with a joint departmental and governmental approach to the early detection and remediation of special educational needs.
"It is young people above all, including students in third level, who are worst affected by this government's abysmal failure to protect the rights of tenants in private rented accommodation. They have allowed landlords to increase rents to outrageous levels. They have failed to ensure that proper standards of accommodation are maintained. Therefore Sinn Féin's campaign for the right to housing is of vital importance to young people. We want to see housing as a right in the Constitution; we want to see statutory control of rents and effective enforcement of standards in the private rented sector; we want to see the local authorities getting the resources and the powers to provide housing for all sectors of society who need it, including young single people, young couples and single parents.
Young workers' rights
"Young people need to be informed of their rights as citizens as well as their responsibilities. For example many young people under 18 are working in full or part-time jobs. They are entitled to a minimum wage of €4.90 per hour.
They have a range of rights under the Protection of Young Persons (Employment) Act 1996. 16 and 17 year old workers:
• are entitled to a 30-minute rest break after working for four and a half hours
• cannot be asked to work after 11pm
• should have 2 days off every 7 days
• cannot be asked to work more than 40 hours a week
Young workers under 16 years old:
• are entitled to a 30-minute rest break after working four hours
• cannot be asked to work after 8pm
• should have 2 days off every 7 days
• cannot be asked to work more than 35 hours a week
All employers of people under 18:
• should display a poster detailing the rights of young people in the workplace and must keep a register containing particulars of each person employed.
"I believe most young people in work today are not aware of these rights and are being denied them on a widespread basis. I would encourage schools, trade unions and Ógra Shinn Féin to educate young people on their employment rights.
"It is time to empower young people. Instead of holding a referendum to take away citizenship rights from children born in Ireland, this Government should be holding a referendum to lower the voting age from 18 to 16 and to lower the minimum age for a TD from 21 to 18.
Ógra Shinn Féin
"The agents of change in Ireland today are young republicans. Young people who joined Ógra Shinn Féin in recent years are now the up and coming leadership of Sinn Féin at local, regional and national level. Two of our European parliament candidates - David Cullinane in the South, and myself in the North-west - began their republican work as Ógra Shinn Féin activists. Many of our local election candidates throughout the country are former Ógra activists also.
"But the role of Ógra is not simply to provide election candidates. As someone who was, for a number of years, centrally involved in Ógra Shinn Féin, I know that lip-service was often given to the youth section without resources to back it up. I want to pay tribute to those people who have and are giving considerable amount of time and effort to the Ógra project.
"Without doubt, Ógra Shinn Féin is the most important section of the republican struggle. It is within Ógra Shinn Féin that a strategy for Irish Unity based on Education and mobilisation will be formulated. We know what previous generations of Irish republicans have sacrificed In all other eras it seems that those Irish people who desired freedom and justice had to renew the struggle afresh. This generation has a head-start and that is why it will be this generation that brings us the 32-county independent republic that Feargal O'Hanlon and so many of our brave men and women gave their lives.
"So my request today is for each of you, while continuing to play your own important part in our struggle, is to give the space, support and encouragement to the activists of Ógra Shinn Féin in County Monaghan and beyond.
EU elections
"For the first time, Sinn Féin is in a strong position to take seats in the European Parliament - including a seat here in the North-west constituency.
"Our task as newly elected Sinn Féin representatives will be to make both the European parliament and local councils more relevant to young people and to all the Irish people. These elected bodies must become new forums in our struggle for real change, for freedom, justice and lasting peace. For the young people like Feargal O'Hanlon who died for Irish freedom, for the youth of today and for the children of tomorrow let us go forward. Ar aghaidh linn le chéile."
An Phoblacht Magazine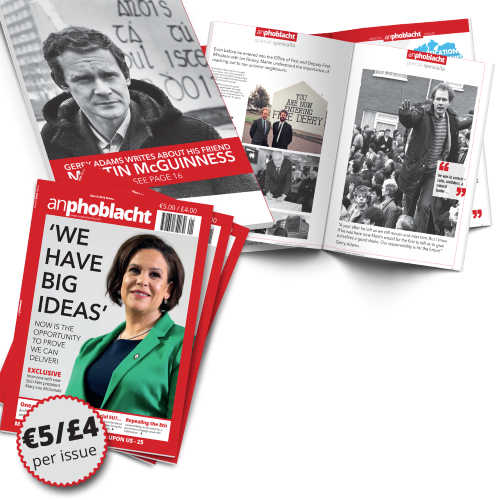 AN PHOBLACHT MAGAZINE:
The first edition of this new magazine will feature a 10 page special on the life and legacy of our leader Martin McGuinness to mark the first anniversary of his untimely passing.
It will include a personal reminiscence by Gerry Adams and contributions from the McGuinness family.
There will also be an exclusive interview with our new Uachtarán Mary Lou McDonald.
test