25 March 2004 Edition
Attwood out of step again
Today, representatives of a number of influential Irish American organisations have taken the SDLP's Alex Atwood to task over his comments on policing in the Six Counties.
Attwood, a member of the Policing Board, had attacked Sinn Féin for not joining that Board.
The representatives of the Ancient Order of Hibernians, Americans for a New Irish Agenda, the Brehon Law Society, the Irish American Labour Coalition, the Irish American Unity Conference and the Irish Northern Aid Committee, have taken exception to the following comment from Attwood.
"Meanwhile Sinn Féin has become increasingly desperate in its attempts to hide the real reason why it has not joined the Policing Board. And Irish America is not fooled by expensive advertisements in the American press."
This was a reference to a Sinn Féin advertisement in the New York Times explaining exactly why the party is holding out for an accountable and acceptable policing service in the Six Counties.
The representatives point out that Irish America is, in fact, very concerned with the policing situation in the North and go on to detail these concerns.
They express concern that political leaders like Attwood, and whoever might be on the Board now and in the future, will not have the power to implement and maintain the changes necessary to achieve an effective and politically honest policing service as envisioned by the Patten report, implemented in full.
So it seems Alex, not for the first time, is out of step.
An Phoblacht Magazine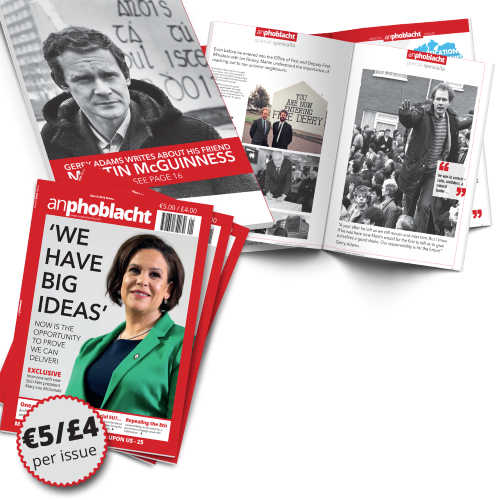 AN PHOBLACHT MAGAZINE:
The first edition of this new magazine will feature a 10 page special on the life and legacy of our leader Martin McGuinness to mark the first anniversary of his untimely passing.
It will include a personal reminiscence by Gerry Adams and contributions from the McGuinness family.
There will also be an exclusive interview with our new Uachtarán Mary Lou McDonald.
test