18 March 2004 Edition
Are discrimination and sectarian violence inextricably linked?
BY LAURA FRIEL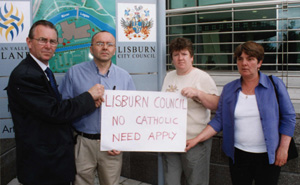 During an open-air rally in 1959, Reverend Ian Paisley upbraided Protestant residents of the Shankill for allowing a handful of Catholic families to live in their midst. Inciting the crowd with sectarian hatred Paisley listed addresses of homes occupied by "Papishers and Popesmen".
To the accompaniment of an Orange band, the crowd marched up the Shankill Road and attacked the houses identified by Paisley, breaking windows and daubing 'Taigs Out' on the doors.
A contemporary of Paisley's recalled a telephone call from the DUP leader the following morning, in which Paisley crowed about the "great meeting" of the night before. Asked if he had been responsible for the ensuing sectarian violence. Paisley replied: "Not me, I was in the car on the way home."
In the subsequent 45 years since this incident, unionist politicians have routinely been 'on the way home' when it came to taking responsibility for the sectarian conflict they have often incited and frequently fuelled. And yet, since the imposition of partition, the Six-County state has been maintained on the dual actions of anti-Catholic discrimination and sectarian violence.
Equalities of citizenship denied by political unionism have been underpinned and reinforced by unionist violence. Discrimination in the housing and job markets has been accompanied by the seasonal pogrom, particularly against Catholics living or working outside their allotted ghettos.
Yet curiously, the politicians pursuing policies of anti-Catholic discrimination have never been publicly identified as a contributing factor, let alone being called to account, in any ensuing sectarian violence.
In England, the British government has showed no such reluctance in identifying the racist policies of extreme right-wing groups like the British National Party as playing a critical role in upsurges in racist attacks on minority communities and interracial conflict.
A similar coordinated analysis has been sadly lacking in the north of Ireland and it's not hard to understand why. Britain has traditionally maintained its foothold in Ireland through the mechanism of unionist domination in the north.
As a corollary of this, 'violence' has been portrayed as essentially oppositional rather than integral to British rule. However, in the context of the current peace process, ongoing unionist violence has been thrown this representation of 'violence' into sharper focus.
Of course, the dynamic between sectarian discriminatory political practice and unionist violence is not always as obvious as unionist politicians, á là Ian Paisley, inciting mob violence. Although, as more recently witnessed at Drumcree, Holy Cross and the siege of Short Strand, surprisingly, it often is.
A direct relationship between anti-Catholic discrimination and unionist violence is harder to establish but recently there has been emerging statistical evidence to support the notion that they do go hand in hand. This relationship has become particularly evident in districts where Catholic populations remain a minority community within a predominantly Protestant area.
In boroughs like Lisburn and Newtownabbey, continued discriminatory practices within local politics dominated by anti-Agreement unionism have accompanied a sustained unionist paramilitary campaign of sectarian violence.
LISBURN
Lisburn Borough Council has a long history of sectarian discrimination, both against nationalist constituents within its Lagan Valley boundaries (for example, systematically denying funding to nationalist estates like Twinbrook, Poleglass and Lagmore) and sectarian discrimination against elected nationalist representatives within the council.
Indeed, on occasion the sectarian ethos within the council has spilt out into open hostility and violence, with Sinn Féin councillors being verbally abused and physically attacked. At one time, the threat of unionist violence was so great that Sinn Féin's Lisburn Councillors wore bulletproof jackets and travelled to the council chambers in an armour-plated car.
Despite the current peace process, inside the council chambers unionists have attempted to block the introduction of the anti-discrimination d'Hont system, while denying effective nationalist representation in crucial decision making arenas. At the last AGM, Lisburn unionists systematically denied the election of even a single Catholic to the position of chair or vice chair on all council committees.
The failure of the unionist-dominated council to embrace the peace process has been further exacerbated by the return of Jeffrey Donaldson as the current MLA representing the Lagan Valley area. Donaldson's anti-Agreement stance is well documented and recently culminated in his defection to the DUP.
Meanwhile, outside the council and Assembly chambers, unionist paramilitaries have waged a campaign of violent intimidation against vulnerable Catholic families and businesses in the Lagan Valley area.
Last week, Sinn Féin Councillor Paul Butler published a detailed account of recent sectarian attacks in the greater Lisburn, Lagan Valley area. The dossier, compiled from media reports of sectarian attacks, lists over 70 serious incidents, including gun attacks, petrol and pipe bomb attacks, arson, assault and murder.
Lagan Valley has a large Protestant majority population and covers the towns and villages of Lisburn, Dunmurry, Derriahy, Glenavy, Stoneyford, Moira and Dromore, amongst others. In the constituency as a whole, Catholics make up 20% of the population while in some areas, the Catholic population accounts for 50-70% but, isolated within a larger unionist area, these nationalist communities are particularly vulnerable to attack.
In the last four years, there has been a sustained and organised sectarian campaign of murder, violence and intimidation against Catholics living and working in the Lagan Valley area.
Nine Catholic churches within the constituency have been targeted, many on a repeated basis. Three Catholic schools have been attacked. Catholic businesses in the villages of Stoneyford and Dunmurry have been forced to close after repeated intimidation.
Successive sectarian attacks against Catholics socialising in Lisburn, culminating in the murder of James McMahon in November 2003, have left the city centre a virtual no go area for the Catholic community.
Meanwhile, Paul Butler, a leading local nationalist political representative, has been the subject of a focused campaign of intimidation by unionist paramilitaries, with four attacks on his home within the last 12-month period.
"The Catholic and nationalist people of Lagan Valley have been on the receiving end of a highly organised and sustained campaign of sectarian intimidation which has accelerated in intensity since the signing of the Good Friday Agreement," says Paul.
"At home, school, work or prayer, the Catholic community in Lagan Valley has been subjected to a most vicious sectarian campaign. They have a right to demand this siege be lifted and to expect political, civic and religious leaders from the unionist community to raise their voices to end this campaign," says Paul.
"But the unionist-dominated Lisburn council has steadfastly refused to adopt power sharing at council level, sending out a clear message to the bully boys that Catholics are to be treated as second-class citizens in this city."
The UDA are primarily responsible for this campaign, although they are not solely responsible; lesser known groupings, such as the Orange Volunteers, have also been involved.
"While the media have given extensive coverage to the battle between the UUP and DUP, and inside the UUP, within the Lagan Valley constituency, less coverage has been given to the activities of unionist paramilitaries in their campaign against the Catholic people of the area," says Paul.
This campaign of intimidation has occurred against a background of deafening silence from the political leaders of the unionist community. Their silence can very easily be interpreted as at best 'disinterest' and at worse 'approval' by those on the receiving end of this violence.
"The situation is made worse by the appalling failure of the PSNI to adequately deal with those responsible for the violence. The Catholic and nationalist people of Lagan Valley do not feel safe in their own homes or where they work," says Paul.
Loyalist organisations appear to operate at will. Those responsible for this violence are well known, yet they are rarely arrested and few searches are made to locate arms and explosives.
On a more sinister note, the PSNI recently told a Catholic family who were burnt out of Stoneyford that they could not arrest the person responsible for intimidating them because "he is a Special Branch agent".
More disturbingly, this violence recently led to a young Catholic, James McMahon, losing his life after being attacked and beaten by a unionist paramilitary gang in the middle of Lisburn. The PSNI know the people who killed McMahon yet, to date, no one has been charged with his murder.
The sectarian agenda pursued by many unionist politicians and the lack of political will to confront sectarian practices within the political leadership of unionism (together with the partial nature of the reform of the unionist dominated PSNI) means that unionist paramilitaries are literally getting away with murder.
NEWTOWNABBEY
And in Newtownabbey the situation has been even worse. Since the signing of the Good Friday Agreement, there have been six sectarian killings carried out by unionist paramilitaries.
These include Catholic building worker Gary Moore, Catholic teenagers Ciaran Cummings and Gerard Lawlor, and a young Catholic postal worker Daniel McColgan. Trevor Lowry was kicked to death by a UDA gang in the mistaken belief he was a Catholic and Gavin Brett, a Protestant, was shot dead outside a GAA Club as he chatted to his Catholic friends.
A sustained campaign of sectarian violence and intimidation against Catholics living in the South Antrim borough peaked during the summer of 2002 with over 60 Catholic families driven out of the area following repeated attacks on their homes.
Last week, Newtownabbey Councillor Briege Meehan had her worst fears confirmed when a statistical profile of the council's workforce she requested identified a staggering inequality in the Protestant/Catholic ratio.
Briege described the findings as a damning indictment of the unionist dominated council's record of fair employment. The statutory monitoring that must be supplied to the Equality Commission showed that 88.5% of the council's workforce is Protestant, whilst a mere 11.5% are Catholic.
A further breakdown of the figures revealed that out of 17 managers, only one was Catholic, while out of 56 council workers, only two Catholics had been employed. The report also highlighted the fact that there had been no effort to redress this inequality within the recruitment process, with three Protestants gaining employment but no Catholics.
Counciller Meehan said that the figures showed blatant sectarianism operating within the council. "I requested these statistics to prove what I knew all along and I'm not in the least surprised. Sectarian discrimination has been built into the bricks and mortar of Newtownabbey council over many years," she said.
In responding to the findings, Neal Willis, head of administration and resources at Newtownabbey, inadvertently identified the dynamic between sectarian discrimination within the council and unionist paramilitary violence.
Newtownabbey was not the only local authority to have problems recruiting equally from both communities, he said.
"The perception amongst Catholics is that it is unsafe to work in some areas of Newtownabbey," said Willis.