18 March 2004 Edition
McDowell's racist card
Wake up! This is scary stuff.
Justice Minister Michael McDowell proposed last week to hold a constitutional referendum, to coincide with the June elections, to remove the right to Irish citizenship from children born here to non-nationals.
Following the Good Friday Agreement, in a referendum supported by 90% of the electorate, Article 2 of the Constitution was changed to declare that all people born in the island of Ireland have automatic right to Irish citizenship.
The minister is alleged to be considering amending Article 9 of the constitution, and not Article 2. Article 9, which is a strange construction, says that the "future acquisition and loss of Irish nationality and citizenship shall be determined in accordance with the law".
The Minister hasn't yet said just how he wants to change this article. His clear intent is to change Article 9, so that by legislation he can restrict the right, by law, to Irish citizenship of children born to non-nationals in the state.
Where will that leave children born in the Six Counties and their entitlement to Irish citizenship?
To remove the right of citizenship by birth from babies with a different ethnic background is a restriction, based on race, of the right to citizenship.
It is to declare that some people do not have the same rights as others. It is to introduce discrimination, a two-tier class of citizens.
Is the minister going to consult the Commission for Human Rights, established in the South to review and monitor legislation, on this proposed referendum? Is the minister even going to consult with the Oireachtas All-Party Committee on the constitution? There is no sign of it. There is no time. McDowell needs the wording cleared by 12 May.
Consultations take time, especially if they are to be allowed to reject the proposal. Minister McDowell has pre-empted this.
The implications of this proposal are immense.
Is the minister trying to scapegoat black babies in the grossly underresourced hospitals in the state and deflect attention from the appalling failure of this government to end hospital waiting lists and overcrowding in A&E?
That's the way it looks, especially when the four doctors McDowell cited as having requested the minister to take such action on births to non-nationals, denied that they had made any such request.
Is this the Minister's intent - to play on easily encouraged racist fears?
The proposed referendum is an attempted reversal of progressive changes to establish an Ireland based on human rights and equality.
An Phoblacht Magazine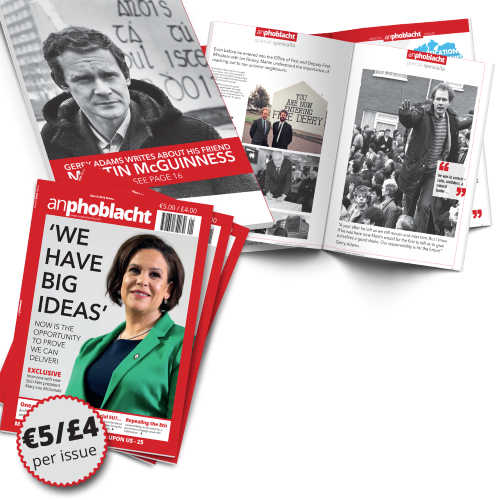 AN PHOBLACHT MAGAZINE:
The first edition of this new magazine will feature a 10 page special on the life and legacy of our leader Martin McGuinness to mark the first anniversary of his untimely passing.
It will include a personal reminiscence by Gerry Adams and contributions from the McGuinness family.
There will also be an exclusive interview with our new Uachtarán Mary Lou McDonald.
test