11 March 2004 Edition
Murphy demands British helicopters be grounded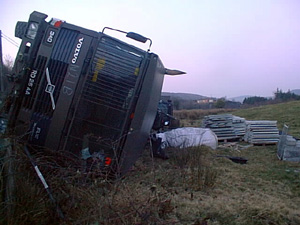 Sinn Féin Assembly member for Newry/Armagh Conor Murphy has called on all crown forces' helicopters in the Six Counties to be grounded following last Saturday's crash-landing of an Army Lynx chopper in Portrush.
"In the past number of years there has been a number of incidents where British military helicopters have crash landed," he said. "Recently, two members of the crown forces died in a crash outside Derry. On Saturday, it was only through good fortune that this helicopter did not land on residential or commercial premises.
"In South Armagh, this type of helicopter flies over homes, schools and shops on a 24-hour basis. There are clearly serious health and safety issues. Ten years into a Peace Process, the British military have no justification for the continuation of military flights in the Six Counties and this is particularly the case given the pathetic safety record of their aircraft.
"I am calling for the immediate grounding of all British military helicopters operating in the Six Counties and for their removal back to their bases in England."
Remilitarisation exposed
The crash followed an incident earlier in the week in South Armagh, when a British Army lorry heavily laden with building materials, part of a convoy being moved at dead of night, left the road and overturned, spilling its load.
Conor Murphy said he was shocked at the amount and type of material that was being transported.
"It proves the lie that everyone knows in South Armagh, the British Army are involved in a massive remilitarisation programme not demilitarisation right across the nationalist areas of the North," he said.
"The materials lying in these fields are obviously only a small part of an expansion of their military operations in Crossmaglen and other areas. The lie of reducing British Army presence is here for all to see.
"The British Army has the world's media gathered to see the shambolic dismantling of a single Spy Post, and then they sneak through small country roads under the cover of darkness, with convoys of heavily laden lorries to secret locations, where they would have closed half the countryside to erect their fortresses.
"The materials include heavy concrete paving stones with "Danger Electricity" imprinted on them. There are crates of heavy-duty conduit or piping probably for three-phase electricity cables. What that level of electrical provision is needed for, is anyone's guess. We suspect that is probably more about dangerous microwave emissions and surveillance.
"I have raised this issue with the British and Irish Governments, and I will be meeting both governments in the near future to raise again the whole issue of demilitarisation. It is not good enough for them to announce the supposed closure of some bases just to reinforce others in our area."