11 March 2004 Edition
It's only words
BY JOANNE CORCORAN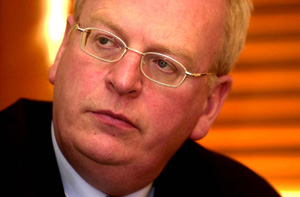 When historians look back on 2004, they will probably say it marked a turning point in Irish politics, a year when Fianna Fáil realised that Sinn Féin was a threat to their cosy government set-up, and resolved to do something about it. They may also say that it was the year Micheal McDowell, 26-County Justice Minister, lost the run of himself, making a litany of unsubstantiated allegations about everyone, everywhere, neglecting his own portfolio to the detriment of the state's law abiding citizens.
The events of the last week have displayed the deep fear that is running through the government parties in Leinster House. The fear centres around the fact that Sinn Féin is being hyped as the party that will walk away from the local and European elections with the success stories, while Fianna Fáil and the PDs are looking at more losses than gains.
In the 2002 general election campaign, instead of responding to the hysterical rants being directed at it by its opponents, Sinn Féin kept its head down and continued with its dedicated work in local communities. The results showed that the public were making their own decision about the Sinn Féin representatives in their areas, and not listening to the establishment spin. Five TDs were returned to the Dáil — several narrowly missed out, and many more made their mark for the future.
Two years later and Sinn Féin is looking to reap the rewards of its hard work once again. Only this time, the vote will be bigger and the returns will be bigger. Fianna Fáil and the PDs have everything to fear from this election.
Hopping on the bandwagon
Both Bertie Ahern's party and Michael McDowell have found the media more than willing to engage in their 'war of words' on Sinn Féin and the IRA. It makes for good entertainment, after all. So what if it has a detrimental effect on the peace process? So what if it's seized upon by unionists at every turn as an excuse to ignore the party that speaks for most northern nationalists? What's that compared to selling a few newspapers?
In fact, it was to a newspaper that Michael McDowell spoke, starting this damaging chain of remarks last Sunday. He wasn't the sole instigator of the week's headlines. Fianna Fáil spent most of their Ard Fheis making sly side-swipes at republicans. Various deputies, instead of debating their individual portfolios, launched attacks on Sinn Féin's politics, a happy aside from having to deal with their own government's negligence and failures.
But McDowell's vitriolic assault on Sinn Féin in the Star on Sunday was the item that gained most coverage. This was due in no short way to his comparison of the relationship between Sinn Féin and the IRA to the relationship between the Nazis and the Brown Shirts. The rest of his attack dealt with allegations of the IRA in Dublin being involved in heists in and around Dublin's docklands. He claimed, that, in his role as Justice Minister, he has access to all kinds of information that prove the Dublin IRA has descended into out and out criminality. However, the story was barely breaking when a puzzled senior source from the docklands told the Irish Times that no mention of any such activity has ever come up at board meetings. The Gardaí, too, have refused to comment on the Minister's accusations.
McDowell's comments gained momentum when Bertie Ahern joined the foray on Monday night to give his opinion. Having learnt nothing from his Bertie gaffes to date — remember his comments about Fianna Fáil not going into government with Sinn Féin and the more recent "I always assumed Adams was in the IRA" — Ahern said he too believed the IRA was involved in criminal activity.
The two men's remarks were immediately quoted by the DUP, who used them to once again call for Sinn Féin's expulsion from the Good Friday Agreement review.
And the media had a new set of headlines for Tuesday. The Irish Independent editorial gloated: "Sinn Féin has been treated as if they were like those other parties, fully democratic. They are not. The two governments know that and so does every other citizen who has kept informed on the subject."
The truth behind the spin
So what is the motivation for Michael McDowell's onslaught on Sinn Féin? For the most part, his and Fianna Fáil's sudden willingness to target Sinn Féin stems from a fear regarding the local and EU elections.
Fianna Fáil in particular falls into this category. The end of the dual mandate means that its candidates in June will be mostly inexperienced and unproven. Sinn Féin's local candidates have been working specifically for this election.
The party's EU candidates are even more of a thorn in Fianna Fáil's side. Mary Lou McDonald was singled out for special attention at last weekend's Fianna Fáil Ard Fheis. The party believes that she will probably prevent it taking two seats in Dublin next June.
As Pat Leahy said in the Sunday Business Post last week, "sooner or later, even the most ardent in Fianna Fáil were bound to get weary of kicking the body of Fine Gael as it lay comatose, and turn their attention to a party more likely to do them immediate damage".
Michael McDowell, however, claims he is not worried about Sinn Féin in the upcoming elections. He may be trying to win over Fine Gael right-wing law and order voters. More likely is the fact that McDowell just doesn't know when to shut up.
This is the fourth time in recent months that he has made an allegation without substantiating it with evidence or action. In the first instance, he accused the Gardaí of taking payments from journalists for stories.
Then he accused Sinn Féin of receiving funds illegally. Following that, he launched an astonishing attack on the Irish Examiner, accusing it of "self-censorship, reminiscent of Weimar Germany", because it printed an editorial calling on the Minister to back the funding claims. (Again with the German reference — I sense an obsession with all things fascist).
And now he is claiming that the IRA is re-enacting the Italian Job in the docklands of Dublin.
By making his latest allegation, he has left himself wide open to charges of neglecting his own portfolio. If he is so sure that criminal activity is taking place within walking distance of the Dáil, why hasn't he done something about it? Doesn't it make a mockery of his supposed policy of zero-tolerance towards crime? As Martin McGuinness said at the start of the week, he needs to put up, or shut up. McGuinness also described him as "an ignorant and irrational man who has lost sight of the Peace Process".
McDowell has failed to tackle the growing crime rates throughout the state — unsurprisingly, in many of the areas where crime has escalated, the PDs are virtually unknown. Instead, he has kept himself busy generating controversies that get him headlines — perhaps, he thinks, furthering his own prospects for advancement within the PDs — and has used his role not responsibly, but to vent his anti-republican sentiments for short-term gain.
Republicans have heard this sort of rubbish before. What McDowell, and the Sunday Indo set need to learn is that 'Provo-bashing' will no longer do the trick. I fear the forthcoming elections will be a shock to their delicate D4 systems.