11 March 2004 Edition
Donegal's awake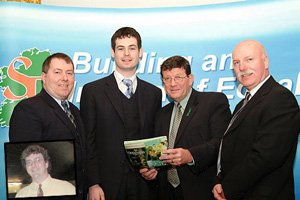 BY MICK DERRIG - For such a long time, Donegal seemed — in every sense — like a backwater. Geographically marooned by the border, tied to the Free State by a thread of ground at Ballyshannon. Cut off from its natural conurbation of Derry City, Donegal, of all the 32 counties, was fecked by Partition. During the conflict, given its neighbour status to three of the Six Counties, Sean Dún Na nGall played a full part in the war effort. The people of the county could see Partition as something real, tangible and having an adverse impact on their lives.
Over the years, any canvass or poll of political opinions would probably have revealed that huge swathes of people considered that they were — to some extent or other — republican. Yet the Sinn Féin vote and Sinn Féin political organisation on the ground in the years of the IRA's cessations have not picked up in a way that many thought would have happened.
After last weekend, I can see that the Donegal enigma is at an end.
On Sunday, I went to two conventions in the county. The first was in Letterkenny to see the County Council candidate for the Letterkenny electoral area selected. The party decided on Tony McDaid, and if the editor restricted me to one word to describe this man I wouldn't have to rummage in a thesaurus. "Sound."
I look forward to having a proper yarn with him soon and getting back to ye about that. An ex-POW, he has been involved full-time in community development work in the county for the last ten years.
If going for election is a job interview, Tony was very clear to his prospective employers what he would do on the job the first day he turned up to the council chamber, drawing on his work as a community development worker in promoting social change in favour of those who are experiencing inequality.
"I have worked on behalf of young people who have no sense of belonging to the communities in which they live; with single parent families who struggle to provide for their children on the meagre weekly one-parent family payment; with two-parent families just existing on low incomes; with women who are discriminated against because this patriarchal society insists that a woman's place is in the home; with older people, especially those living in rural isolation, who live in absolute fear of being assaulted and robbed while they are in their beds; and with the traveller community, who are being shamefully legislated against because of their ethnic minority status.
"While these groups have different needs they all have one thing in common — successive governments, and this one in particular, have failed them miserably. McDaid added that the Protestant community in East Donegal have nothing to fear from Sinn Féin. "Sinn Féin recognises its responsibility in guaranteeing you your rights and entitlements. You have a stake in the New Ireland, the Ireland of Equals."
Party Vice President Pat Doherty noted that Tony's commitment to justice and his willingness to be part of a struggle against discrimination was as vibrant as when he was a young activist 30 years ago. I got the feeling that the non-politics of Donegal County Council was about to be shaken up — for the better.
The second convention was later that day in Donegal Town.
It decided to adopt sitting Councillor Thomas Pringle as candidate for the town. The convention was addressed by Mitchel McLaughlin, who called it like it certainly is.
"The political establishment are terrified of the rise of Sinn Féin. The people want change. The people trust Sinn Féin. The people are fair."
Councillor Pringle was elected as an independent in 1999. Since then, he has been a lone voice in Lifford. He described the current arrangement in Donegal County Council as "a cosy cartel". He hoped that he would hold the seat for Sinn Féin and looked forward to having company in the council chamber after 11 June.
Even the most cynical operator would be pushed to say that Tommy Pringle is not impressive. We had a quick chat and decided to meet up the following day for a more extended yarn.
Some people are impressive public speakers yet don't project on a one-to-one; other people are impressive in an interview setting yet can't impress their personality into a crowd of people.
Pringle is good at both. I soon found out why. I blame the parents.
Tommy told me that he grew up in a political household. His father was interned during the IRA's Border campaign from 1956-'62. His mother was also a stalwart activist. Dubliners both, they moved to Donegal when Tommy was a toddler.
His father was jailed in 1980 and was released in 1995 when the offences were quashed on appeal. Tommy was 14 when his father was arrested and spent his teenage years visiting his dad in Portlaoise.
Before being jailed, Tommy's father had worked in South Donegal for the legendary Father McDyer, the parish priest who took the parish of Glencolmcille from the edge of extinction to somewhere that today thrives on its own efforts.
So Tommy was raised in a home where political activism and a belief that a community could save itself by its own collective efforts, no matter what the state said, was possible.
The fact that Tommy was approached by good local people in his own parish to stand in 1999 as an independent probably speaks volumes for this party's lack of presence on the ground at that time.
He stood as an independent in the 2002 general election and polled a very respectable 2,630, some 2,300 of those in his own electoral area.
In January, he met with the 20 people who had been his campaign team throughout the previous two elections and he told them that he was joining Sinn Féin.
Two people out of the 20 expressed their "disgust". These two people made their unhappiness public — the response was that the other 18 publicly expressed their total support for Tommy and his decision.
Tommy had always considered himself a republican, had always been focused on the need to transfer power back into the communities. This 36-year-old father of three is a seriously grounded guy. His only request at the end of the interview was that he wanted it recorded that he was only able to do this work because of the unstinting support from his wife Caroline.
Donegal County Council's "cosy cartel" should know this - after 11 June there will be trouble. Real political trouble. It's called an opposition. It's called democracy.
Tommy Pringle is one of Sinn Féin's better bits of transfer business.
• Also recently selected for Sinn Féin in the Stranorlar electoral area for Donegal County Council, is Tom Dignam, who was chosen by convention on 26 February. A former local and general election candidate, Tom Dignam pointed out that in the last general election, Sinn Féin polled 18% of the vote in Stranorlar electoral area. "We firmly believe that we can win one of the three county council seats in this area, which has been treated like a political island for too long. The people here deserve a strong alternative to the establishment political parties that have failed the area for too long. I will pledge to work in partnership with my party colleagues in West Tyrone and Donegal to break down the political, social, and economic border that has blighted the Finn Valley for decades. Ours is an agenda for change. It is time for a new political force in Donegal politics."
An Phoblacht Magazine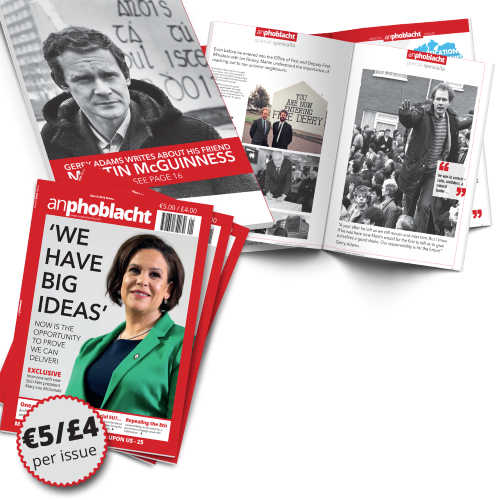 AN PHOBLACHT MAGAZINE:
The first edition of this new magazine will feature a 10 page special on the life and legacy of our leader Martin McGuinness to mark the first anniversary of his untimely passing.
It will include a personal reminiscence by Gerry Adams and contributions from the McGuinness family.
There will also be an exclusive interview with our new Uachtarán Mary Lou McDonald.
test