11 March 2004 Edition
The Processes of Nation Building project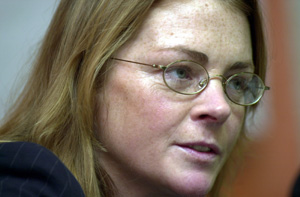 The republican prisoner and ex-prisoner community have provided a consistent dynamic in political developments in this country over recent decades, but particularly during the last ten years. Against that backdrop of political engagement, ongoing developments within Coiste na nIarchimí mark a consistent progression. Very many of those leading and driving political developments from the onset of the Peace Process and before, were once prisoners. This is a consistent sequence of engagements for ex-prisoners who had been relentlessly involved in political developments in this country.
In 2002, Coiste launched its Processes of Nation Building (PNB) project. Central to this project is the challenge to enhance the growing culture of discussion and debate, both within republicanism and between republicans and society in general. This work is an extension of Coiste's Political Education project, entitled What is the Journey? Prisoners and ex-prisoners have been heavily engaged in debate and discussion around the important issues arising within the republican family over the years.
Though some of the PNB work has already been outlined through the pages of An Phoblacht, it is important that republicans are kept updated on its progress. As outlined in various Coiste publications, "the programme combines research, engagement and outreach designed to explore future visions of society in Ireland". The project is very much about facilitating interaction between republicans and various sectors of society in Ireland; political parties, churches, unionists, women, trade unionists, youth, etc. PNB staff also undergo media training and various up-skilling courses.
The concept of Nation Building speaks directly to the overall republican project and addresses some of the concepts behind the notion of 'road-mapping' our way to the Republic. While a number of Coiste staff are heavily engaged in this work, it is important that the broad republican family is, not only made aware of these activities but that everyone has the opportunity to get involved. The PNB staff are also conscious of the need for even development geographically in relation to the work. An Phoblacht has already covered the launch of PNB, along with a Summer School hosted by the project last year.
More recently, the PNB staff have engaged with members of the PUL, a group of Protestants, loyalists and unionists and trade unionists, women's groups, etc. These meetings are ongoing and, though at times difficult and intense, are nevertheless constructive all round. Plans for the next Summer School are also underway and a number of publications have emerged from the PNB project. These include a document on Cultural Diversity and another entitled Responses to Government Consultations on Community Relations and Resettlement of Ex-prisoners. Copies of these and other Coiste/PNB publications are readily available from the Dublin and Belfast Coiste offices. (See below for contact details).
Recently, Coiste na nIarchimí launched its detailed proposals for a museum and conflict resolution campus on part of the former prison Long Kesh. Coiste published a conference report making the case for a museum and outlining an inclusive way in which this could be done and called for 10% of the site to become an integrated Campus for Conflict Resolution, incorporating an interactive museum, a peace park, an educational centre and buildings associated with the north/south and east/west architecture of the peace process.
The need to integrate the various projects underway throughout the republican network is clear and a prerequisite to that is the need to ensure that our community is kept regularly informed of events. Besides the various Coiste publications that are available, An Phoblacht is another obvious avenue for sharing information of this kind.
The participation of ex-prisoners in the Peace Process, the negotiations and ongoing political work has been of immense importance, as this group of people tended to carry the trust of the broad republican family, assisting the delivery of the changes we have witnessed over the past decade.
The Processes of Nation Building project and the overall Coiste project provide the context within which republican ex-prisoners can apply their knowledge and skills to the political transitions taking place in this country and to the construction of the Republic. There is much for us all to learn.
• Contact details: Coiste na nIarchimí, Dominick Court, 41 Lower Dominick Street, Dublin 1 (01 8733199) or Coiste na nIarchimí, 10 Beechmount Ave, Belfast BT 12 7NA (04890200770)
An Phoblacht Magazine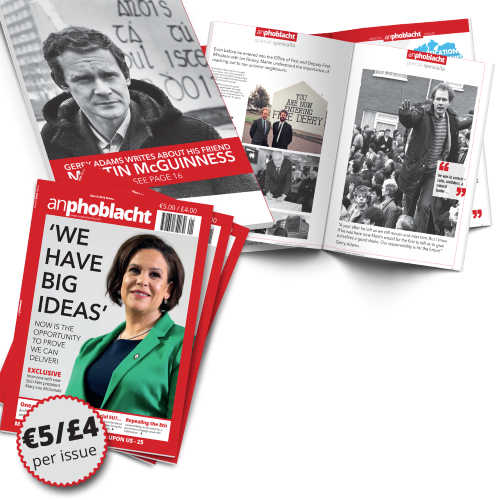 AN PHOBLACHT MAGAZINE:
The first edition of this new magazine will feature a 10 page special on the life and legacy of our leader Martin McGuinness to mark the first anniversary of his untimely passing.
It will include a personal reminiscence by Gerry Adams and contributions from the McGuinness family.
There will also be an exclusive interview with our new Uachtarán Mary Lou McDonald.
test