11 March 2004 Edition
Short-sighted SDLP
Short-sighted SDLP
The decision by the SDLP to reject a Sinn Féin proposal for the parties to meet and discuss a strategy to deliver two nationalist seats in Europe in the Six-County EU election constituency is short-sighted.
Republicans and nationalists want a strong voice in the Europe to stand up for their rights and entitlements. As the lead party on the nationalist side, Sinn Féin, as in previous elections, held out the hand to the SDLP to explore all of the possibilities to strengthen further the nationalist and republican position.
National EU Director of Elections Pat Doherty suggested a meeting to explore the possibility of developing a strategy to elect both Bairbre de Brún and the SDLP's candidate, Martin Morgan. He said he believed this would be achievable through maximising the nationalist vote and through disciplined vote management.
The speedy rejection of this approach by SDLP Deputy Leader Alasdair McDonnell was disappointing and the vast majority of nationalists will share this disappointment.
In putting narrow party interest before the interests of their community, the SDLP have again demonstrated their lack of leadership credentials.
Censorship on the streets
Dublin City Council's attempt to suppress political protest by banning posters from Dublin's streets is a disgrace.
They want to suppress political protest and discussion by banning the display of posters, including those advertising political meetings and protests.
This is designed to suppress non-establishment political movements and is unnecessary in light of the existing provisions requiring such posters to be removed no later than seven days after the event they are advertising.
Along with an attempt to remove homeless people sleeping rough from the city centre streets, this latest move represents a scandalous effort to 'sanitise' the capital city so as not to offend the sensibilities of the corporate sector and visiting heads of state during the Irish Presidency of the European Union.
An Phoblacht Magazine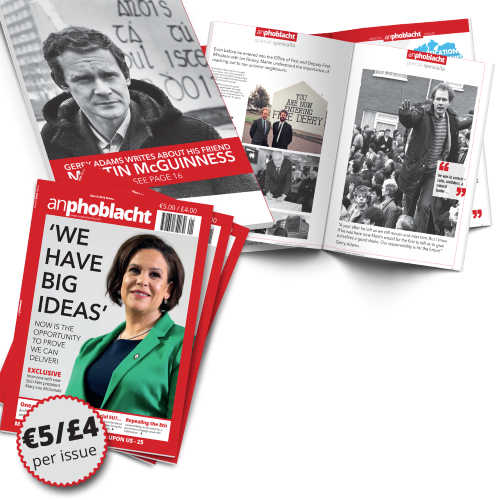 AN PHOBLACHT MAGAZINE:
The first edition of this new magazine will feature a 10 page special on the life and legacy of our leader Martin McGuinness to mark the first anniversary of his untimely passing.
It will include a personal reminiscence by Gerry Adams and contributions from the McGuinness family.
There will also be an exclusive interview with our new Uachtarán Mary Lou McDonald.
test