4 March 2004 Edition
Education Minster failing special needs children
BY JOANNE CORCORAN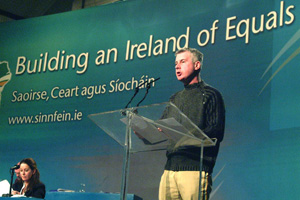 Dublin TD Seán Crowe kicked off the debate on education last Friday, and came down hard on the Dublin Government over the issue of special needs education.
Speaking in favour of a motion slamming the unacceptably slow processing of the claims by schools for special needs and resource teacher funding, Crowe said "the sad reality is that this Government is not implementing the legislation it has already enacted.
"One of the key delays in the processing of claims by the Department has been the chronic underfunding of the National Education Psychological Services, or NEPS. Huge sections of the country, predominantly in rural areas, are not covered by this service at all."
Crowe continued: "If a school is not covered by NEPs, it is allocated a certain amount of visits to a private psychologist. But the list of approved psychologists contained only 137 names, over a third of whom are based in Dublin.
"The Education Ministers solution? A derisory increase of 1% in funding for this service.
"When legislation to do with the issue of education for disabilities came before Leinster House late last year, we received over 50 submissions from individuals, support groups, unions and professional organisations, all of whom know the massive problems facing people on the ground trying to work with the system as it exists. And yet this legislation is, like everything else to do with Education, Health and Transport, subject to the whim of the Finance Minister."
Crowe added that there was no question of a rights-based approach being taken to the education of people with special needs.
Dublin local election candidate Brendan Farron spoke after Seán. He commended the party's policy document Educate That You May Be Free, and added that the current government couldn't be further from that document in its education policies.
"Noel Dempsey went around last year publicising himself as a champion for the cause of education," Farron said.
"Yet he is part of a government that has cut funds to education left right and centre, through VTOS, BTEA, and numerous other programmes."
Farron congratulated the Union of Students in Ireland, and Ógra Shinn Féin, for all their work over the year.
Anne-Marie Carroll from Galway also spoke about the issue of special needs education.
"A child in my area was assessed in 2003, the International Year of Disability," Carroll said. "Today, there has still been no decision made about that child's case, and it's the same throughout the 26 Counties."
She added that Minister Dempsey does not include children with special needs in his plans for education.
Frank Walsh of the Kevin Lynch cumann argued that everyone is entitled to excel through education.
"As a former student, I understand the hardship involved in trying to get an education," he said. "But this government favours greedy big business over education."
James McFlynn from UCD called for more post primary Irish-medium schools.
"We commend the work of Irish-medium primary schools, but it's important to point out that when children leave these schools, they often end up with no gaeilge secondary school to go to."
McFlynn pointed out that Sinn Féin is the only party that actively promotes the Irish language throughout the 32 Counties.
Ciarán Doherty from Trinity College Dublin urged delegates to fight against cuts in education — whether they are brought in through "the front door, the side door or the back door".
Mícheál MacDonncha argued on behalf of the Ard Comhairle, against a motion calling for tax-free income for part-time work for full-time students. He said that while he recognised the thinking behind the motion, if two young people were working side by side, and one of them had a tax-free wage because they were a student, this might be construed as discriminatory.
This motion, and another calling for at least two teachers from every primary school to be on flexi-time for outside school activities also both fell.