4 March 2004 Edition
A vision for Irish farming
BY ROISIN DE ROSA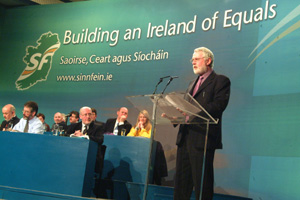 This Ard Fheis reflected the growing concern of the party with agricultural and rural development issues, and delivered a strong message and growing awareness that, as Bairbre de Brún phrased it, "the wellbeing, indeed the very survival of Irish agriculture depends on developing the industry on an all-Ireland basis".
Martin Ferris opened the debate, noting that Sinn Féin was the first party to welcome the reform of the CAP and fully supported decoupling. He added, however, that we should not regard the single farm payment as a panacea for Irish farming, which would guarantee the incomes of small and medium sized farmers. It needs to be combined with a radical new strategy to move Irish agriculture from its traditional role of supplying bulk and low value added to one based on high quality and expanded domestic processing.
"Sinn Féin was light years ahead of the government, and the only party saying anything of importance on how to move the agricultural industry from low to high value added," he said. He stressed the need for jobs in farming and processing in the context of creating a balanced society in which the isolation in rural communities will become a thing of the past.
Gerry McHugh developed this theme in a powerful speech. "The agriculture industry and rural life in Ireland have been damaged by government and EU world economic policies," he said. "It is a national disaster that requires an all-Ireland response. We need agricultural diversification, mixed and organic farming to bring in its train viable rural communities with access to all public services, and the same standards of health education, postal services and electronic communication as those who live in towns and cities.
"Community involvement in crucial investment decisions is essential if we are to reverse the continuing decline in services, leading to rural depopulation and growing isolation in rural life. It is wrong that one part of this island, which is artificially attached to Britain, has industrial status. We will work to remove British status from the North's food production. The common interests of rural communities and farmers, in the north and the south, need representation through a common platform at the EU. Sinn Féin will represent this all-Ireland agenda as the only way forward for agriculture and rural development."
Bairbre de Brún summarised the detail of such a strategy which can secure on an all-Ireland basis a future for Irish farming. She touched on the need for all-Ireland food promotion, all-Ireland integration of the agri-food industry, a strategy to support the role of women in rural development, the provision of child care to enable women to access training and employment, and a Land Commission to assist smaller farmers to acquire land for expansion and to tackle the serious debt problems of smaller farmers.
Many other speakers made important contributions to this debate, including Pauline McAuley, from Cavan, who talked of the growing cartelisation in the co-ops; Risteard Ó Fuaráin, from Kerry, talked about the need to market Irish agriculture produce abroad. John Brady from Wicklow who talked about rural planning and the appalling injustice that developers can get planning permission for holiday homes, but families can't get permission to build on their own land.
Pearse Doherty, the party's EU candidate from Donegal, spoke of appalling government neglect of communities in developing cross border projects to enrich communities and provide employment; Cionnaith Ó Súilleabháin, from Cork, made a powerful speech on rural development and planning. Martin Kenny from Leitrim spoke to an emergency resolution condemning government plans to introduce three-seater constituencies, which represented a serious erosion of democracy, and disenfranchisement of voters in areas with decline population.
Vicky Ni Dhúlainn, from Dublin and Maria George, from County Down, both spoke on the need for Ireland to be GM free.