4 March 2004 Edition
Tokenism with a capital T - Women and the Ard Chomhairle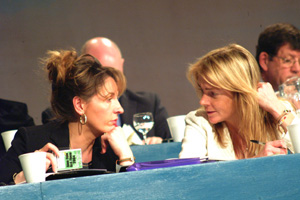 -BY ELLA O'DWYER
As someone who was gradually brought to see the necessity of introducing affirmative measures in order to ensure gender equality on the Ard Chomhairle, I was deeply disappointed to see that the republican family were denied any real opportunity to decide for themselves which republican women they would elect. While not all republicans, as demonstrated during the Ard Fheis debate on Sunday, accept the 50-50 legislative measures introduced last year, a certain level of acceptance had gradually emerged. That development was totally undermined by the fact that there were only six women from whom to select Ard Chomhairle representatives. So republicans were not only told that they must vote for six women, but they were also told what women to vote for.
If I had been part of the electorate I would have been disgusted, angry and sickened. It was grossly unfair, not only to the delegates casting their votes, but also to the six women who were elected. We had to sit like 'women to the slaughter' on the Ard Chomhairle panel while our own comrades voiced their disapproval. The six women who allowed their names to go forward for election did not know until far too late that we were the only six candidates. The only choice we had at that point was to withdraw our names on the very day of the election. That most likely would have made things even worse.
Had, at least two of us (Martina Anderson and I, Ella O'Dwyer) known that there were only six candidates, we would not have accepted nomination to what was in fact not an election process at all. To rub salt into the wounds, it appears that those doing the count decided not to even count the women's votes; we were elected anyway, so what was the point?
Many of the delegates decided there was no point in voting for the women at all as the six would be automatically elected anyway. A male comrade from my own province said that a lot republicans from that region said they were giving me their number 1. He said he told them it would a wasted vote as I would be elected automatically anyway as there were only six women candidates and six women had to be on the Ard Chomhairle. You can't blame the man for having said this. He is a friend of mine and it was in no way a negative response to my candidature. It was just an expression of a plain fact of life.
"Tokenism with a capital T" is how one republican described it. And, in my view, she was perfectly right. I don't think I was ever so embarrassed in my life and I accept the obvious disgust my republican comrades must feel, though they haven't openly directed it at me and I appreciate that generosity of spirit. The likes should never, ever happen again. It is an insult, both to the nominees who got elected, to women republicans in general and to the entire republican electorate. It was quite evident last weekend at the Ard Fheis that some republicans are unhappy with the arrangements around election to the Ard Chomhairle.
The introduction of a fifty-fifty election ruling designed towards securing gender balance on the Ard Chomhairle has not been sold to everyone and the chances of bringing these people round to the idea was greatly lessened by this year's debacle. The situation was greatly aggravated by the fact that there were only six women on the election panel so that the membership were doubly restricted in terms of who they could vote for. They had to vote for six women and they had to vote for the only six they were offered.
It is essential that next year a far larger number of women be nominated for election. I have been told that many women turned down nomination and that some withdrew their names over the past number of weeks. On the other hand, I have asked a number of women if they would have accepted nomination if asked and they said they would have. It is essential that cumainn make every effort to ensure that the electorate has a wide range of women candidates to select from. As research undertaken last year indicated, women are slow to put themselves forward for leadership positions but, if approached to do so, they will. Many republicans argue that people should only be elected to leadership roles on their merits and not on gender grounds. At the same time, being 'male' is not a prerequisite of merit. We have very many highly committed, hard working and able women.
Furthermore, another one of those unfortunate facts of life is that men in general will not forfeit their traditionally held positions of what is perceived as 'power' willingly. If they were willing to share leadership roles, there would have been no need to introduce affirmative measures.
We are at the early stages of developmental change in this area and, unfortunately, that delicate process of change was greatly undermined at this year's Ard Fheis. This is a big shame really, in view of the Trojan work done by the Equality Department over the past year. As a party looking for an Ireland of Equals, we must be a Party of Equals.
An Phoblacht Magazine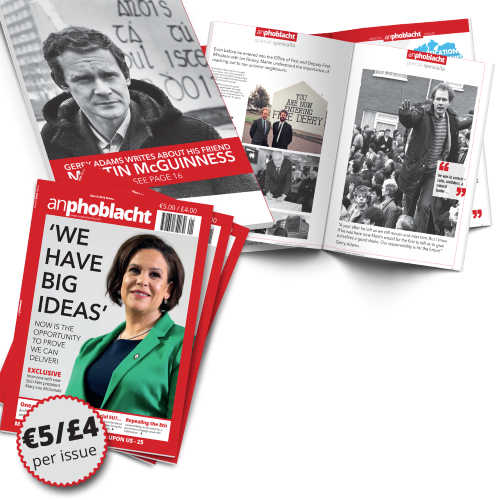 AN PHOBLACHT MAGAZINE:
The first edition of this new magazine will feature a 10 page special on the life and legacy of our leader Martin McGuinness to mark the first anniversary of his untimely passing.
It will include a personal reminiscence by Gerry Adams and contributions from the McGuinness family.
There will also be an exclusive interview with our new Uachtarán Mary Lou McDonald.
test