19 February 2004 Edition
Protest at mass deportations
BY ROISIN DE ROSA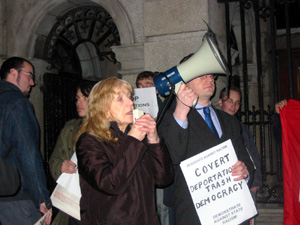 A picket was held last Friday 13 February at Leinster House to protest at the round-up and mass deportation of 70 so-called illegals the previous day.
Rosanna Flynn of Residents Against Racism and TDs Finian McGrath and Joe Costello addressed some 50 demonstrators, many of them young people, on the details of the mass deportation to Romania and Moldova which had left the state at 7.50am the previous day carrying 65 people, including 12 or 13 children, accompanied by 35 Gardaí, doctors and interpreters.
The mood of the protestors was dumbstruck and enraged, particularly when it was pointed out that some of the deportees had not received deportation orders and had no knowledge they were to be deported when Gardaí arrived on Wednesday morning to arrest them and take them to prison prior to their flight the following day. Six of the arrested families secured High Court Orders restraining their deportation, which is a strong indication that a number of these deportees had not exhausted their rights to appeal their deportation in the courts.
It was the first mass deportation from the state, facilitated by the €30 million budget for which the EU Ministers of Justice at their recent meeting in Dublin made provision.
Immigration Bill 2004
The very same day as the arrests, Leinster House passed all stages of the Immigration Bill 2004, which was then immediately passed to the President and signed into law on Friday. It is an atrocious piece of legislation and a frightening indication of the willing if not eager haste of this government, and its department of Justice, Equality and Law Reform, to wipe out basic human rights of people described as non-nationals who wish to come to live and work in this country.
The details of this legislation are a revealing and an appalling indictment of the government's cringing prostration before the conservative and repressive ethos of the times.
The legislation makes provision to refuse permission to land in this country if the non-national is not in a position to support him or herself and dependents; is not in possession of a work permit; is suffering from a prescribed disease or mental disorder; is subject to a "determination by the Minister that it is conducive to the public good that he or she remain outside the state"; that the non-national is not in possession of a passport or equivalent document issued by an authority which the government recognises; or, that the person's entry into or presence in the state could pose a threat to national security or be contrary to public policy.
Furthermore, the legislation makes it a crime not to produce on demand passport of equivalent identification and his or her registration certificate. "On demand" means "at any time by any immigration officer or a member of the Garda Síochána".
Who are the immigration officers the act refers to? "The minister may appoint such and so many persons as he or she considers appropriate (referred to as 'immigration officers') to perform the functions conferred... and every person so appointed shall hold office on such terms and conditions as may be determined by the minister at the time of the appointment." What is the training schedule for these appointees?
For instance, the powers of these 'immigration officers' not only allow them to stop and detain 'non-nationals', but they have the powers to inscribe on his or her passport conditions as to the duration of stay and engagement in employment, as he or she may think fit, and may amend such notice at any time as he or she may think fit, and the non nationals shall comply with any such conditions.
These powers don't just stop at immigration officials but extend to other civilians. For example, "the master of any ship arriving at a port in the State may detain on board any non-national coming in the ship from outside of the state" or " any such non-national, whether seaman or passenger, whose application for a permission to land has been refused by an immigration officer, and any such non-national so detained shall be deemed to be in lawful custody".
Where does any of this new legislation leave the asylum seeker who flees persecution from State or para-state groups? Where does this leave the right of anyone to apply to this state for sanctuary? Precisely nowhere.
This legislation must be read by all those who may wish to believe that this PD/Fianna Fáil government administers justice in the tradition of providing sanctuary for those who are persecuted and tortured.
Furthermore, this legislation must be taken into account when we consider the stated position of government that we need 200,000 migrant workers in this state for jobs which Irish people are unwilling or untrained, or insufficiently paid, to do. According to government, we need migrant workers to make the contribution which is required, from those in paid and taxed employment, to finance the pension fund of our top-heavy population, skewed to a more numerous generation coming up soon to their retirement.
This legislation provides good ground for the view that government intends to create a migrant worker class, with secondary or no rights, to whom pass laws and residence registration laws apply. It is an indication of things to come for all who live here. The question must be asked: do all those in Fianna Fáil support what the PDs are doing in their name, and in the name of their government?
Students at UCD this week didn't think that, when they jostled McDowell entering a PD recruitment meeting. Nor it must be said, did Amnesty, when they published their question over the faces of Bertie Ahern, John O'Donoghue and Mary Harney. "Racists?" they asked.
McDowell last week established in law a racist state.