19 February 2004 Edition
McElduff to tackle Taoiseach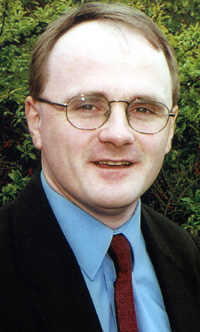 West Tyrone MLA Barry McElduff will take advantage of Bertie Ahern's visit to Omagh today to hand him a letter signed by eight local Sinn Féin councillors highlighting a number of key issues where he as Taoiseach might actively give expression to Sinn Féin's concerns.
These include requests for Ahern to take a stronger line on pressing the British with regard to collusion and the publication of the Cory report, to press the British Government to introduce democratic legislation which will see the return of tens of thousands of voters onto the register in the Six Counties.
McElduff also wants to know when will the elected representatives of the people in the Six Counties be able to represent their constituents directly in our National Parliament and when the Taoiseach act as President of the European Union to ensure that An Ghaeilge is properly recognised in the EU?
The letter also lobbies Ahern on voting rights in Irish Presidential elections and asks what Ahern is doing to lead the agenda on building the All-Ireland potential of the Good Friday Agreement.
Finally, the Sinn Féin representatives want to know when Omagh Post Office will be able to process applications 'over the counter' for Irish Passports.