5 February 2004 Edition
Fógraí bháis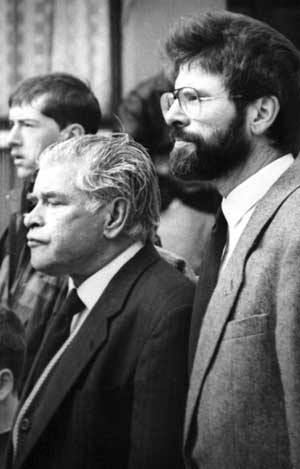 Gerry Adams Sr
My father, Gerry Adams Senior, was born into a strong republican family on 30 June 1926. His own father (my grandfather) had been a member of the IRB and like his brothers, Dominic and Paddy, my Da was involved in the ranks of the IRA throughout the 1940s.
In September of 1942, at the age of 16, he was involved in a shoot-out with the RUC. Three days earlier, Volunteer Tom Williams had been hanged in Belfast Prison and this operation was a response by 'D' Company, Belfast Brigade.
During the exchange, my Da's Webley failed to fire a number of rounds and he was struck three times. An RUC man was hit once. My Da was then sentenced to eight years imprisonment for his part in the action and was unconditionally released after five.
Approximately one year later — on 11 July 1948 — he married our mother, Annie Hannaway, who was also from a staunch republican family.
Annie's father, Willie Hanaway, was a trade unionist and well-known local republican who, at one time, had been an election agent for Eamon de Valera. Annie herself was also politically active and was always in attendance at protest marches, white-line pickets and fundraising events for the National Graves Association.
After their marriage, my parents settled in Ballymurphy, where they eventually reared a large family of ten children — five boys and five girls. My father did his best to provide for us as a building labourer, but although he was a hard worker, work itself was tough to come by, especially for a former political prisoner. Whenever he was sent looking for a job by the employment exchange, they informed his prospective employers of his record and status.
For a time, he attempted to make a living from a horse and cart selling fruit, alongside fellow ex-POW Jimmy Bannon, and he continued to maintain his republican connections.
In May of 1964, a few ex-POWs, who had been imprisoned in 'A' Wing of the Crumlin Road jail during the 1940s, held a meeting in Hector's shop on the Falls Road. The Irish Republican Felons Club was born out of this meeting and my father proudly became its very first chair.
In August of 1969, as the modern-day phase of the struggle erupted, my Da became involved with the local Community Defence Committee. Then, in June of 1970, he was beaten by British Paratroopers outside the family home. He had been returning to Divismore Park from the funeral of republican veteran Hugh McAteer and received a hairline fracture to the head as a result of the assault.
He was beaten by state forces on several more occasions during the course of the conflict and once the Paras hammered him very badly as he was coming out of Mass in Corpus Christi in Springhill.
On 9 August 1971, he was beaten again when he was arrested and interned. During the raid, the Paras wrecked our house.
Gunfire from the surrounding area outside was so severe that day that our mother decided to evacuate the younger children to safety. When our family tried to return to our home later, the Paras were in occupation. When they eventually left, the house was uninhabitable. They had not only smashed all the furniture and sinks, they had also destroyed personal effects, family papers, clothing, toys and photographs.
They had even rammed the house repeatedly with an armoured vehicle and pulled down the ceilings.
Our Da died at the age of 77 on 17 November last after a long illness. He suffered from Parkinson's Disease. Our mother Annie, the pillar of our family, preceded him by ten years.
His large funeral was attended by republicans from across Ireland and further afield, alongside a wide circle of family and friends. In an example of the esteem in which he was held by the local community, shops and businesses along the funeral route closed while the cortege passed.
He will be remembered by all who knew and loved him as a committed republican and devoted family man. Throughout his life, he steadfastly fought for the cause of Irish freedom and remained a proud Felon to the end. He will be deeply missed.
Mary Queen of the Gael Pray for Him.
Slán go fóill, Da.
BY PADDY ADAMS