22 January 2004 Edition
Government urged to demand justice for Colombia Three
BY MARTIN SPAIN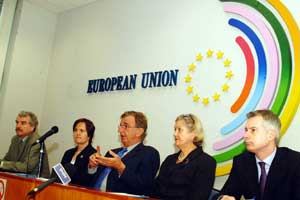 Delegation to travel next week
The Dublin Government has been urged to use its stated aim of promoting human rights during its EU Presidency by calling for justice for the Colombia Three. The call was made at a press conference in Dublin on Monday to announce that four Irish parliamentarians will travel to Colombia next week to seek justice for the three Irishmen, awaiting a verdict after being tried for training FARC guerrillas.
Niall Connolly, Martin McCauley and Jim Monaghan have now been held in jail for 973 days. Fianna Fáil MEP Niall Andrews, Sinn Féin TD Seán Crowe, Fianna Fáil Senator Mary White, and recently elected Sinn Féin MLA Caitríona Ruane, spokesperson for the Bring Them Home Campaign, will be joined by US lawyer Steve McCabe. Whilst in Colombia, the delegation will meet with senior members of the Colombian Government, the Catholic Church, the United Nations and other international human rights organisations, and EU embassies in Bogota. They will also visit the three men in the notorious La Modelo Jail.
At a press conference hosted by Niall Andrews at the European Parliament offices, the Dublin MEP said: "This will be my second visit to Colombia, I observed the final stages of the trial in July and the delay in giving a verdict is of grave concern to me. It was obvious then that, given the lack of evidence in the prosecution case, these three men should have been home with their families many months ago. The trial was observed by senior US lawyers and a delegation of lawyers from Australia and their conclusion, and mine, is that the prosecution case would not stand up in any court."
Andrews said that he and party colleague Brian Crowley MEP had met in Brussels before Christmas with Colombian Vice President Francisco Santos to express their concerns about the case. "There is no doubt in my mind that these men are innocent," he said, describing them as "three idealistic people who got caught up in a difficult position in Colombia".
Andrews drew attention to the lengthy delay in issuing a verdict. The judge had promised an early decision he said, but this had not been the case. The verdict, originally due in August, was put off until December and is still awaited. "Justice delayed is justice denied," said Andrews.
He also revealed that the governor of La Modelo Prison had told the delegation that there wasn't a prison in Colombia where the Irishmen would be safe.
Caitríona Ruane thanked the parliamentarians for their consistent support for the human rights of the three Irishmen. "A team of 16 international observers, comprising lawyers and politicians from three continents, stated categorically in their reports that these men are not getting a fair trial and expressed concern about the politicisation of their trial," she said. "Now we have to use all our influence in advance of the verdict to make sure the judge is free from political and military pressure." She described how witnesses produced by the Colombian military had contradicted and perjured themselves during the trial.
Senator Mary White said: "I have raised my concerns with the Taoiseach, Bertie Ahern and Minister Brian Cowen, these men should be sent home to their families immediately. The hallmark of the judicial process is that everyone is innocent until it is shown beyond certainty that someone is guilty. I am particularly concerned at the prejudicial comments made by senior members of the Colombian Government (including the former president, President Andres Pastrana and current president, Alvaro Uribe) and the former head of the Armed Forces, General Mora. I have seen no evidence of guilt.
"I do believe that if this goes on much longer the government have to demand they are brought home."
Seán Crowe TD said: "We will be meeting with a wide range of opinion in Colombia and our message will be that it is not acceptable that three Irish and EU citizens' rights have been violated so blatantly. It is also worrying how this case has been used by opponents of the peace process in Ireland. We are calling on the Irish Government to use the European presidency to ensure that the judge is free to make a decision free from political and military interference when deciding the fate of three Irish and EU citizens."
Independent TD Finian McGrath, who has travelled to Colombia in the past, also attended the press conference, commending the Bring Them Home campaign and the families of the men for their "bravery, courage and integrity during this traumatic time.
"When you look at the evidence, it is blatantly obvious it is a stitch-up," he said.
Niall Andrews paid tribute to Caitríona Ruane for "the energy and commitment" she has put into the campaign, describing her as "quite the most extraordinary organiser I have ever met in my life".
o Further information on the case is available at www.bringthemhome.ie