22 January 2004 Edition
Coleraine SDLP councillor joins Sinn Féin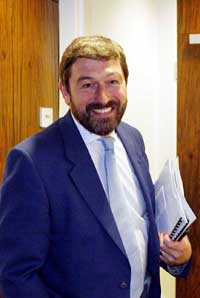 ided to join Sinn Féin because the party has a vision, a strategy and a commitment that matches his political ideals.
"Sinn Féin are committed to building a just peace and will continue to be strong on key issues," he said. "It is obvious to see that it is Sinn Féin who are both willing to discharge their responsibilities with unionism and also be determined to stand against unionist intransigence when required." Leonard becomes the first Sinn Féin member to sit on Coleraine Borough Council.
Mitchel McLaughlin said he looked forward to working with Billy, who would be a welcome addition to the Sinn Féin team.
"I know his decision was taken after a long period of reflection and discussion with his family," he said. "It is a courageous decision and one I am sure was not taken lightly. Again, I would like to assure Billy and his family a warm welcome and assure them of all the support that Sinn Féin can provide".
Leonard, a Protestant, was a former member of the RUC reserve and was a member of Coleraine's District Policing Partnership board, but resigned before announcing his move to Sinn Féin.
He was reported to be "in the running" for the post of chair of the SDLP party before it was announced on Monday that he was joining Sinn Féin.
Stung by the resignation, the SDLP have accused Leonard of "putting his personal political ambitions before his principles".
Responding, Leonard said: "My reasons are entirely political. I put a lot of work into the SDLP but I feel that, despite the efforts of some, they have not positioned themselves for the challenges of the time."