2 March 2012 Edition
Willie Frazer plans Easter Week demo at GPO
CONTROVERSIAL 'VICTIMS' CAMPAIGNER TO PROVOKE ANOTHER 'LOVE ULSTER' RIOT IN DUBLIN | LOYALIST BANDS AND ORANGE SASHES PLANNED FOR PARADE
Some of those it includes on its list of "innocent victims" include notorious UVF serial killer and British Army UDR member Robert McConnell.
WILLIE FRAZER has claimed he cannot be held responsible if he provokes violence at a demonstration his 'Love Ulster' group is planning for Dublin on Easter Saturday. When Frazer tried to lead a loyalist parade through Dublin City Centre in 2006 there were running riots across the city which cost taxpayers an estimated €10million in damages and lost revenue.
Frazer claims the protest will highlight the failure of the Southern government to tackle republicans during the conflict and has confirmed that loyalist bands and men in orange sashes will take part in a parade past the GPO.
Willie Frazer claims he and his organisation represents the unionist victims of republicans in south Armagh, but what do we know about Mr Frazer? Frazer, originally from Whitecross in County Armagh, is a former member of the British Territorial Army. His father, who was a member of the British Army's Ulster Defence Regiment, was shot dead in an IRA ambush in 1975. Frazer has denied reports his father was also in the loyalist Ulster Volunteer Force. In 1995, Frazer, as president of his local Apprentice Boys club, was vocal in his demands that an Orange parade should be permitted the right to march down the Garvaghy Road despite opposition from local residents.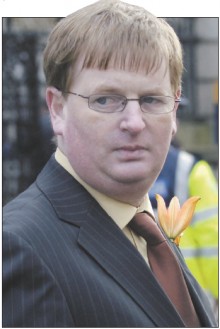 In 1998, Frazer founded 'Families Acting for Innocent Relatives' (FAIR), a victims' group which represents only unionist victims from south Armagh. Some of those it includes on its list of "innocent victims" include notorious UVF serial killer and British Army UDR member Robert McConnell. McConnell is believed to have been involved in the Dublin and Monaghan bombings, which killed 33 people, as well as the shooting dead of six young men in January 1976, the bombing of a bar in Silverbridge which killed three people, including a young child, in December 1975 and the murder of two GAA fans in Altnamachin in August 1975. McConnell was shot dead in an IRA ambush in April 1976. His nephew, Brian, is a leading member of FAIR.
Frazer also briefly ran a nightclub in Tandragee which was popular with loyalists before it closed down after two Protestant teenagers were stabbed to death by the UVF nearby. Following the incident, Frazer applied for a licence to carry a personal protection firearm but his application was rejected even by the RUC who said he was unfit to be in possession of such a weapon. This decision was upheld by a judge in 2004 who said Frazer was "unfit to hold a firearms certificate by reason of the police intelligence concerning paramilitary associations".
In an interview for the book Northern Protestants: An Unsettled People, Frazer defended collusion and passing of information by British state forces to unionist death squads, saying: "If you were in the UDR and your brother was shot, are you telling me you wouldn't? See if a Paki comes from India and kills a Provo? I'm going to shake his hand." Frazer also said that members of loyalist murder gangs should "never have been locked up in the first place" and said he had "a lot of time" for Loyalist Volunteer Force serial killer Billy Wright.
In 2010, Frazer's victims group had all of its EU funding cut after "major failures" were uncovered about how the funding was being spent. In November 2011, the EU demanded his group return £350,000 worth of funding.
Frazer has dabbled in electoral politics, first running for the Ulster Independence Movement in the 1990s and most recently as an Independent Unionist in the Newry & Armagh constituency in the 2010 general election where he came in second from last with 1.5%.
SINN FÉIN Dublin TD and deputy leader Mary Lou McDonald urged people to ignore Willie Frazer's "attention seeking antics" because he wants to get a reaction: "Willie Frazer loves the limelight more than he loves Ulster or anywhere else so the thing that would upset him most would be for people to ignore him on the day.
"I urge people to stay away from his event, however provocative he may try to be."