16 March 2022
Amnesty International finds Israel guilty of crimes against humanity
In the six weeks since a benchmark report into the occupation of Palestine accused Israel of establishing an apartheid regime, attacks, arrests, demolishment of buildings and killings of Palestinians have continued as the Israeli Knesset voted to pass legislation that will deny naturalisation to Palestinians from the occupied West Bank or Gaza married to Israeli citizens. Even though more than half the Israeli parliament members abstained the vote will carry on a citizenship denial right that has been in force since 2003.
The February Amnesty International report has found Israel to be an "Apartheid State" and guilty of "crimes against humanity" through depriving Palestinians of their rights under international law. It must be seen as a challenge to those governments who according to Amnesty have continued to "shield [Israel] from accountability … and are supporting a system of apartheid".
The report outlines how Palestinian human rights organisations have for "over two decades" highlighted Israel's enforcement of a system of apartheid on Palestinians yet Israel's allies "have refused to take any meaningful action against Israel".
The comprehensive and detailed analysis titled Israel's Apartheid against Palestinians: Cruel System of Domination and Crime against Humanity accused Israel, from 1948 onwards, of pursuing "an explicit policy of establishing and maintaining Jewish demographic hegemony and maximising its control over land to benefit Jewish Israelis while minimising the number of Palestinians and restricting their rights and obstructing their ability to challenge this dispossession".
In a statement welcoming the Amnesty report the Palestinian Ambassador to Ireland Dr Jilan Wahba Abdalmajid pointed out that it is the latest in a long line of rights organisations who have called out the unjust occupation of Palestine as a system of apartheid, including Human Rights Watch, UN Special Rapporteur John Dugard, B'Tselem, Yesh Din and a full panel of UN experts.
"The Palestinian people will continue to exercise their legitimate right to oppose and resist all forms of occupation, colonization, dehumanization, racism, and apartheid until they achieve justice and realize their rights to self-determination, return, freedom, and independence", stated the ambassador.
Sinn Féin's spokesperson on Foreign Affairs John Brady, also welcomed Amnesty's findings saying "what emerges is a damning indictment of an apartheid state, intent on the oppression and complete domination of the Palestinian people".
The Wicklow TD went on to call on the Fianna Fáil led Dublin government and its Minister for Foreign Affairs Fine Gael's Simon Coveney "to add their support to the conclusions and recommendations contained within this report and to use its role on the UN Security Council to challenge the international inertia that exists in relation to challenging Israel on its human rights record".
Also, the Irish Congress of Trades Unions (ICTU) said "Congress welcomes Amnesty International's report which condemns Israeli Apartheid and calls for international action to end the oppression of the Palestinian people. [It] adds to an increasing list of human rights organisations levelling similar charges against Israel and totally validates our long-held critique of Israeli apartheid and support - as with South Africa - for Boycott, Divestment and Sanctions (BDS)".
Damningly, Amnesty asserts that "the totality of the regime of laws, policies and practices described in this report demonstrates that Israel has established and maintained an institutionalised regime of oppression and domination of the Palestinian population for the benefit of Jewish Israelis – a system of apartheid – wherever it has exercised control over Palestinians' lives since 1948". The report concludes that the State of Israel considers and treats Palestinians as an inferior non-Jewish group.
In 1950 Israel granted the right to every Jew to immigrate to Israel under the Law of Return, followed by the right to automatic Israeli citizenship under the Nationalist Law of 1952.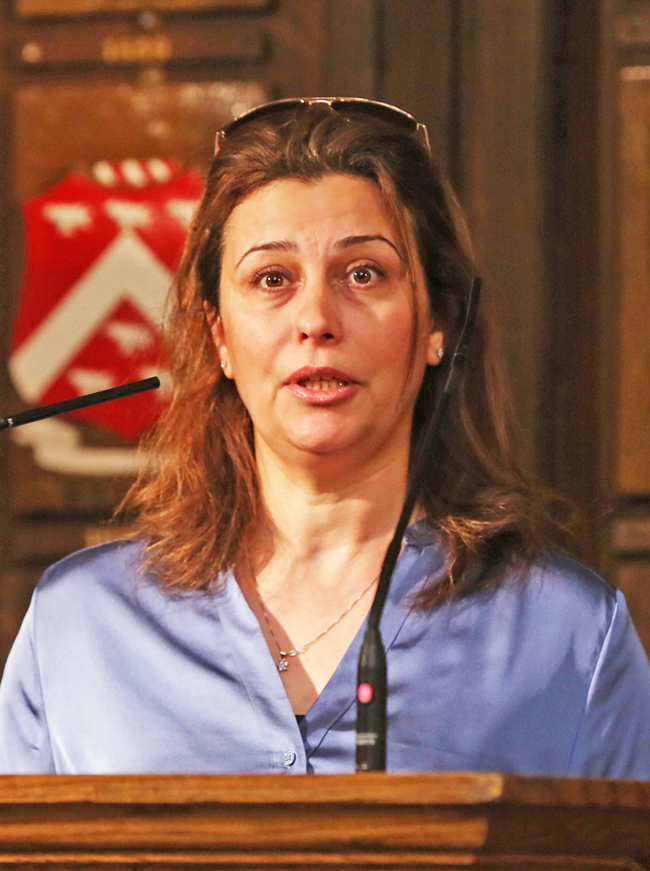 • Palestinian Ambassador to Ireland Dr Jilan Wahba Abdalmajid
That these laws established the framework for the "system of oppression and domination over Palestinians" is acknowledged in the new report which goes further and says that "the 2018 nation state law which enshrined the principle that the "State of Israel is the nation State of the Jewish people" and that the right of self-determination is exclusive "to the Jewish people"". This underscores the intent of Israeli law makers to institutionalise "a privileged legal status" for Jewish people.
In parallel the utterances of leading Israeli politicians as well senior civilian and military officials confirm Israel's intentions. Quoted in 2019 then Prime Minister of Israel Benjamin Netanyahu said "Israel is not a state of all it's citizens … [ but rather] the nation-state of the Jewish people and only them".
Yitzhak Rabin when Prime Minister between 1992 and 1995 said "the red line for Arabs is 20% of the population; that must not be gone over". He added "I want to preserve the Jewish character of the state of Israel".
In 2003 while vice-Prime Minister and three years before he became Prime Minister Rabin stated "the demographic issue" would "dictate the solution we must adopt" and that the "formula for the parameters of a unilateral solution are: to maximise the number of Jews; to minimise the number of Palestinians".
Their overarching objective, maintains Amnesty, has been to minimize Palestinians' access to and control of land "across all territories under Israel's effective control" by seizing Palestinian homes and properties and restricting them to living in enclaves".
"They have appropriated the vast majority of Palestinians' land and natural resources … introduced laws, policies and practices that systematically and cruelly discriminate against Palestinians, leaving them fragmented geographically and politically, in a constant state of fear and insecurity and often impoverished".
Set against the international legal definitions of apartheid there is no doubt that the legal system underpinning Israeli political, military, economic, cultural and social life amounts to an apartheid state.
Amnesty uses three main international treaties that prohibit and "explicitly criminalise" apartheid as it's test to measure Israel as an apartheid state.
The International Convention on the Elimination of All Forms of Racial Discrimination (ICERD); the International Convention on the Suppression and Punishment of the Crime of Apartheid referred to as the Apartheid Convention and the Rome Statute of the International Criminal Court (ICC) referred to simply as the 'Rome Statute'.
The 1965 ICERD, was ratified by 182 countries and provides in Article 3 that "States parties particularly condemn racial segregation and apartheid and undertake to prevent and eradicate all practices of this nature in its territories under their jurisdiction". Israel ratified ICERD in 1979 leaving itself open to the accusation that it was in violation of Article 3 of the convention.
Under Article 11 of the Apartheid Convention specific "inhuman" acts that are committed in the context of "policies and practices of racial segregation and discrimination" amount to crime under international law of apartheid.
"Specific inhuman" acts listed include the "denial of the right to life and liberty of a racial group; murder of members of a racial group; and in the week after the publication of this report members of an undercover Israeli unit Yamam gunned down three young Palestinian men in Nablus. Responding to the killings and reported on the Electronic Intifada Amnesty International is quoted as saying it "is not aware of any case in which an Israeli army soldier or member of another security force has been convicted of wilfully causing the death of a Palestinian in the [West Bank and Gaza Strip] since 1987".
The human rights group B'Tselem has documented that between 2,000 and 2017 Israeli forces have killed 4,868 Palestinians in the Occupied Palestinian Territories, in 1,793 children.
Also cited is the arrest and illegal imprisonment of members of a racial group and the denial of the right to freedom of movement and peaceful assembly.
Nowhere are these policies more pronounced than in the West Bank.
Following the 1967 war Israel extended control over Palestinian society by means of military occupation of the West Bank and East Jerusalem as well as the Gaza Strip. Israel has unilaterally, and contrary to international law, annexed East Jerusalem while the Israeli army has governed both Gaza and the West bank, declaring them "closed military areas" and ruling them through what amounts to martial law.
The military took control of the population registry in the West Bank and imposed policies, restrictions and measures to control the demography of the territory. 954,898 Palestinians were registered within three months. A further 270,000 residents, absent for various reasons, not least having been displaced by the war, were not registered and are now denied the right to return to their homes and live as refugees.
Furthermore approximately 350,000 Palestinians were displaced from the Golan Heights, belonging to Syria and the Sinai Peninsula, belonging to Egypt and are now considered as refugees. Of these, 117,000 were already registered with the United Nations Relief and Works Agency (UNRWA) as refugees due to their being driven out of their homes and off their lands post 1948.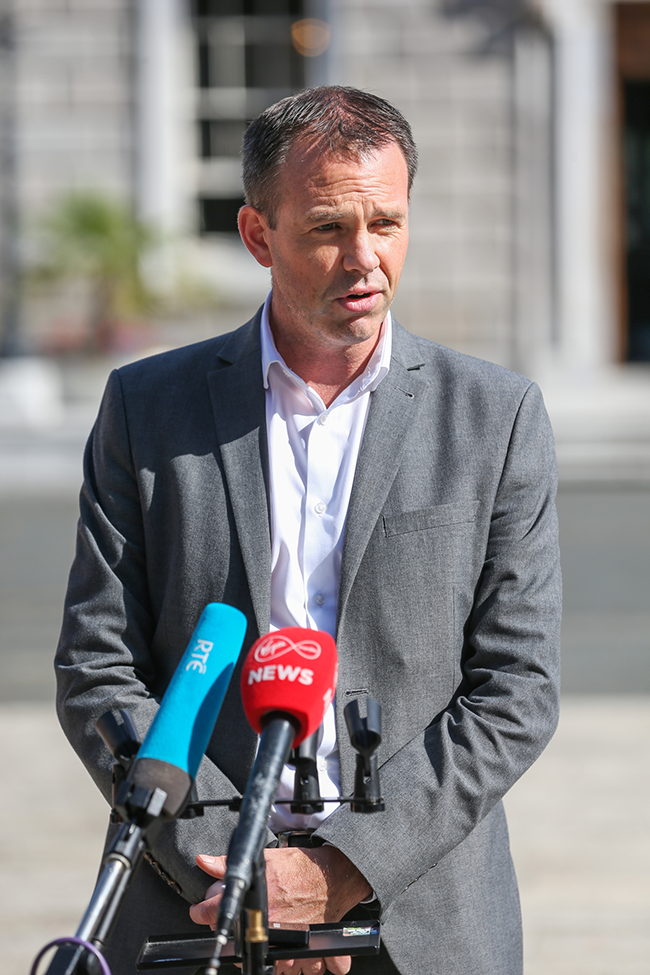 • Sinn Féin's spokesperson on Foreign Affairs John Brady
In September 1967, just months into the occupation of the West Bank, Israel started the construction of settlements, moving Jewish citizens into them and applying it's civil law to them. Currently there are 441,600 Jewish settlers living in 132 settlements in the West Bank, excluding East Jerusalem, and their presence is illegal under international law. These have been officially established by the Israeli government whereas a further 140 "unauthorised outposts" have been established since the 1990s and are considered illegal, even under Israeli law, yet they remain in place.
By contrast, since 1948, Israel has demolished tens of thousands of Palestinian homes and other properties across all areas under its "effective control. This includes more than 500 Palestinian villages" in what is now Israel in the aftermath of the 1947-1948 conflict.
Against this background Amnesty has concluded that "the totality of the regime of laws, policies and practices described in their report demonstrates that Israel has established and maintained an institutionalised regime of oppression and domination of the Palestinian population for the benefit of Jewish Israelis – a system of apartheid – [and] considers and treats Palestinians as an inferior non-Jewish racial group".
It is now calling on those states such as the United States, the European Union and its member states as well Britain to stop supporting this apartheid regime and to suspend the sale and supply of weapons and other "military and security" equipment to Israel.
Supporting these calls Sinn Féin's John Brady said the Republic of Ireland's "role on the UN security must be made to mean something, the Minister needs to begin to challenge the international inertia that exists in relation to challenging Israel on its human rights record.
We must also use our "influence at the EU to speak out on Israel's record of apartheid. It is simply unacceptable that an international body that lauds the cause of human rights is content to ignore one of the worst instances of crimes against humanity which is taking place in the world today."