29 March 2018
Remembering Big Peter: It's time for truth.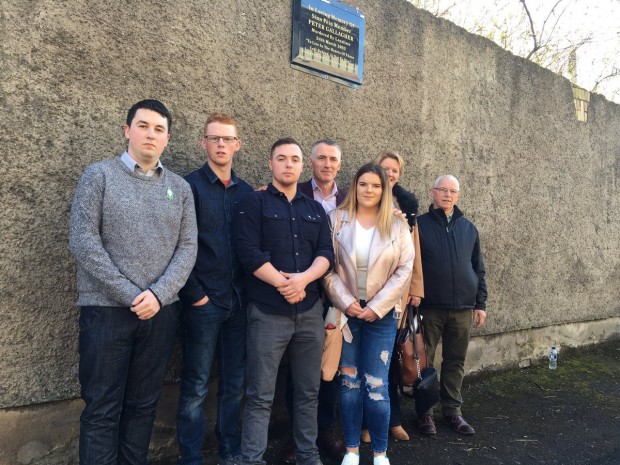 "For as long as our legacy of the past remains unresolved it will be a lightning rod for continued political instability. Sinn Féin is willing to embrace the challenges and to give leadership. Others must do the same." - Declan Kearney
Last Saturday 24th March was International Day for the Right to Truth.
It's a date chosen to coincide with the assassination of Archbishop Óscar Romero in El Salvador by right wing death squads.
Romero has always been one of my heroes. He personified the "option for the poor" and liberation theology: Alongside Frs. Des, Joe and Gary, and some few others in Ireland.
Last Saturday was also the 25th anniversary of the assassination, by a unionist death squad of my good friend and comrade Peter Gallagher from Toomebridge in County Antrim, at his then work place in West Belfast.
Peter was a Sinn Féin member.
The Falls Commemoration Committee graciously organised a plaque unveiling in his memory. Our Belfast comrades invited me to speak. I was very honoured to do so.
Out of the blue, early on Saturday morning Terry sent me a private message. He realised it was Peter's anniversary and wanted me to know that he'd been with him in his dying moments, and had said a prayer into his ear. Terry asked me to tell Peter's family that he was not alone as his life expired.
A good crowd from South Antrim attended the commemoration. Three generations of Peter's own family were there, including Bernie his wife, immediate family, and grandchildren.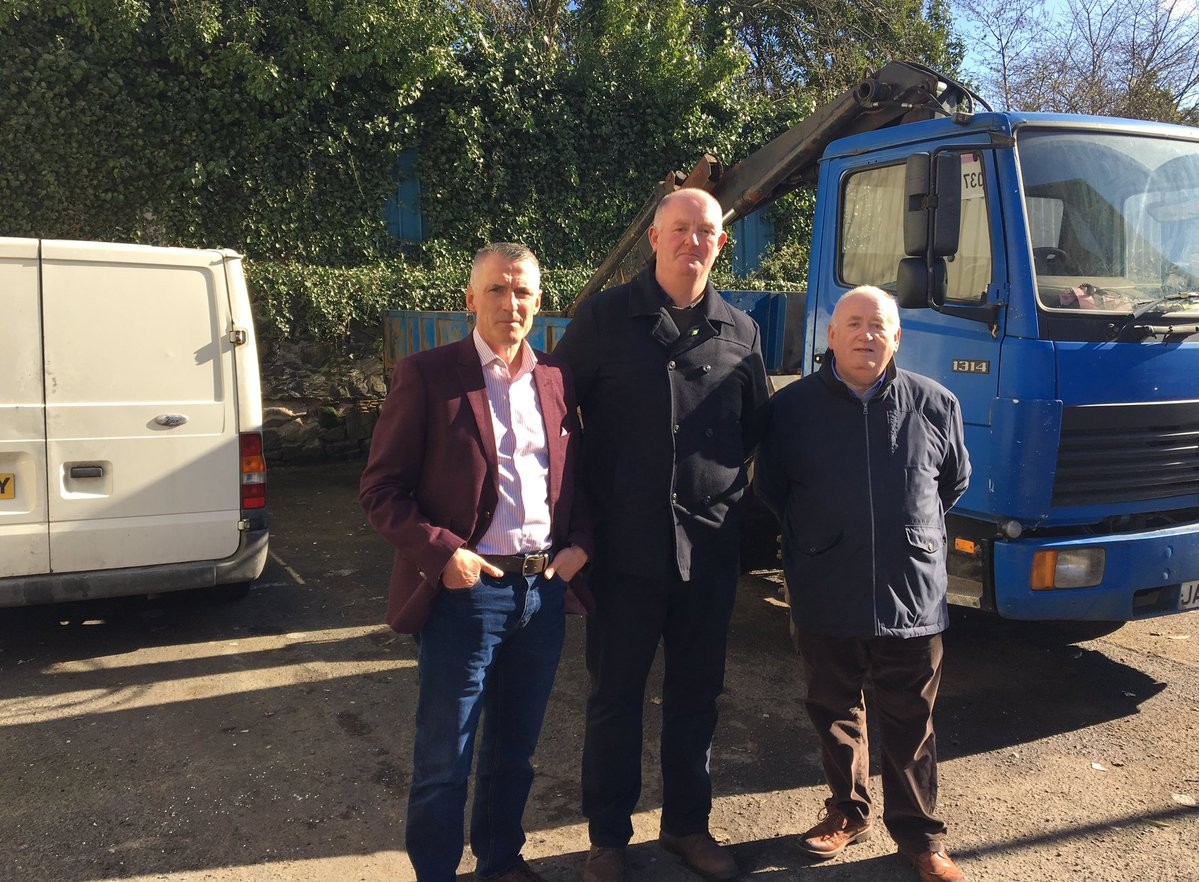 After the ceremony Fra McCann introduced me to Jamesie Falloon who took me and Peter's son Séamus, to where the shooting took place.
I had never visited the place where Peter was shot dead before.
So I stood there staring into the space and thought about Peter, and that day 25 years previously.
I first met Peter Gallagher at marches during the 1980 hunger strike. He was a lot older than me. He had a large family of wains; but he was always friendly – no pretensions. He was a big, ordinary Cargin man.
We both joined Sinn Féin and were active in the Party's 1983 election campaign in South Antrim: Its first in the area since Leo Wilson stood in 1964.
"Big Peter", as we all knew him, lived to work. And, he worked to look after Bernie his wife, and their seven children. He was a genuine republican. To me he was simply "the salt of the earth".
The death squad which killed him may not have not known Peter was a Sinn Féin member, but his death was not an aberration.
After 1985 with Sinn Féin's surge in electoral support during the council elections and the subsequent Hillsborough (or Anglo-Irish) Agreement, there was a step change in British state strategy towards the North.
Thatcher's war cabinet mounted a new politico-military offensive against the resurgent Republican struggle and its popular nationalist support base.
Unionist death squads were reorganised and rearmed, with imported South African automatic weapons.
Random and targeted assassinations became widespread.
Brute force was used against republican funerals by state forces.
Many IRA volunteers were executed by undercover military units, or set up for assassination by death squads.
Between 1989 and 1993 fourteen Sinn Féin members were killed by these unionist death squads.
Other family members were murdered and many dozens were injured.
"Big Peter" was one of those Party members.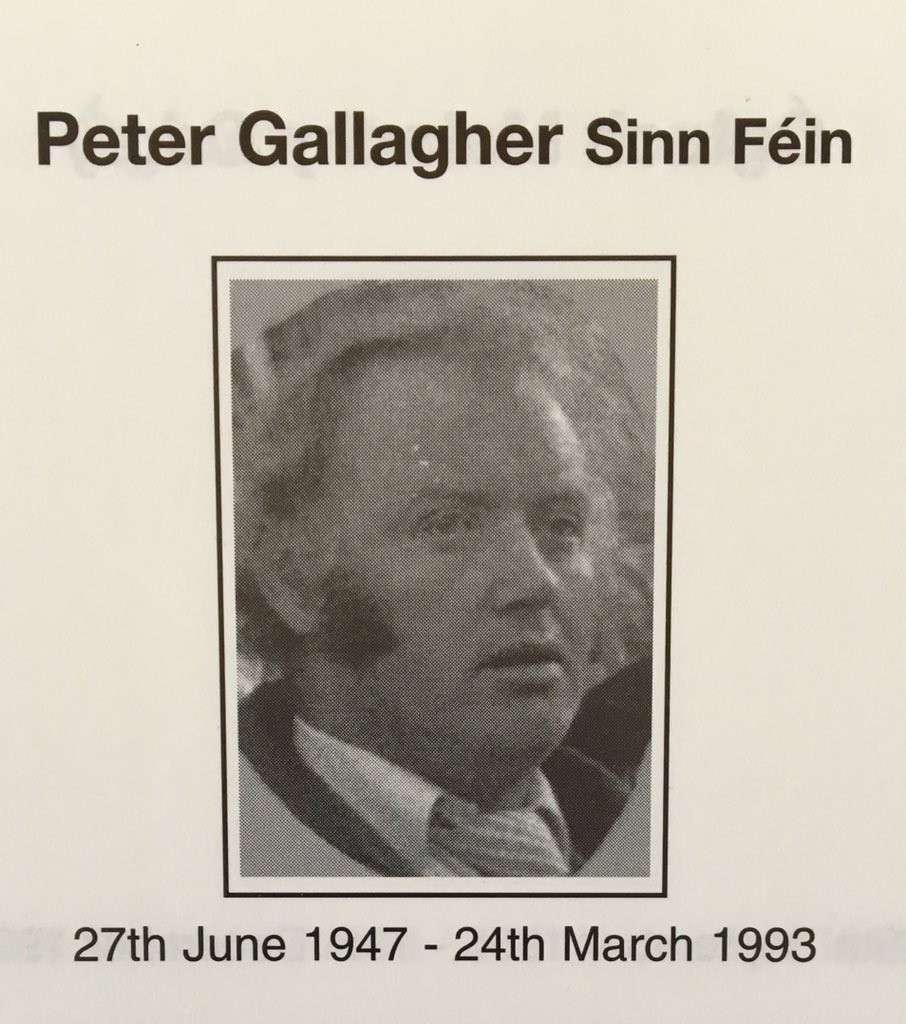 Three months earlier another close friend and comrade of mine, Malachy Carey, was cut down in Ballymoney. The day after Peter's death an IRA volunteer whom I knew, Jimmy Kelly, was shot dead alongside three work mates in Castlerock in County Derry.
A few weeks later in May, Sinn Féin member Alan Lundy was shot dead in Belfast.
A new intense phase had opened up in the North's political conflict.
Thatcher's war cabinet tried to set the agenda in the 1980's and into the 1990's largely through a campaign of state sponsored assassinations and increased repression.
Previously in the 1970's wholesale massacres such as Ballymurphy, Springhill, Bloody Sunday were carried out by the British army.
General Kitson's "Military Reaction Force" was involved in a parallel campaign of shootings and bombings.
During the early 1980's leaders of the anti H-Block/Armagh campaign were singled out for execution. Later a special RUC unit, trained by British army special forces, mounted a series of shoot to kill operations.
These, and many other actions by British state forces and their agents, acting under senior political and security services control are the reason why legacy and dealing with the past in the north is so contested today.
That is why Sinn Féin previously proposed the establishment of an Independent, International Truth Commission to provide a comprehensive process to deal with the past and secure maximum truth recovery.
However, the fact remains that powerful sections of Britain's political and military establishment are still psychologically at war in the north.
For this reason the British Government has since reneged upon and refused to implement the Stormont House Agreement, which Sinn Féin accepted as a compromise on our original policy position for an Independent Truth Commission, by invoking it's "National Security" veto.
The British state's opposition to enabling maximum information disclosure about the actions of its forces and agents has made legacy a touchstone issue.
A third generation of citizens is now campaigning for the right to truth about what happened to their grandparents.
There is a new momentum for truth which is not going away.
Access to the truth is not a zero sum issue in the north of Ireland; nor is it a blame game – that is a cul de sac.
The compromises have already been made. The agreements about how we should deal with the legacy of our past already exist. Now these need to be implemented.
So, the British government should implement the Stormont House Agreement legacy mechanisms; it should release the funds requested by the Lord Chief Justice for coroners' inquests - some of which are now 47 years overdue; and, the Police Ombudsman's Office should be sufficiently resourced to cover all legacy investigations.
During the recent phase of negotiations, the British government made an agreement with Sinn Féin to release the required coroner's inquest funds. It must honour that commitment.
And, moreover it should also lift its continuing veto on maximum information disclosure.
By 1993 the political landscape was beginning to slowly and imperceptibly shift towards the beginning of the peace process.
"Big Peter" never got to see peace in Ireland, but his grandchildren have done so.
Our society is a better place for that, albeit we have a peace process without reconciliation and healing - yet.
Many challenges remain. Much more needs to be done.
The peace process needs to be strengthened.
The Good Friday Agreement is under unprecedented attack from a combination of unionist opposition and the British Tory government's imposition of Brexit.
The Good Friday Agreement doesn't just need to be defended, it needs to be fully implemented.
Political unionism has stepped away from power sharing and partnership government. Fundamental democratic, social and economic rights are being denied.
For as long as our legacy of the past remains unresolved it will be a lightning rod for continued political instability.
Sinn Féin is willing to embrace the challenges and to give leadership.
Others must do the same.
Republicans are not trapped by the past; we look to the future.
It is time for truth.
It is time to finally deal with the past.
It is time to secure a future for "Big Peter's" grandchildren, which was denied his own, and so many other children, during the conflict. Speed the day.
An Phoblacht Magazine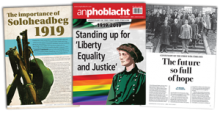 AN PHOBLACHT MAGAZINE:
Don't miss your chance to get the first edition of 2019 published to coincide with the 100th anniversary of An Chéad Dáil and Soloheadbeg.
In this edition Gerry Adams sets out the case for active abstentionism, Mícheál Mac Donncha takes us back to January 21st 1919, that fateful day after which here was no going back and Aengus Ó Snodaigh gives an account of the IRA attack carried out on the same day of the First Dáil, something that was to have a profound effect on the course of Irish history.
There are also articles about the aftermath of the 8th amendment campaign, the Rise of the Right and the civil rights movement.
An Phoblacht on Twitter

An initiative for dialogue 
for reconciliation 
— — — — — — —
Contributions from key figures in the churches, academia and wider civic society as well as senior republican figures