25 March 2018
Thousands take part in The Chieftain's Walk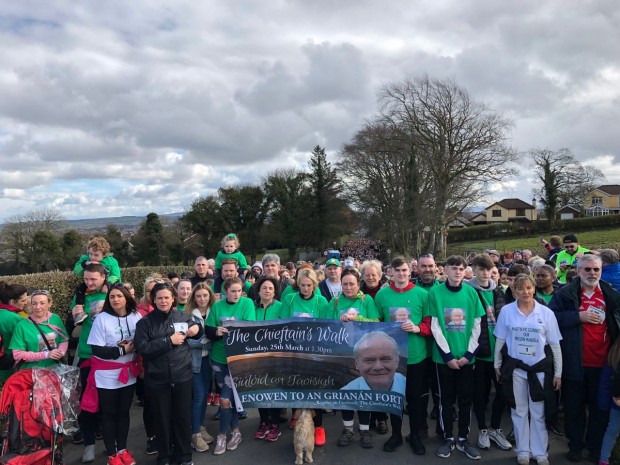 "The Chieftains Walk was a very emotional experience for us as a family but it was also inspiring to see thousands turning out as they did. It really was a fitting tribute and incredible to see." - Fiachra McGuinness
Thousands of people from across Ireland took part in The Chieftain's Walk from Derry to Donegal today in memory of the late Martin McGuinness.
The walk, from Glenowen in Derry to Grianán fort in Donegal, was organised toraise awareness of amyloydosis and to raise funds for the North West Cancer Centre at Altnagelvin.
It was one of a number of events organised in Derry in recent days to celebrate the life and legacy of Martin McGuinness on year on from his death.
Tomorrow night former Sinn Féin President Gerry Adams will speak at an event in Derry's Millennium Forum, 'Remembering the Chieftain,' where he will recall his decades long freindship with Martin McGuinness.
More than 2,000 people walked the 5.5 mile route to the ancient hill fort which was a favourite place of the late Sinn Féin leader.
Sinn Féin President Mary Lou McDonald, deputy leader Michelle O'Neill and Gerry Adams joined the McGuinness family at the head of the walk as it made its way along the backroads in sunshine to Grianán.
Speaking after the walk, Martin's son, Fiachra, thanked all those who took part and made it a success.
"It was an incredible experience to see people turning out in their thousands to remember our father, to raise funds for the North West Cancer Centre and raise awareness of amyloidosis.
"The Chieftains Walk was a very emotional experience for us as a family but it was also inspiring to see thousands turning out as they did. It really was a fitting tribute and incredible to see.
"We want to thank the organising committee who did so much work to make it a success, the stewards, Derry Sinn Féin and all those hundreds of people who helped out in any way. With their individual and collective effort the Walk was the success that it was. And of course, the people of Derry and further afield who supported the event in such huge numbers.
"My father would be so proud and we are so grateful," he said.
An Phoblacht Magazine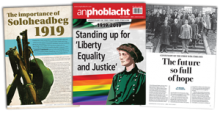 AN PHOBLACHT MAGAZINE:
Don't miss your chance to get the first edition of 2019 published to coincide with the 100th anniversary of An Chéad Dáil and Soloheadbeg.
In this edition Gerry Adams sets out the case for active abstentionism, Mícheál Mac Donncha takes us back to January 21st 1919, that fateful day after which here was no going back and Aengus Ó Snodaigh gives an account of the IRA attack carried out on the same day of the First Dáil, something that was to have a profound effect on the course of Irish history.
There are also articles about the aftermath of the 8th amendment campaign, the Rise of the Right and the civil rights movement.
An Phoblacht on Twitter

An initiative for dialogue 
for reconciliation 
— — — — — — —
Contributions from key figures in the churches, academia and wider civic society as well as senior republican figures