4 October 2017
Record levels of hospital overcrowding continue, says nurses' union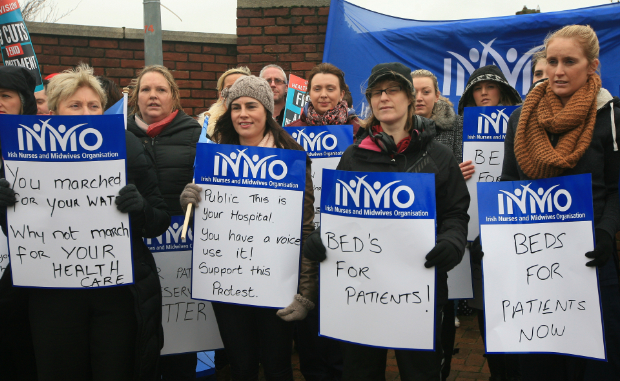 The INMO says it is to call upon HIQA and Health & Safety Authority to carry out unannounced inspections of overcrowded hospitals in the interests of patients and staff
THE Irish Nurses and Midwives' Organisation (INMO) 'Trolley/Ward Watch' figures for the month of September confirm that a record number of 8,101 patients admitted for care were on trolleys in Emergency Departments or wards in the past month.
This represents a 7% increase on 2016 and a 132% increase on September 2007 (3,494).
The latest figures (issued on Wednesday) also confirm that, in the first nine months of 2017, a record number of 73,556 admitted patients were on trolleys, which again represents a 7% increase on 2016 and a 94% increase on the same nine months in 2007.
At that time, the overcrowding situation was declared a national emergency.
The INMO said it is to call upon HIQA and Health & Safety Authority to carry out unannounced inspections of overcrowded hospitals in the interests of patients and staff.
The hospitals with the greatest levels of overcrowding in the past month were:-
University Hospital Limerick – 902
Cork University Hospital – 628
University Hospital Galway – 598
University Hospital Waterford – 505
Tallaght Hospital, Dublin – 448
Speaking on Wednesday morning after the numbers were released, INMO General Secretary Liam Doran (pictured above, speaking) said:
"This record level of overcrowding, as detailed in the latest 'Trolley/Ward Watch' figures, when combined with the abject failure of the HSE to ensure safe staffing, in these overcrowded departments must be recognised as a deepening crisis requiring immediate attention by a number of agencies.
"It is quite clear that, in many hospitals, the daily situation is beyond breaking point with patients left without dignity and privacy. Furthermore, due to the failure to employ additional staff, consistent with an agreed dependency tool and best practice, the care of those patients is being compromised.
"Urgent talks are now required with both the HSE and Department of Health to ascertain what measures, including pay incentives, they intend to put in place, as we enter the winter period in response to the severe shortage of beds and staff confirmed by the latest 'Trolley/Ward Watch' figures.
"In addition, the INMO will be calling upon both HIQA and the Health & Safety Authority to immediately inspect all health facilities where overcrowding is taking place for the purpose of issuing directives to HSE to protect patients and staff."
An Phoblacht on Twitter

An initiative for dialogue 
for reconciliation 
— — — — — — —
Contributions from key figures in the churches, academia and wider civic society as well as senior republican figures