4 May 2015 Edition
May Day – 'Platform for Renewal' – exciting initiative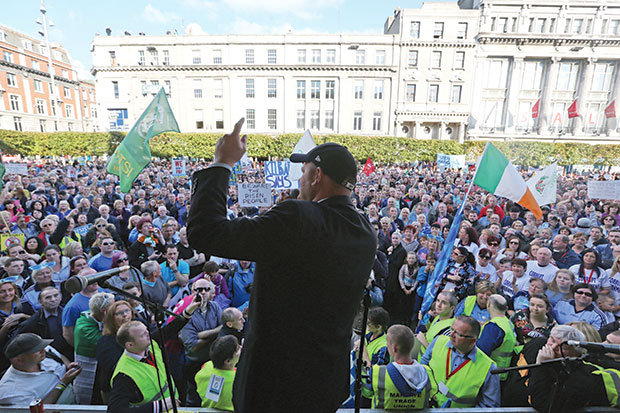 'Workers' living standards continue to be squeezed by policies which favour the interests of business over the interests of people'
THE SPECIAL 'May Day Conference' on Friday 1 May and Saturday 2 May convened by the five trade unions affiliated to the Right2Water campaign to discuss a set of core principles which will underpin a 'Platform for Renewal' in advance of the next general election is being supported by Sinn Féin.
Sinn Féin's representative on the Right2Water campaign, Councillor Daithí Doolan said:
"This is an exciting initiative. Sinn Féin have been working with unions to help build a broad, inclusive Left platform that would promote anti-austerity policies and a fair recovery. We want to work with unions, parties and our communities to lay the foundation for an anti-austerity government. The May Day conference could well be the first step to making that happen."
The unions involved (the CPSU, the Communication Workers' Union, Mandate, OPATSI and Unite) say that trade unions, individuals, political parties and Independents, NGOs, academics, representatives of the not-for-profit sector and community activists will all be invited to input into this Platform for Renewal.
They say Right2Water has been one of the greatest popular mobilisations Ireland has witnessed – a grassroots movement which in reality has been about so much more than water charges.
"Workers' living standards continue to be squeezed by policies which favour the interests of business over the interests of people.
"Since the start of the crisis, the numbers living in deprivation have doubled
"The people have paid for a crisis not of their making. We are determined that they will not be forced to pay for the recovery.
"In the interests of our members, and of our society as a whole, the five unions are calling on like-minded citizens to build this Platform for Renewal in a spirit of unity and solidarity."
Daithí Doolan added:
"Right2Water has mobilised hundreds of thousands of people right across this state. Sinn Féin has played a central role since the start and we hope that this upsurge will help prevent a government led by Fianna Fáil or Fine Gael. The next general election must break the axis of reaction."