19 February 2015
The economic alternative for Greece and Ireland is equality
THE protracted stand-off between the new Greek Government and European Central Bank, European Community and EU Finance Ministers over their demand that Greece should fold and accept the terms of an extended IMF bail-out programme has nothing to do with that country's economic recovery. Instead, it has everything to do with ideology and global politics.
Last week, Irish Times columnist Noel Whelan correctly observed that the response of EU governments (including the Irish and British) has to do with their domestic politics. The centre-right governments in charge of most of Europe have calculated that facilitating a positive outcome for the SYRIZA government will not assist their own prospects of re-election.
The simple fact is that Greece cannot pay its debts in full. Austerity and the bail-out has destroyed its economy. Despite that, Athens is already making payments to its creditors and is prepared to continue doing so. But the creditors want increased payments amounting to a real cost of 8% of GDP. This would mean higher government cutbacks, leading to a deeper depression, and the Greek deficit would decline even slower.
Nobel Laureate economist Paul Krugman has said that more austerity is the opposite of what Greece needs.
Its national debt has gone up, not down – the stated purpose of the Troika's austerity framework. Overall unemployment is 26% and youth unemployment is almost 60%.
The response of the EU should not be to insist that the SYRIZA government backs off its anti-austerity policy. It should be helping Greece restructure its debt and renegotiate its loans. However, the centre-right governments of Europe have chosen the primacy of neo-liberal ideology over a fair recovery.
Fine Gael Minister Leo Varadkar was right to admit that Greece faces "a major humanitarian crisis". The same day, Ashoka Mody, a former International Monetary Fund economist, criticised the Irish Government for taking too soft a line in talks with the EU/IMF Troika in 2011.
Perversely, another Fine Gael minister, Leo Varadkar, opined that Greece was still in a programme: "We're out of a programme. Our economy is growing. There's more people at work." That's where Varadkar has got it wrong.
The 26 Counties might well be out of the Troika programme but its ideological grip continues to control the state's economy.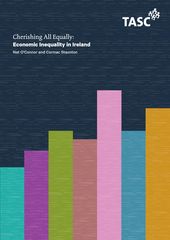 As the new TASC report, Cherishing All Equally: Economic Inequality in Ireland, demonstrates, inequality is growing. The 26 Counties is now the most unequal state in the OECD in terms of income distribution before taxes and social welfare. The gap between rich and poor is rising with more than one-third of all income concentrated with the top 10% of earners.
One in five workers is on low wages.
That inequality is set to deepen and will inevitably undermine the tax and welfare system, with a knock-on consequence for social cohesion and economic stability and growth.
The TASC report echoes the concerns of the recent G20 Finance Ministers' summit in Istanbul that, following the 2008 financial crisis, the gap between rich and poor has dramatically widened and now threatens economic and political stability.
Inequality is back on the global political agenda.
International capitalism has become even more financially integrated, unstable and unfair. It has become a law onto itself. Geo-politics and international economies are in thrall to the hegemony of new global financial elites. This reality goes to the heart of the current Greece crisis and political flux in Ireland.
The fact is that austerity is an ideological choice and it creates inequality.
The alternative is equality. That is a different choice which embraces democratic control of the economy, sustainable investment, enterprise and growth strategies.
Making that choice applies equally to a fair recovery in both Greece and Ireland.