6 December 2013
'Madiba . . . A remarkable human being' – Gerry Adams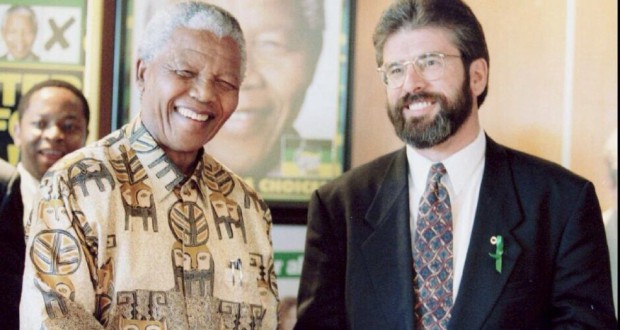 'In the hard years when the Western powers were against him, when he was vilified as a terrorist and a criminal, he kept the faith. He showed by perseverance and vision how to build peace out of conflict – a better and more equal future based on fairness, and unity out of division'
NELSON MANDELA was the greatest political leader of our time, Sinn Féin President Gerry Adams TD said in a tribute on the steps of the Irish Parliament in Dublin on Friday.
Expressing his deep shock and sadness at the death of Nelson Mandela, Gerry Adams said:
"I want to extend to the family of President Mandela, to President Zuma, to the people of South Africa, and to the African community in Ireland my sincere and heartfelt condolences at the death of Madiba.
"One of the first political demonstrations I attended was an anti-apartheid demonstration in the 1960s here in Dublin.
"Nelson Mandela is one of my heroes and in my view the greatest political leader of our time. Is é mo laoch. Mo Ghile Mear.
"The world is in mourning. We have lost our greatest statesman.
"In the hard years when the Western powers were against him, when he was vilified as a terrorist and a criminal, he kept the faith. He showed by perseverance and vision how to build peace out of conflict – a better and more equal future based on fairness, and unity out of division.
"There are lessons for all of us but particularly for the people of the island of Ireland as we continue the necessary and challenging task of building the peace."
The Sinn Féin leader added:
"It was my privilege to meet Madiba many times: in South Africa, in Ireland and Britain. He was funny, engaging and modest and hugely supportive of the Irish Peace Process. Along with his comrades in the ANC, he was very helpful and he had a depth of understanding of the twists and turns of our process.
"He was very loyal to those – including Irish republicans – who had helped the ANC in difficult times. His outreach to Sinn Féin in the 1990s was resisted stridently by the British Government and criticised by sections of the media."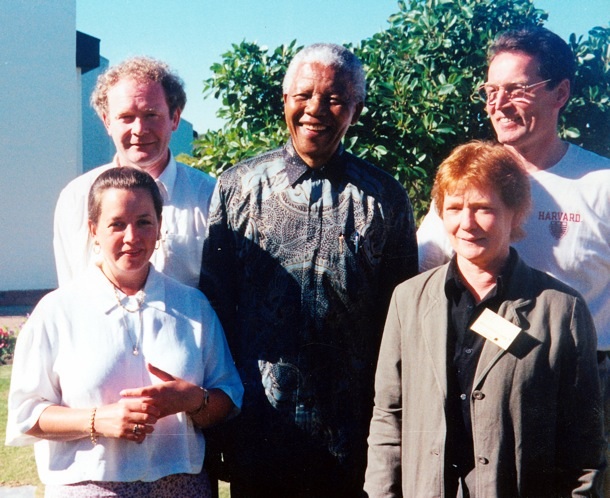 • 1997 Irish Peace Process inter-party talks at the Cape in South Africa: Nelson Mandela with (clockwise) Sinn Féin's Siobhán O'Hanlon, Martin McGuinness, Gerry Kelly and Rita O'Hare
"Madiba will be missed by freedom-loving people around the world. But his legacy will live on. Madiba will continue to inspire and encourage oppressed peoples everywhere.
"In the words he used to salute his friend and comrade Walter Sisulu:
"Hamba Kahle, Madiba. Qhawe la ma Qhawe! (Go well, rest in peace, Madiba, hero among heroes!)"