28 April 2013 Edition
Ben Gilroy and Direct Democracy Ireland: Look behind them
New party peddles advice that could leave distressed mortgage owners in a worse position than before
DDI's advice would 'sound suspect to the ears of any first-year law student, let alone a practising lawyer'
BEN GILROY and his new Direct Democracy Ireland party burst onto the scene in the Meath East by-election, attracting anti-Government voters who took DDI's rhetoric at face value. But what does DDI and its leading figures stand for?
DDI's leaders have backgrounds ranging from conspiracy theorist groups to dabbling in right-wing politics.
Ben Gilroy and DDI have made a name for themselves with publicity-grabbing confrontations with bailiffs at home evictions. But they have been peddling advice that could leave distressed mortgage owners in a worse position than before.
Ben Gilroy stood as the DDI candidate in Meath East, coming fourth with 6.5% of the vote, behind Sinn Féin in third with 13% but pushing Labour into fifth (4.6%). He has been interviewed on high-profile shows such as The Right Hook on Newstalk and Prime Time on RTÉ with little serious questioning of his or DDI's background or ideology. The group is also curiously well-funded and claims to have 11 offices across the state. It also claims 4,000 members.
In the Meath East by-election, an advertisement in support of Gilroy and sponsored by the Christian Solidarity Party (CSP) appeared in the conservative religious magazine Alive! CSP candidates in the 2011 general election advertised the DDI's website on their literature.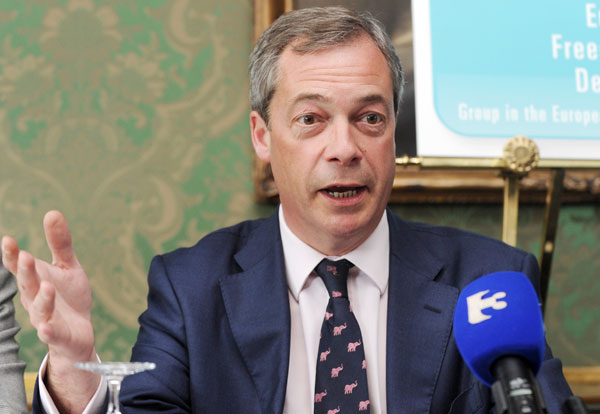 • Ben Gilroy has previously spoken of how he has 'limitless time' for Nigel Farage, leader of the right-wing United Kingdom Independence Party
Gilroy first appeared with his 'People for Economic Justice' (PEJ) group in 2011 when he claimed he was standing up for ordinary homeowners. His name spread across the web in early 2012 when a video showing him confronting a sheriff sent to evict a man from his home in Laois was posted on YouTube. Gilroy claimed it had been his quoting of the Constiution that had temporarily halted the eviction, but anybody who has watched the video will see the sheriff had merely left in frustration as people prevented him gaining access to the house. Gilroy makes little reference to the fact that homeowner Lee Wellstead was evicted from his home a few weeks later and that a court case Wellstead had brought, with the backing of Gilroy, in an attempt to get a stay on the eviction was thrown out. Since then, Gilroy's 'defence' of homes has continued to involve spouting uninformed quasi-legal arguments at sheriffs, receivers and council representatives. The PEJ gave birth to the DDI party, which promises to allow citizens to vote directly on major government decisions.
While the idea of direct democracy has some positive elements, it has also be used in Switzerland to discriminate against minorities. For this reason it is often lauded by right-wing groups such as the UK Independence Party. Gilroy has spoken of how he has "limitless time" for UKIP leader Nigel Farage.
The pseudo legal advice given by DDI/PEJ was first popularised by a right-wing conspiracy theorist movement called the 'Freemen on the Land', which has only recently appeared in Ireland but orginates in the United States.
This movement claims that only common law applies to them as statute law is contractual, and as they do not consent to it, it can not be applied to them. This argument simply does not stand up in court.
The recent use of this Freeman defence by a man for driving without insurance at Kilcock District Court saw him challenege a Garda fine, fail, get fined higher penalties of €3,400, and be jailed for six months with the judge advising him to get "psychiatric treatment as appropriate" while incarcerated.

Writing in the Law Society of Ireland Gazette, barrister Keith Rooney says that DDI's advice is "delusional". Another barrister, Fergal Crehan, says it would "sound suspect to the ears of any first-year law student, let alone a practising lawyer".
Gilroy is in mortgage distress himself and is facing losing his home. In response he has put up a sign on his property in which he claims he has removed implied right of access to his property to courts, credit union, local council and bailiffs. Ringing his doorbell, he tells callers, will be deemed "common law trespass" and the person responsible has entered an "unconditional agreement to pay the sum of €700". This notice is signed by "Ben of the Ancient Clan Giolla Rua (Sovereign)" which he describes as an "authorised agent of Ben Gilroy™". This rhetoric comes from the belief by Freemen that a birth certificate creates a legal person (Ben Gilroy™) separate from their body (Ben of the Ancient Clan Giolla Rua) and that this is the entity that is subject to statutory law.
Initially, many progressive groups took part in Gilroy's People for Economic Justice campaign but most have since left as it becomes clearer that PEJ, and its front-party, Direct Democracy Ireland, does not offer any serious solutions and is instead giving false hope to people in dire need of financial help. Citizens should be wary of this organisation and should ask more questions than the mainstream media seems to be.