31 March 2013 Edition
Waterford fishermen's lifeline to Gaza
'For the world to turn a blind eye to what Israel is doing is criminal' – Sinn Féin Councillor Pat Fitzgerald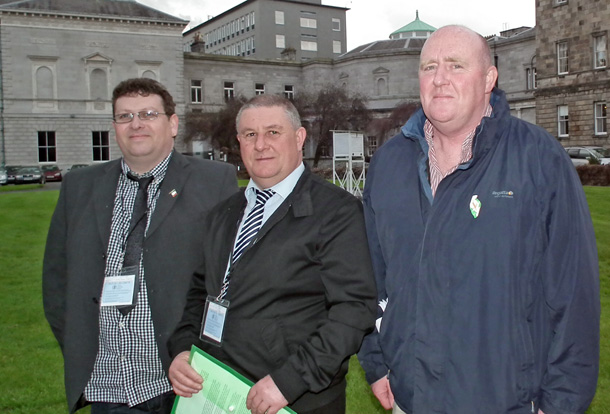 They were handcuffed and put in police vans to be taken to a detention centre where they were all strip-searched. They were photographed, fingerprinted and images of their retinas taken.
IRISH FISHERMEN who have run the gauntlet of Israeli commandos and gunboats to bring thousands of euro in aid and medical supplies to Palestinian families under siege in Gaza have been busy back in Ireland briefing politicians and campaign groups.
In November 2011, Irish Friends of Palestine activists and fishermen PAT FITZGERALD and JOHN HEARNE (both also Sinn Féin councillors in Waterford) and BILLY SMYTH were arrested as they took part in an attempt to breach the siege of Gaza onboard the MV Saoirse. The men were held in an Israeli prison for more than a week before being thrown out of the country.
Pat and John made it to Gaza in December 2012, just days after the end of an Israeli military onslaught that left more than 150 people dead, including 30 children. In March, they briefed a cross-party committee in Leinster House on the issues  and dangers faced by Gaza fishermen. The  meeting was attended by representatives of all parties except Fine Gael and ended with many TDs and senators eager to do something for the Palestinian people. MARK MOLONEY met the activists at Leinster House in Dublin to speak about their arrest, deportation and return to the Gaza Strip.
The November 2011 trip to Gaza was not the first attempt by the Waterford fishermen to break the illegal siege of Gaza. An earlier attempt in 2011 had been twarthed after the boat on which they were due to travel was sabotaged in Cyprus by suspected Israeli agents, possibly from Mossad.
Water cannon, tasers and snipers 
In the Waterford fishermen's next attempt, the MV Saoirse and the MV Tahrir left a port in Turkey on 2 November 2011 with the aim of delivering €30,000 worth of humanitarian aid to the people of Gaza. Even before leaving port the crew faced problems. The Turkish Government tried to make it difficult, cutting the number of permits for individuals. "They basically told us we would have to leave people behind," says John. Fifteen people had been due to travel on the Irish-registered  vessel. "To get around the restrictions, we just hid the rest of the actvisits along the quay and when we were pulling away from the dock we shouted 'Just jump on' and they did, so we were away."
For almost two days the ship was shadowed by a Turkish Navy patrol boat.
The Israeli Government had already told the international media it would not tolerate attempts to breach its siege. While still in international waters, the Israeli Navy and special forces commandos moved in on the two boats.
"We were 26 miles from the shore and still in international waters when all our radios went dead and we were surrounded by five large Israeli warships and around 20 small assault vessels," says John. "They corralled our boat and the Tahrir and we collided, causing a fair bit of damage.
The Israelis then fired water cannons at the activists.
"They used such force with the hose that Fintan Lane [activist and writer] was washed off the top deck and down the ladder," says John. "The water hit the electronics in the wheelhouse and it went on fire. At the same time, Pat was down below, trying to bail out water which was coming in due to damage from the collision. It was like a disco with all the red sniper scopes twirling around the cabin. We were very aware there were snipers aiming directly at us."
Billy says he believes that at least 20 armed Israeli commandos wearing balaclavas stormed the boat and took it under gunpoint to Ashdod harbour.
The activists onboard the Tahrir fared much worse. Many of them panicked when the commandos boarded. A number were tasered and beaten before they reached port.

• Billy Smyth, Eric Scanlon (Sinn Féin adviser), Michael Colreavy TD, Cllr Pat Fitzgerald, Cllr John Hearne, John Hughes and Seán Crowe TD at Leinster House
Strip-searched and throttled
When the Saoirse arrived in Ashdod the crew refused to disembark and pointed out they were kidnap victims, captured in international waters, and demanded to meet with the Irish Ambassador.
"They kept threatening us and telling us to leave the boat or they'd be forced to use violence," says Billy.  "At the same time we could hear them beating up the Canadians in the harbour. They were dragging them along the quay and kicking them." Eventually, a representative from the Irish Embassy arrived. After four hours of a stand-off, the Saoirse's crew felt it was safe to be taken ashore.
They were handcuffed and put in police vans to be taken to a detention centre where they were all strip-searched. They were photographed, fingerprinted and images of their retinas taken.
Irish activists had been advised by republican former prisoners and activists ahead of their departure on how to deal with questioning by the Israeli military. During questioning, they kept repeating that they were kidnap victims and demanded to be returned to their boat to continue their journey. Many faced three rounds of questioning during which there were threats of violence against them.
In the high-security Givon Prison, they were stripped again, brought to cells and subjected to sleep deprivation. Every hour, prison guards entered the cells, roaring and screaming and shouting at them to get up. They were also denied their right to contact their families within 24 hours of their arrest. The Saoirse activists were being kept on the same wing. They refused to obey prison orders and the prisoner governor told them he would do what he wanted in his prison. The activists replied that they were political prisoners and wouldn't be treated any other way. The governor eventually agreed to a deal where the prisoners would be required to be in their cells at 3pm and 8pm but, apart from that, they would be left alone "on condition that we stopped singing ballads", John laughs. "We were getting a bit sick of them ourselves at that stage also so it didn't bother us!" The Tahrir crew and female activists were kept on another wing. John says the women were singled out for mistreatement by guards.
Every day the prisoners were given prepared confessions stating that they had entered Israel illegally and were asked to sign them. Every day they refused.
Three days into their time in Givon, the prisoners were brought in one by one to a kangaroo court presided over by a judge in a prefab in the rear of the prison. One after another they told the judge they were kidnap victims.
"After six or seven people were called in the judge ran out of the room, shouting and roaring that he wasn't going to put up with this abuse anymore and saying we had no respect for anybody," John chuckles. "We told him, 'No, we just have no respect for your apartheid regime.'"
After seven days the prisoners were moved to a detention centre near Ben Gurion Airport in Tel Aviv and told they would be on a flight in the morning.
"It was a real kip, covered in urine and excrement," says John. Israeli guards tried to start fights with the activists.The activists said it looked like the detention centre was where the Israelis "planned to get their own back".
"They had Paul Murphy MEP by the throat," says John, "so we jumped in and pushed them back. When they realised who he was and that they had physically assaulted a member of the European Parliament, suddenly they changed their tune."
Even though the arrested activists were assured of flights home, some were still marched out to the steps of the aircraft and then asked to sign the 'confession'. When they refused they were again strip-searched and brought back to the detention centre. Eventually they were released in small groups so as to avoid a large group being welcomed at Dublin Airport.
Fishing in sewerage
The Irish fishermen arrived in Gaza in December 2012, just days after the Israeli assault that had left 150 people dead.
They met fishermen and their representatives, including the Gaza Fishermen's Association, the Union of Agricultural Workers, and the Minister for Agriculture. In 2005 Israel illegaly reduced the 20 nautical mile fishing limit to 10 miles before completely banning any fishing for several months in 2006. Since 2007, the Israelis have only allowed fishermen 3 nautical miles off the coast and even those within this limit have been attacked by the Israeli military.
There are 3,700 unionised fishermen operating in the Gaza Strip and the Irish delegation met their representatives and boat owners.
"We met them in their bombed-out building near the port. The Israelis had bombed it in the last week and the harbour sentry had been killed at the door," John tells me.
Out on the sea, Palestinian boats are routinely boarded and their occupants arrested or assaulted by Israeli forces. "They're being harassed and shot while out on the boats. They often have equpiment stolen on them and the Israelis will pour chemicals on their nets to destroy them," says Pat.
A favourite target of Israeli bombings is sewerage plants along the coastline resulting in tons of untreated sewerage pouring into the sea.
"They force them to fish in their own sewerage," says John in disgust. "That's how far the Israelis will go to humiliate these people."
Other fishermen have been arrested and never seen again.
"The father of one fisherman pulled us aside and explained how his son had been detained the day before we arrived and he couldn't find him. We've contacted the Israeli Embassy in Dublin on several occasions since and we still can't get any answers. We believe he is still being held illegally."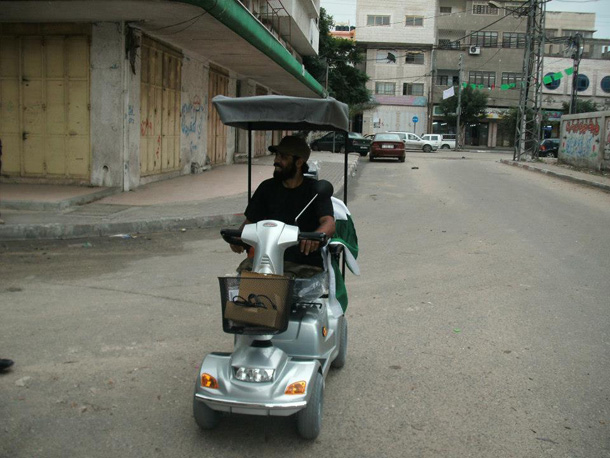 •  Former deckhand Ibrahim Abu Thuraya tries out his new mobility scooter which was delivered by Irish Friends of Palestine. (Below) Ibrahim makes a living washing cars on the streets of Gaza after he lost his legs to an Israeli missile
The delegation brought with them an electric mobility scooter to donate to former deckhand 26-year-old Ibrahim Abu Thuraya. Money to purchase the wheelchair was raised by a Kilkenny man, John Kavanagh, after reading a report on Ibrahim's plight in The Irish Times. Ibrahim had been working on a trawler when it was hit by an Israeli missile in 2008. Eight people onboard were killed while Ibrahim lost both his legs below the hips. He now works cleaning cars on the streets of Gaza.
"When he was given his motorised wheelchair it seemed as if every resident of the refugee camp that Ibrahim calls home came out to see him master the controls of his new machine," Pat smiles. "By the time we were going home he was whizzing around and visiting places he hadn't been to in years."
The four men are in agreement that tighter sanctions on Israel and pressure from the international community are the only ways to force Israel to abide by UN resolutions and genuinely work towards a lasting solution to the conflict. Pat doesn't mince his words:
"World leaders need to stand up and say very clearly: 'This is wrong.'
"What is going on in Palestine is absolutely disgraceful, inhuman and for the world to turn a blind eye is criminal."
» The Irish Friends of Palestine will have a stall at the Sinn Féin Ard Fheis in Castlebar.