6 January 2013 Edition
'It could be people like you or me who have hit hard times'
'On the run' — the Dublin City Sinn Féin soup run for the homeless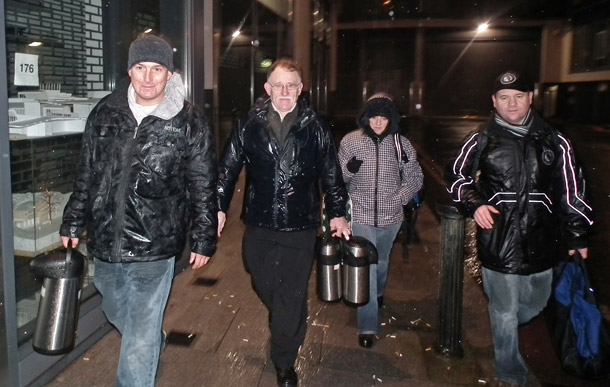 There has been no let-up in the rain all day. Many of the lanes and roads are flooded
MORE AND MORE PEOPLE are finding themselves homeless and living on the streets of Ireland. Despite the increased demand this places on charitable organisations, very little extra state funding has been released to help them deal with the surge in demand. Various groups deliver food and dry clothing to people living rough. An Phoblacht's MARK MOLONEY went out with Dublin City Sinn Féin on a soup run one rain-soaked Sunday night.
IT IS POURING RAIN and freezing cold when I meet up with the group of volunteers in a car-park at the back of Parnell Square. They're lifting out big thermos pump flasks filled with hot water, packets of sandwiches and black bags stuffed with donated clothing from the back of a van.
They're getting ready to go out on a soup run for the homeless in Dublin's inner city. It is estimated that more than 2,300 people are living homeless in Dublin, more than half the total in the entire state.
I set off down Parnell Square and Moore Lane with Dublin North-West Sinn Féin TD Dessie Ellis, Dublin West Sinn Féin representative Paul Donnelly, Natalie Treacy and Ronan Liddy. It's dark. It's miserable. There has been no let-up in the rain all day. Many of the lanes and roads are flooded.
Ronan has a lot of experience helping homeless people. He's the team's guide. For the last two years he's been volunteering with the Abbey Street Methodist Church soup runs several times a week. The Dublin City Sinn Féin run has been going since the start of November in reaction to the growing numbers of 'rough sleepers'.
On O'Connell Street we meet 'David', who is curled up in a sleeping bag outside Penney's clothing store. He tells us he's just been released from prison three weeks earlier. He takes a cup of tea and some sandwiches. "Do you need any blankets?" asks Dessie. "Ah, no, I have one in my bag. I wouldn't take it - I'd rather it goes to somebody who needs it," he says. David tells us he will sleep out in Stephen's Green tonight because it's safer. "I wouldn't sleep on the street because you see drunk kids kicking people on their way past. You never know what could happen to you."
It is not unusual for ex-prisoners to end up on the streets. Some homeless people will even intentionally get caught stealing from shops to be sent back to prison where they are at least warm and get food.
On the Ha'penny Bridge, the much-photographed tourist attraction that links the northside and southside of the city centre, a man is sitting shivering with the cold and soaked to the skin. Paul Donnelly is in disbelief. "Would you not even move down to the wall and keep your back out of the wind?" he urges the man. "No, I'm grand," is the reply. He is clearly very sick and suffering from a bad chest infection. You can hear it on him. "It won't be long until he's in hospital," says Paul as he shakes his head. The team give him dry clothes and some soup and sandwiches.
In Temple Bar, we get talking to a group of four homeless people. Two of the men, both in their early 40s, are from Limerick.
"We were living in an apartment and paying rent to the landlord but he wasn't passing it on to the owner, so we woke up one morning to find the sheriff at the door and next thing we knew we were out."
A younger woman from Dundalk, 'Jenny', is also there. She seems to be in good form and joins the two men for a cup of tea and a sandwich. "Ah, it's great to see youse out tonight. There's no runs on a Sunday." She is clearly very cold and the volunteers give her a dry hoodie. "Ah, thanks very much, I was walking down the Quays and somebody drove a car past into a huge puddle and drowned me, thinking it was funny," she says.
Ronán gets chatting to her about how she ended up on streets of Dublin. "I was involved in a violent relationship," she says. "I had to leave. I went for help from social services and I was asked if I had I reported the incident to the Garda. I told them I couldn't; if I did  I'd be found dead in a ditch."
Jenny is waiting to ring one of the hostels in the city to see if they have any free beds. "If you don't have any money you have to ring up after 7:30 and if there's a free bed you can get it then."
"But what if you don't get a bed?" I ask.
"Well I'll just walk around all night. I wouldn't sleep on the street or lie down. I did it before and ended up with pneumonia. If the cold gets into you then you're done for."
A few weeks previously, a 17-year-old homeless person was found dead beneath a bridge on the Royal Canal. "I met him a few times," says Jenny. "He was a lovely young fella. He wasn't involved in drugs or anything. I think it was the cold that killed him."
Jenny has nothing but praise for the volunteers and staff at the Capuchin Day Centre known as 'Brother Luke's' in Bow Street which provides breakfast and dinner for 1,600 people each week and also makes shower facilities available. Despite an increase of 600 people weekly, there has been no extra funding made available for the centre since 2007.
An older man joins the group in Temple Bar. Originally from Wexford, he is now sleeping rough on the streets of Dublin. He is well-spoken and visibly upset and angry with the situation he has found himself in. He recognises Dessie Ellis as a TD and the two talk about the social housing application process. While there is support for homeless people, the difficult and long process means that very often many people do not see it through and give up, thinking they are getting nowhere.
"I won't sleep in a hostel," he says. "I did it before and they are hell on earth." Tonight he says he will take the Luas tram up to the Accident and Emergency in Tallaght Hospital. "I'll just sit in the waiting room to keep myself warm. You can't sleep there but on a cold wet night like this it's important to keep warm."
As he continues to talk he speaks about his family, who don't know he is sleeping rough. "If it wasn't for my daughter I probably would have topped myself by now."
As we head through Temple Bar we hear many similar stories. Financial hardship, depression, domestic violence and strife, drug abuse are all part of the complex backgrounds of the people we meet. On Grafton Street, a man begging as nightclub revellers are passing is keeping his spirits up, joking and having banter with those who come over to put spare change in his cup. "I know it doesn't look like much but I've made enough for me today," he says nodding to the coins. "I'm one of the only ones out in this weather. The Revenue Commissioners will be looking to talk to me next!" he laughs, telling us he'll be able to afford a hostel tonight.
Coming to the end of our run we spot 'Angela' hunched over and shivering between two ATMs near Trinity College. She is in her late 40s. Natalie crouches down beside her for a chat and brings her over a cup of soup and some sandwiches. It's then I notice some movement under Angela's jacket. A very small black and white kitten pokes its head out to see what all the commotion is about. Angela pets him on the head. "He's interested in the sandwiches," she laughs. "What's his name?" I ask her. "Twinkles," she says, "I only got him two weeks ago. Isn't he lovely? It's nice to have him around for a bit of company," she smiles. As it's near the end of the run we have a few tuna sandwiches left over and the crew give them to her for herself and the cat. "Ah, he'll love that, God bless yas," she says as we head off.
As we walk back towards the car-park, Paul Donnelly says to me: "I can't stop thinking that in a few minutes I'll be at home with life comforts at my finger tips and these people will still be out in the cold. It's very sad and humbling"
Natalie Treacy says it annoys her when people assume that all of those who are homeless on our streets are drug addicts or alcoholics.
"It's just not true, it's people like me or you who have hit hard times. I'll tell you what, this government have a lot to answer for. It makes my blood boil. I just wish I could do more for them."
Homelessness (26 Counties)
Total number of homeless 3,808
Of these:
2,375 live in Dublin city and county
218 homeless people are in secondary school or third-level education
1,581 homless people say they suffer from a disability
450 homeless people are under 14 years old
199 homeless people are under 4 years old
208 homeless people are pensioners
Source: Central Statistics Office