4 November 2012 Edition
Sinn Féin jobs plan and how to pay for it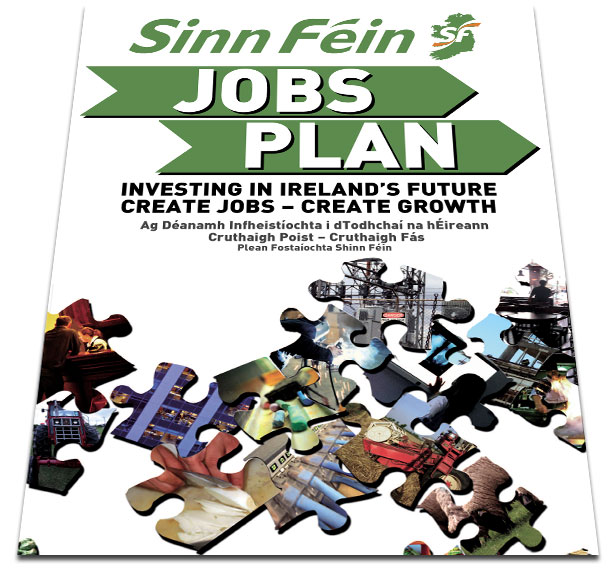 Gerry Adams TD said the plan is full costed and he outlined a socially responsible way to reduce the Budget and create jobs
SINN FÉIN has launched a 60-page job creation proposal setting out a comprehensive plan for making youth employment a priority; assisting businesses and manufacturing; developing the agri-food sector; reforming the existing enterprise agencies; promoting co-operatives and much more.
Speaking at the launch in October of the plan, titled 'Investing in Ireland's Future: Create Jobs, Create Growth', Sinn Féin President Gerry Adams TD said the plan is full costed and he outlined a socially responsible way to reduce the Budget and create jobs.
"It is a thoughtful, rational, well-developed and costed plan that will use the available resources in an intelligent, smart way," the Louth deputy said. "There will be those who disagree with our proposals. That's fine. Let them do so constructively and provide their alternative."
What is Sinn Féin proposing?
Sinn Féin is proposing a €13billion investment in a job-creation and economic growth strategy over four years.
The strategy would involve investing in infrastructure, helping entrepreneurs by removing barriers and supporting them to create and retain new jobs and also exploit  the potential of existing state enterprises in the areas of broadband roll-out, renewable energy and eco-tourism, along with investment in agri-food and rural communities.
This would create 156,000 jobs (long-term and short-term, according to the ERSI) and retain up to 15,000 jobs.
Where would we get the money?
Sinn Féin's plan would be funded from the €5.8billion in the National Pension Reserve Fund, €1.534billion from the European Investment Bank and €3billion incentivised investment from the private pension sector. The party says it would not cut the €2.6billion from the capital budget spend as the Government plans to.
Overhaul of enterprise policy
Sinn Féin proposes the setting of regional job creation targets by Enterprise Ireland and the IDA to address the clear imbalance of where jobs are created
Amalgamate Enterprise Ireland, the IDA, and County Enterprise Boards and partnerships into a new organisation called All-Ireland Enterprise.
What will Sinn Féin invest in?
Broadband: Invest €2.5billion in the roll-out of next generation broadband across the state
Water infrastructure: €500million investment investment in water infrastructure, currently 43% of water is wasted through leaks
Beet industry: €350million investment to revive the sugar beet industry and construct a new bio-refinery in the south-east which could potentially create 5,000 jobs
Cork Docklands : €600million regeneration in the Cork docklands area in line with the Engineers Ireland report
Dublin & Limerick: Invest €960million in continuing regeneration projects in Dublin and Limerick
Build more schools: Invest €350million to build 100 new schools and refurbish 75 more over the next three years
A5 dual carrigeway: Proceed with the building of the A5 to open up the north-west to investment
Healthcare centres: Invest €250million to build 50 new primary healthcare centres
Tackle 'Irish' branding fraud: Encourage the Irish food industry to use domestic suppliers and increase monitoring of 'Irish goods' labelling to ensure food labelled as "Ireland" is not being mis-sold
How will Sinn Féin support business?
Introduce a €100million job retention scheme to protect 15,000 jobs
Deliver value for money and jobs by opening up state procurement to small companies
Give self-employed people the option to pay PRSI as it is applied to PAYE employees, so as to receive the same entitlements if they become unemployed
Examine the use of tax credits for sourcing local, Irish-produced materials
Abolish upward-only rents
Cap utility costs for a period of three years.
Examine a temporary rebate on fuel for transport firms.
Prioritise prompt payments by ensuring the 15-day rule is adhered to by state agencies
Tackle the costs of doing business on the Border including credit card transaction fees, telecommunication charges and dual tax and payroll systems
What about state enterprises?
Coillte: Develop Coillte's role in eco-tourism across its 10 forest parks and 150 recreation sites
Renewable energy: Invest €1billion in wind and wave energy. It is estimated this area could create 50,000 jobs over 15 years. This must be done in a community-friendly fashion
Broadband: Ensure the ESB, Bord Gáis and Coillte co-operate in the roll-out of broadband
The full document 'Investing in Ireland's Future: Create Jobs, Create Growth' can be read online at www.sinnfein.ie