12 September 2012
Protesters in 113 countries demand 'Freedom for the Cuban Five'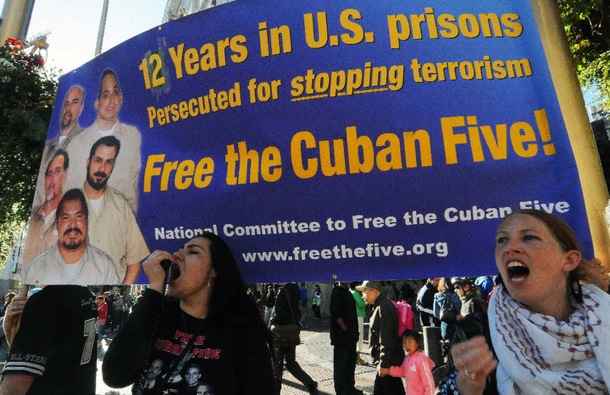 Anti-Cuba terror groups based in the US have carried out thousands of bombings, shootings and arson attacks, leaving more than 3,400 people dead and thousands more wounded
US EMBASSIES in 113 countries across the world were picketed on Wednesday calling for the release of five Cuban anti-terrorist officers imprisoned in the United States.
Antonio Guerrero, Fernando Gonzalez, Ramon Labañino, Rene Gonzalez and Gerardo Hernandez – internationally known as the Cuban Five (or Miami Five) – were imprisoned in the US for conspiracy to commit espionage in September 1998. The men had infiltrated Miami-based terror gangs composed of Cuban exiles which were plotting bomb attacks against the Caribbean island.
The five men were initially sentenced to life imprisonment plus 77 years but this was reduced after the UN Working Group on Arbitrary Detention ruled that their imprisonment violated Article 14 of the International Convention on Civil and Political Liberties.
Wednesday's protests included one outside the US Embassy in Ballsbridge, Dublin. Activists highlighted the hypocrisy of the US authorities who claimed to be engaged in a "war on terror" yet at the same time imprisoned unarmed anti-terrorist officers who were collecting information on terrorists operating against civilians from US soil.
Since 1959, anti-Cuba terror groups based in the US have carried out thousands of bombings, shootings and arson attacks, leaving more than 3,400 people dead and thousands more wounded. One of their most notorious attacks was the bombing of a civilian airliner – Cubana Flight 455 –which killed all 78 people onboard. Most recently, these groups are being blamed for the firebombing of the Airline Brokers' offices in Coral Gables, Florida, on 27 April this year.
A public meeting on the Cuban Five campaign will take place in Dublin at the Connolly Room, Liberty Hall at 6.30pm next Wednesday, 19 September.
Speakers at the event include Magali Llort, mother of Fernando Gonzalez; and Dr Haymel Espinosa, the daughter of one of the pilots of Cubana Flight 455.
An Phoblacht Magazine
AN PHOBLACHT MAGAZINE:
Don't miss your chance to get the second edition of the 2019 magazine, published to coincide with Easter Week
This special edition which focuses on Irish Unity, features articles by Pearse Doherty, Dr Thomas Paul and Martina Anderson.
Pearse sets out the argument for an United Ireland Economy whilst Pat Sheehan makes the case for a universally free all-island health service.
Other articles include, 'Ceist teanga in Éirinn Aontaithe', 'Getting to a new Ireland' and 'Ireland 1918-22: The people's revolution'.
An Phoblacht on Twitter

An initiative for dialogue 
for reconciliation 
— — — — — — —
Contributions from key figures in the churches, academia and wider civic society as well as senior republican figures