18 October 2007 Edition
Irish republicans celebrate Che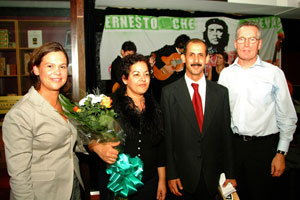 THE 40th anniversary of the death of Che Guevara was marked by Sinn Féin in various parts of Ireland last week.
A vigil in memory of the international revolutionary icon outside Dublin's GPO was followed by a 'Celebración de un Héroe Internacional' Cuban night which was addressed by Cuban Ambassador Noel Carrillo, Sinn Féin Junior Minister Gerry Kelly and Eoin Ó Broin.
Ambassador Carrillo said it was heart-warming to be part of the celebrations in memory of Che despite being so far from home.
"Remembering Che is important on many levels, particularly now when one looks at the changing political dynamic of Latin America.
"The revolutionary change in society that Che fought and died for continues in the social and economic changes that we see in countries such as Venezuela and Bolivia. Equality is the cornerstone of these changes.
"In Cuba, we too continue to work towards a new model of socialism. We have made mistakes in the past but, despite severe political and economic isolation for so many years, we have delivered public services such as health and education that most countries in the west can only dream of."
Gerry Kelly presented the Cuban ambassador with a bodhrán made by the republican POWs in Castlerea.  During an extensive talk on the life of Che Guevara, Kelly said:
"The iconic image and revolutionary commitment of Che Guevara – whose ancestors he was proud to remind everyone were Lynchs from Galway – has remained an important inspiration for the progressive and republican movement in Ireland. After his death his family described how his Irish blood had fostered his rebellious and wandering spirit."
Kelly went on to recall that Fidel Castro had publicly supported the republican Hunger Strikers in 1981 and that this would never be forgotten by Irish republicans.
Sinn Féin's Eoin Ó Broin spoke of the importance of looking behind the icon of Che Guevara.
"There are three great qualities I admire in Guevara: the fact that he led from the front; that he practised equality amongst his comrades; and the highly active nature of his mind. He was always reading, writing and developing new ideas."
Dublin MEP Mary Lou McDonald spoke briefly in Spanish welcoming the the Ambassador and his wife Mariella.
Derry
In Derry, Sinn Féin Foyle MLA Raymond McCartney congratulated all those involved who organised or attended the successful week of events, which included a visit to Derry City by the Cuban ambassador to Ireland.
Raymond McCartney said:
"The theme of the week was to go beyond the iconic image of Che Guevara, to find out more about the man and the shared history of Cuba and Ireland and I think that all the various events achieved that."
The events included the Derry premiere of Por Siempre Che, the unveiling of a mural and a political workshop for local youths.
The week culminated in an audience with Noel Carrillo, Cuba's ambassador to Ireland, in an event designed to highlight the plight of the Miami 5, five Cuban nationals serving long jail terms in the United States on espionage and terrorism charges after being arrested while they themselves were monitoring anti-Castro exile groups openly engaged in promoting terrorism against Cuba from US soil.
Tickets for the Derry premiere of Por Siempre Che, produced by Belfast republicans, sold out very quickly and the event was very well attended. Jim 'Flash' McVeigh, a former O/C of republican prisoners at Long Kesh, gave a brief talk on the relationship between the modern struggle in Ireland and Che's legacy before salsa dancers, Cruncher O'Neill and Gary Óg provided the large crowd with some excellent entertainment.
Mural
On Saturday, Noel Carrillo unveiled a new mural at Lisfannon Park.  The mural, painted by local artists Liam O'Donnell and Paddy Nelis, which received considerable international media attention, was complemented by a mural on the back of Free Derry Corner painted by local youths.
A discussion aimed at young people was held in Pilot Row Community Centre with over 60 young people discussing the topic of 'Transition from Revolutionary Armed struggle to Revolutionary Politics' and 'The Shared History of Cuba and Ireland', hosted by Noel Carrillo.
The topics provoked some very interesting debate accompanied by the showing of several short films on the subject.
On Saturday evening, Eleanor Lannigan of the Miami 5 Support Group attended a question and answer session with Noel Carrillo. This well-attended event closed the successful weekend.
Cuban Ambassador Noel Carrillo said he was very pleased about how the whole week went. In particular, he praised the initiative taken by young republicans in Derry to highlight the case of the Miami 5 in which they got hundreds of signatures calling for the men's release during a protest in the Guildhall Square.
A spokesperson for Toirsire, the local republican youth group, responded by saying:
"We will ensure in the times ahead that the case of the Miami 5 will be given as much support possible to highlight their ongoing campaign."