13 February 1997 Edition
Remembering the Past: Leonard McNally arch-informer
Undoubtely one of the most treacherous informers of Irish history was Leonard McNally.

McNally, born in Dublin in 1752, became a barrister in England but was persuaded to transfer to the Irish bar by John Philpot Curran.

He was one of the original members of the Society of United Irishmen and came to prominence in the courts in defence of William Jackson, Napper Tandy, Wolfe Tone, Robert Emmet and many others.

Recruited


It was in April 1794, following the arrest of Jackson, a representative of the French government, that McNally first began to supply information to the authorities in Dublin Castle.

The arrest caused consternation among the United Irishmen because it was obvious that an informer was at work. The delay in bringing Jackson forward for `trial' and the knowledge that at any moment he himself might be deeply implicated in conspiring, eventually proved too much for McNally. His nerve snapped and he ran for shelter to Dublin Castle.

For the next five years, unsuspected by his comrades, he supplied information to the authorities in numerous communications, often as many as three in one day; these he signed with the initials `JW'.

Secret Service pension


When McNally died in 1820, aged 68, he was given a patriot's funeral, but then his heir put in a claim for the continuation of a Secret Service pension of £300 per annum which his father had enjoyed since 1798.

The British Lord Lieutenant in 1820 demanded an explanation of why this pension had been authorised and, after some hesitation, the startling facts became publicly known.

Not only had McNally been in regular receipt of the pension but he had been a British Secret Service agent long before 1798. And during the state trials of 1798 and 1803, he was receiving fees from the prisoners to defend them and accepting money from the British to betray the secrets of their defence.

Leonard McNally, arch-informer died on 13 February 1820, 177 years ago this week.
An Phoblacht Magazine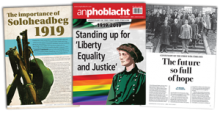 AN PHOBLACHT MAGAZINE:
Don't miss your chance to get the first edition of 2019 published to coincide with the 100th anniversary of An Chéad Dáil and Soloheadbeg.
In this edition Gerry Adams sets out the case for active abstentionism, Mícheál Mac Donncha takes us back to January 21st 1919, that fateful day after which here was no going back and Aengus Ó Snodaigh gives an account of the IRA attack carried out on the same day of the First Dáil, something that was to have a profound effect on the course of Irish history.
There are also articles about the aftermath of the 8th amendment campaign, the Rise of the Right and the civil rights movement.