5 July 2007 Edition
5 July 2007
With Frank Farrell away at an Independent Newspapers sponsored journalism refresher course conducted by that luminary of the profession, Brendan O'Connor, I took a look at two stories which tell us a lot about news priorities. One story was barely relevant and thus entitled to substantial media coverage, the other a life and death issue and therefore mostly ignored. Free article
5 July 2007
Finian's rainbow
Dublin North-Central Independent TD Finian McGrath revealed on Friday of last week that, as part of his deal for supporting the Fianna Fáil/Green/PD Government, he has won the concession to keep the threatened Greendale Community School in the neighbouring constituency open as an educational facility.
Unfortunately for Finian, though, while he was telling the media...
Free article
Page 2 of 2
An Phoblacht Magazine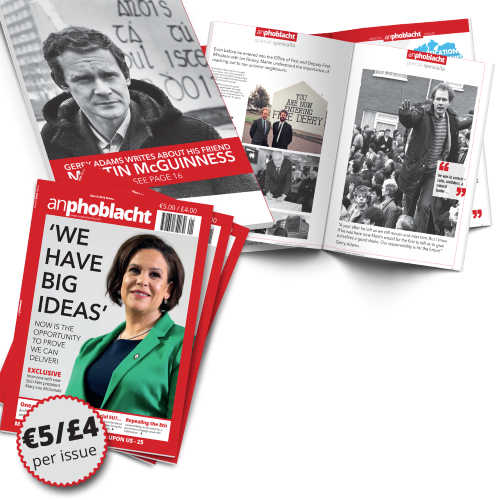 AN PHOBLACHT MAGAZINE:
The first edition of this new magazine will feature a 10 page special on the life and legacy of our leader Martin McGuinness to mark the first anniversary of his untimely passing.
It will include a personal reminiscence by Gerry Adams and contributions from the McGuinness family.
There will also be an exclusive interview with our new Uachtarán Mary Lou McDonald.
test
5 July 2007
I see that Shaun Woodward has replaced Peter Hain as British Secretary of State in the North. Gerry Moriarty of The Irish Times reckons that Mr Woodward has two butlers at his disposal now: one at his English mansion and the other at his new Hillsborough Castle address in County Down. Free article