17 August 2006 Edition
17 August 2006
A conference with a difference in Mullaghbawn, South Armagh was organised as part of the 25th anniversary commemorations of the 1981 Hunger Strike. The conference at the Tí Chulainn centre on Saturday 29 July was organised by republican women from Newry and Armagh and involved a number of events exploring issues around women's participation in the republican struggle. Free article
17 August 2006
Why should an Irish speaker have to fight such a battle every time he or she has business with the state? Is this really what Irish freedom means? - Eoin Ó Murchú on the uphill battle Irish speakers face in getting their rights from state bodies and officials in the 26 Counties, Village, 10 August.
Like any good bully, he can instinctively sense where... Free article
Page 2 of 2
An Phoblacht Magazine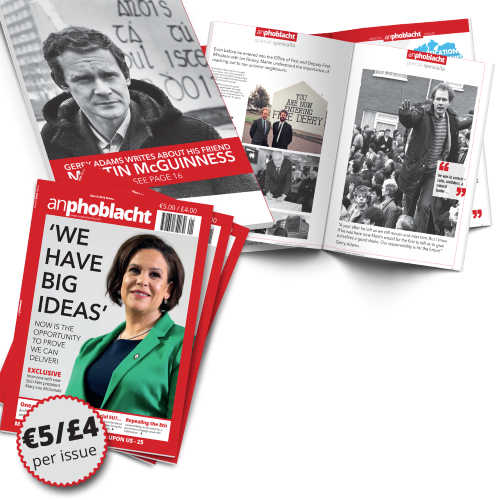 AN PHOBLACHT MAGAZINE:
The first edition of this new magazine will feature a 10 page special on the life and legacy of our leader Martin McGuinness to mark the first anniversary of his untimely passing.
It will include a personal reminiscence by Gerry Adams and contributions from the McGuinness family.
There will also be an exclusive interview with our new Uachtarán Mary Lou McDonald.
test