26 June 2003 Edition
Premium Online Service For Only €10 Per Year
For less than €1 a month, you get An Phoblacht's Premium Online Service. Sign up today!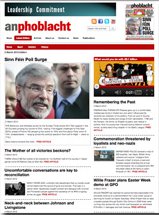 PREMIUM SERVICE:
Full access to all An Phoblacht articles
Interactive online PDF Booklet of each edition
Access to our historic Archives
Discounts for the Online Sinn Féin Shop
26 June 2003
Iranian dissidents set themselves on fire
A dozen Iranian opposition protestors took the desperate step of setting themselves alight outside European embassies this week to highlight the undemocratic nature of the Iranian regime. One woman in Paris died, while others suffered horrific injuries.
The supporters were protesting raids by French agents in Paris last week, which saw 1,300...
Free article
26 June 2003
This week, AN DRAOI RUA congratulates Nelson Mandela on receiving his honorary doctorate from NUI, Galway, his acceptance speech on that occasion and for the oration he gave on the opening night of the Special Olympics. Free article