6 October 2005 Edition
6 October 2005
Shell-to-Sea
The release from jail of the Rossport 5 has been warmly welcomed by most Irish people. Thousands turned out on the streets of Dublin last weekend to welcome the men to freedom. But the focus of the five men since their release has remained solid and clearsighted — the fight must continue.
It is imperative that the safety issues at the heart of the... Free article
6 October 2005
Irish Ferries
The attempt by Irish Ferries to make 500 staff redundant and replace them with cheap immigrant labour is a disgrace. But worse still is the Dublin Government's inaction on the issue. Bertie Ahern has talked tough and thrown shapes but no definitive action has been forthcoming.
Ahern's Ministers have claimed that there is nothing the government... Free article
An Phoblacht Magazine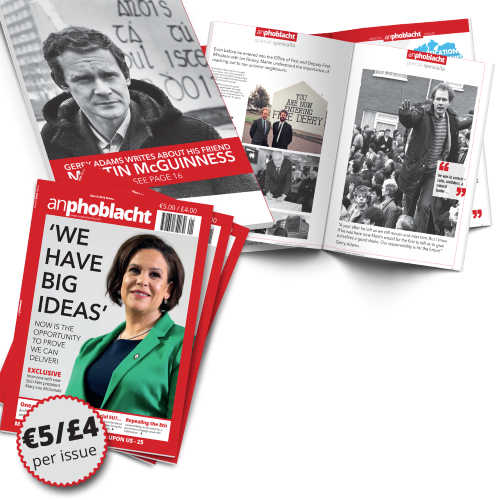 AN PHOBLACHT MAGAZINE:
The first edition of this new magazine will feature a 10 page special on the life and legacy of our leader Martin McGuinness to mark the first anniversary of his untimely passing.
It will include a personal reminiscence by Gerry Adams and contributions from the McGuinness family.
There will also be an exclusive interview with our new Uachtarán Mary Lou McDonald.
test