9 October 1997 Edition
9 October 1997
The reaction which met Martin McGuinness's remarks this week about `smashing the union' indicates the level to which some politicians are deluding themselves in relation to the republican agenda. McGuinness did no more than reiterate what is, and always has been the core republican position in relation to any negotiations. Free article
9 October 1997
There has rightly been an outcry over the transfer of Jason Campbell to Long Kesh from Scotland where he is serving a life sentence. Campbell cut the throat of a 16 year old boy in a Glasgow street simply because the boy was wearing a Celtic jersey. His transfer was requested by the PUP (who represent the UVF) as ``a confidence building measure''. Campbell, they argue, is a...
Free article
An Phoblacht Magazine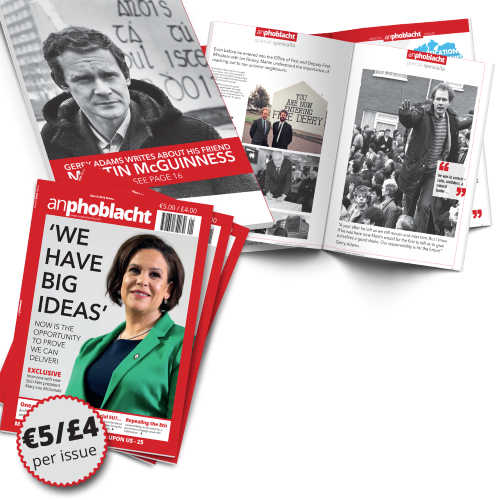 AN PHOBLACHT MAGAZINE:
The first edition of this new magazine will feature a 10 page special on the life and legacy of our leader Martin McGuinness to mark the first anniversary of his untimely passing.
It will include a personal reminiscence by Gerry Adams and contributions from the McGuinness family.
There will also be an exclusive interview with our new Uachtarán Mary Lou McDonald.
test