1 May 2003 Edition
New in print
Not a bad effort
The Tallyman's Guide to the Northern Ireland Assembly Elections 2003
By Noel Whelan & Nicholas Whyte
§20

Noel Whelan is an expert on politics and elections in Ireland. We know this because we are frequently reminded of it on the back of his books, but frankly, the previous Tallyman's Guides have showed little of his vaunted political acumen.
The attempt to predict the results of the General Election was wildly inaccurate, though he can be forgiven much as few pundits got the numbers right. The book analysing the results of the 2002 General Election was, frankly, a shambolic affair, riddled with inaccuracies, misspellings and shallow analysis. It was one of the worst and most error-prone books on elections to emerge in recent years. Generally speaking, the Tallyman's Guide series has been a poor comparison to the excellent Nealon's Guides.
Writing with former Alliance Party activist (clearly someone who knows all about winning elections) Nicholas Whyte, he has redeemed himself somewhat with a fairly useful guide to the upcoming Assembly elections. With little certainty yet as to when the election will be called, or what effect the current negotiations will have on the parties, the two deserve some praise for stepping up to the block and making predictions. It is also refreshing to have a book on Northern elections. The authors certainly deserve some credit for this.
Where the book excels is in the provision of statistics, with each constituency containing a religious breakdown, the number of registered voters and the results of the 2001 Local and Westminster elections along with the 1998 Assembly election. Party votes going back to '92 are also included. The information is well laid out and is a useful guide for number crunchers.
Nicholas Whyte has been doing Trojan work for years in compiling Northern election statistics all the way back to the 1973 Assembly elections, all of which are available on his excellent website. It might be nitpicking but I would have liked more details on such things as transfer patterns, a curious omission in such a book.
The weakness of the book may lie in the analysis. There seems to be a tendency to make predictions based purely on numbers, vote breakdowns and transfer patterns. Little work seems to have gone into getting a feel for each constituency and the party work on the ground. Overall, the constituency analysis seems a little shallow and a great deal of it is padded out with profiles of the major candidates.
It also shies away from making any hard and fast predictions, a wise move perhaps in elections, but the book might have gained from a more courageous attitude. The version before the 2002 General Election produced a couple of possible scenarios and how this would affect the seats won by the various parties. A similar approach here would have been interesting and worthwhile. Instead, it contents itself with making very tentative predictions in each constituency and telling us what would be good and bad results for the parties.
Overall, this latest Tallyman's Guide is a decent enough effort at producing a guidebook to the Northern elections. It would certainly be of use to readers and journalists from the South who may be unfamiliar with Northern politics. People with experience of Northern elections will probably be a little underwhelmed by it, though they may find the statistics useful.
At §20, it doesn't really deliver value for money. It's a short enough book and clearly produced quite cheaply. With the election only months away it also has a fairly short shelf life. On, and by the way, they say Sinn Féin has a good chance of five gains, outside chances of eight. Maybe the analysis isn't so shallow after all?
BY JUSTIN MORAN
An Phoblacht Magazine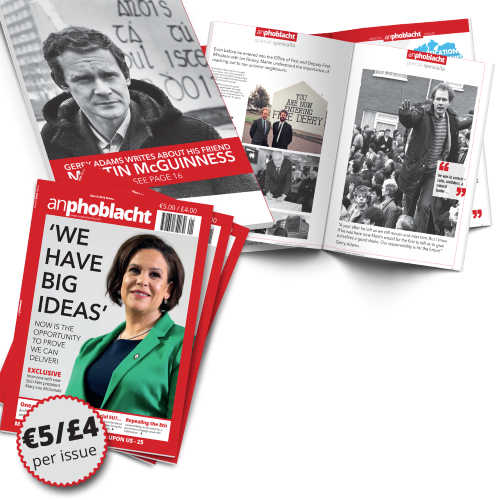 AN PHOBLACHT MAGAZINE:
The first edition of this new magazine will feature a 10 page special on the life and legacy of our leader Martin McGuinness to mark the first anniversary of his untimely passing.
It will include a personal reminiscence by Gerry Adams and contributions from the McGuinness family.
There will also be an exclusive interview with our new Uachtarán Mary Lou McDonald.
test