1 May 2003 Edition
A happy May Day?
Dublin Bus workers set to strike over privatisation proposals


BY ROBBIE SMYTH


Today, 1 May, and the coming holiday weekend are supposed to be about marking solidarity among workers and celebrating their rights and role in society. So where stands the Irish worker on this day?

Well, it is quite likely that today a majority of bus workers in Dublin city will vote to take industrial action, not over wages but over the secret privatisation of the city's bus network. The privatisation and lack of consultation has been perpetrated by a government claiming to embody the ideology of social partnership and consensual decision-making.

The sham that this social partnership is was exposed in January when a Dublin newspaper was able to get access to a strategic plan for the part privatisation of Dublin Bus services. Dublin Bus unions had at that stage no knowledge of the government plans to privatise 25% of the city routes within a year.

This week, Dublin bus drivers have been leafleting their passengers, explaining why they will take strike action later this month. Last week, one of the possible new owners of Dublin Bus services announced its interest in the Dublin routes.

DelGro Corporation, the world's fifth largest transport company, explained how they supported the privatisation plan. The Singapore-based company already operates the Citylink service between Galway and Dublin Airport. Allen Parker, Citylink's managing director, believes that "we think the minister is going about it the right way and we are fully supportive of him".

This support is completely absent in the Dublin Bus workforce. National Bus and Railworkers Union (NBRU) general secretary Liam Tobin is opposed to the DelGro intervention. This week, he said: "Now we are having faceless millionaires from Singapore taking over our core services. We are not going to have it."

Maybe what interests DelGro is the profitability of Dublin Bus, who operate with one of the lowest subventions on any city bus service private or public in Europe.

Last year, the company made a profit of §3.4 million, on a turnover of §159 million. The state subsidy was §53.7 million. The subsidy has been spent on new buses and developing Quality Bus Corridors and is an investment in the long term viability of the company. Passenger numbers are also up and over 500,000 people travel with the company every day.

Once again, it seems that we have the government looking for the quick sale of a vital resource. Efficient transport is key to the economic success of the city. The Dublin Bus workers have played a vital part in making this company a success. The government's response has been to misinform and ignore them.

Happy May Day!
An Phoblacht Magazine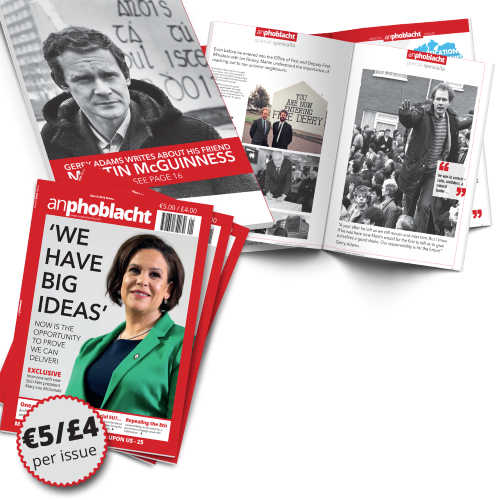 AN PHOBLACHT MAGAZINE:
The first edition of this new magazine will feature a 10 page special on the life and legacy of our leader Martin McGuinness to mark the first anniversary of his untimely passing.
It will include a personal reminiscence by Gerry Adams and contributions from the McGuinness family.
There will also be an exclusive interview with our new Uachtarán Mary Lou McDonald.
test