18 September 2018
Abbas to visit Ireland: Government must recognise State of Palestine - McDonald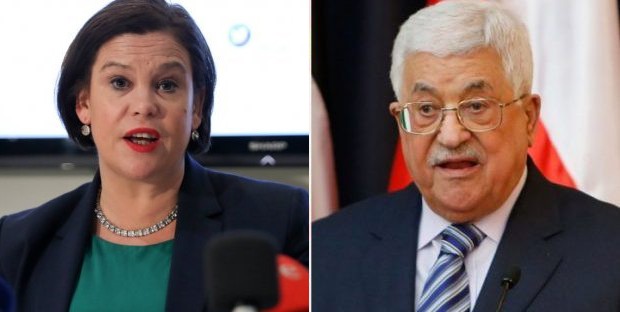 "President Abbas will meet with the Tánaiste on Saturday evening to discuss a number of issues; not least the ongoing illegal blockade of Gaza and the State's recognition of the State of Palestine - which is now long, long overdue." - Mary Lou McDonald TD
Sinn Féin President Mary Lou McDonald TD has called on the Irish government to officially recognise the State of Palestine. 
The Dublin Central TD made the call in advance of a visit by Palestinian President, Mahmoud Abbas, to Ireland this weekend.
Speaking in the Dáil, Deputy McDonald said President Abbas' visit will be 'historic'.
"I want to warmly welcome the President's visit and I hope that it will be a very productive one.
"I understand that President Abbas will meet with the Tánaiste on Saturday evening to discuss a number of issues; not least the ongoing illegal blockade of Gaza and the State's recognition of the State of Palestine - which is now long, long overdue," she said.
The visit will be part of a stop over ahead of travelling to the United Nations General Assembly in New York next week. 
In 2014, Sinn Féin passed a motion in the Oireachtas calling for the full recognition of the State of Palestine. 
To date, this has not been implemented despite being featured in the Programme for Government.
Speaking to An Phoblacht, McDonald said the Irish government 'continues to drag its heels' in implementing their commitment. 
"Now is the time for us to afford official recognition to the State of Palestine, which is the agreed position of the Oireachtas, and is a necessary position in international terms," she said. 
This is the first official visit by President Abbas to Ireland.