7 September 2018
Pressure mounts on IFA to cancel Israel fixture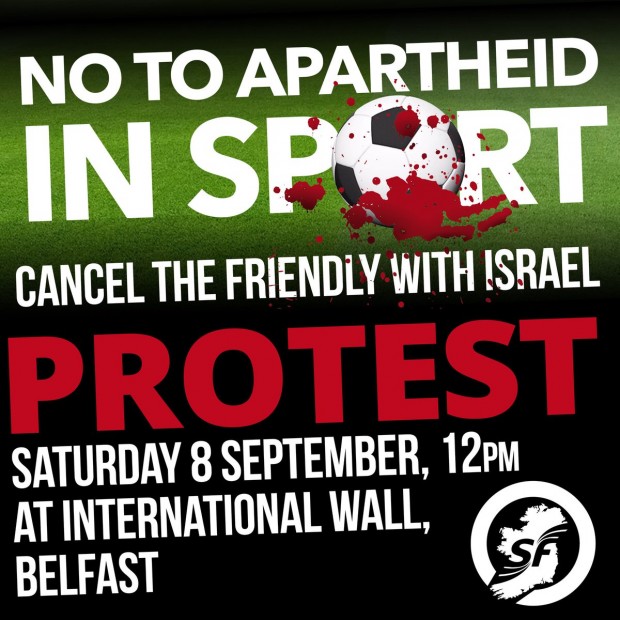 "I am calling on the IFA to respect the rights of Palestinians by cancelling this match and sending out a strong signal that the slaughter of Palestinians in the open-air prison which is Gaza, is completely unacceptable." - Sinead Ennis
The Irish Football Association have come under increased pressure to cancel an international friendly with Israeli which is scheduled for Tuesday 11th, September. 
Thousands of people have signed a petition set up BDS Ireland is calling on the IFA chief executive to cancel the fixture.
Sinn Féin MLA Sinéad Ennis said the IFA have made the 'wrong decision' by hosting the Israeli soccer team and called on them to respect the rights of the Palestinian people. 
"Over recent weeks and months, many sporting, cultural and music figures have heeded calls from the BDS movement, not to perform in Israel. 
"The Israeli government must feel the pressure of the international anger at their mass killings, human rights violations and flagrant violations of international law. Ironically, their disgraceful restrictions placed on Palestinians prohibits the Palestinian team from flourishing internationally," she said. 
The Boycott, Divestment & Sanctions (BDS) campaign gained momentum in June when the Argentinian soccer team cancelled a planned pre-World Cup friendly with Israel. 
More than 160 Palestinians have been killed in Gaza by the Israeli military since the 'Great March of Return' demonstrations began in March gathering international condemnation. 
The party's Culture, Arts & Sports spokesperson said the collapse of the South African apartheid regime proved the 'effectiveness of cultural, academic and economic boycott' as a way of securing change.
"Once again, I am calling on the IFA to respect the rights of Palestinians by cancelling this match and sending out a strong signal that the slaughter of Palestinians in the open-air prison which is Gaza, is completely unacceptable," Sinéad Ennis said. 
Sinn Féin will hold protests at Belfast's International Wall on Saturday 8 September at 12 noon and at Free Derry Corner on Tuesday 11 September at 7.45pm to coincide with the match kicking off.