8 August 2018
North Antrim petition to oust Paisley opens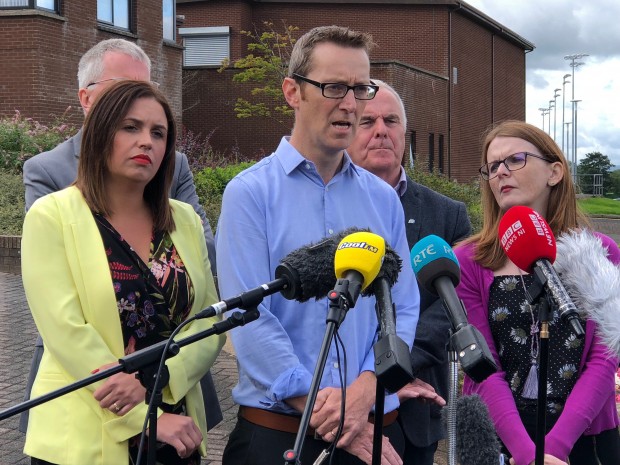 "The people of North Antrim are angry. They want their elected representatives to engage in their public duties with integrity and honesty." - Philip McGuigan MLA
A recall petition opened today in the North Antrim constituency to oust the current MP Ian Paisley. 
The petition was triggered following his 30 day suspension from the British Parliament for failing to declare two lavish holidays paid for by the Sri Lankan regime. 
The petition will run for a period of six weeks at designated centres across North Antrim, including the Joey Dunlop Leisure Centre in Ballymoney, Seven Towers Leisure Centre in Ballymena and the Sheskburn Recreation Centre in Ballycastle. 
If the petition receives the support of 10% of the electorate - 7,543 signatures - a by-election will be held in the constituency and the MP will be forced to stand down. 
This is the first time a recall petition has been held. 
Since the revelations emerged, Sinn Féin have called on Ian Paisley to resign and to respect integrity in public office. 
Speaking to An Phoblacht at the Joey Dunlop Leisure Centre today, Sinn Féin MLA Philip McGuigan said the public across the constituency are rightly angry and urged people to sign the petition.
"It's important to remember why this recall petition has been set up. Ian Paisley has been handed the severest punishment given to any MP in over seventy years of the Westminster parliament.
"A parliament where there has been plenty of scandals, sleaze, corruption and yet the MP for North Antrim has been handed the severest punishment. 
"The people of North Antrim are angry. They want their elected representatives to engage in their public office duties with integrity and honesty. 
"What Ian Paisley did in accepting two lavish holidays to Sri Lanka and then lobbying on behalf of the Sri Lankan regime to thwart a UN investigation into serious human rights breaches and mass murder, isn't carrying out your duties with integrity."