12 July 2018
Ban on import of Israeli goods moves step closer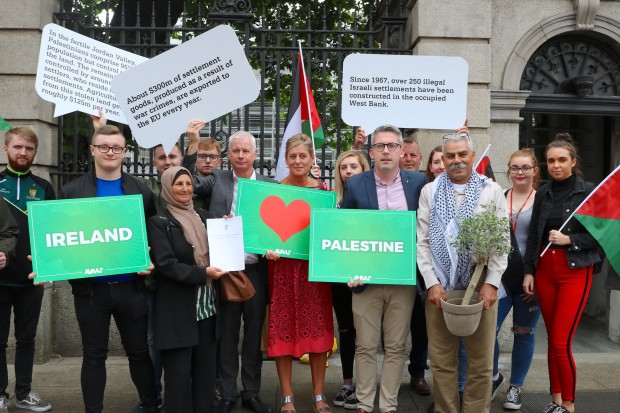 Ireland has moved one step closer to officially banning the import of goods and services produced in illegal Israeli settlements. 
The Occupied Territories Bill, tabled by musician and Senator Frances Black, successfully passed through the Seanad last night by 25 votes to 20 and will now move to the committee stage. 
The legislation received the support of Sinn Féin, Fianna Fáil, Labour and a number of independents members of the Seanad, but failed to receive support from Fine Gael. 
Sinn Féin Senator Niall Ó Donnghaile described the vote as a "momentous step" towards officially banning the import of goods from illegal settlements. 
"These goods and services are only available due to war crimes carried out by the Israeli state by completely disregarding the Fourth Geneva Convention.
"Palestinians are forced from their homes, schools are destroyed and people are displaced on a daily basis to make way for the construction of these settlements," he said. 
Sinn Féin joined demonstrators from the Ireland-Palestine Solidarity Campaign outside Leinster House yesterday to extend their solidarity to the Palestinian people ahead of voting in the chamber. 
Welcoming the historic vote Chairperson of IPSC and Palestinian-Irish citizen, Fatin Al Tamimi thanked Senators who supported the historic Bill and encouraged Senators to continue their support until the the Bill reaches the final stage. 
Ms Tamimi said: "We in the IPSC and we Palestinians around the world warmly welcome this historic vote, the first its kind in any Western country. 
"Once again, Ireland is making history and leading the way in its solidarity with the Palestinian people," she continued.